Prince Harry's New Title Hasn't Been Used In CENTURIES & Here's Why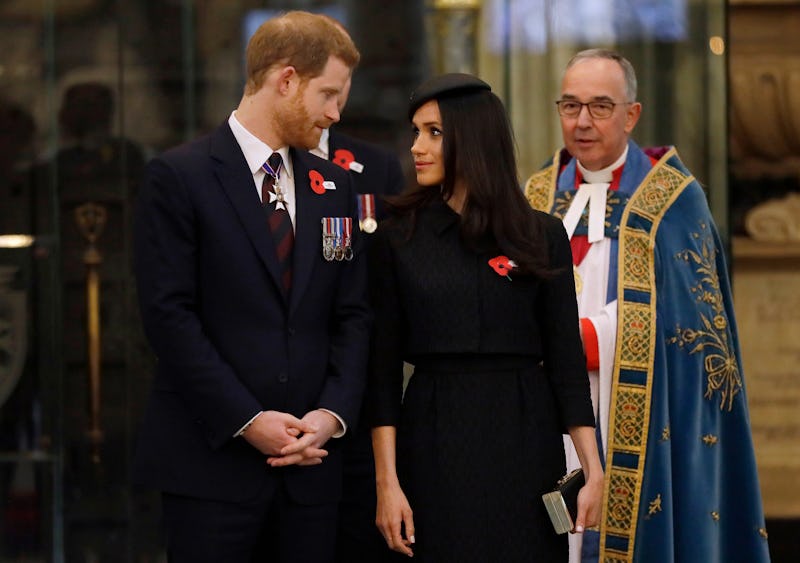 WPA Pool/Getty Images Entertainment/Getty Images
Just moments before the Royal Wedding on Sunday, the palace announced that Prince Harry's new title will be Duke of Sussex, Earl of Dumbarton and Baron Kilkeel. But who was the last Duke of Sussex? The title has been used before, but not in quite a while.
The last Duke of Sussex was Prince Augustus Frederick, born in 1773. He was the Earl of Inverness and baron Arklow, but he is the previous and only prior owner of the Sussex title. According to the National Portrait Gallery, he was actually a bit of a rebel — the prince married in secret to Lady Augusta Murray but the marriage was declared "void" despite his attempts to have it legalized. According to Harper's Bazaar, since his marriage was not bound legally, the couple's children did not inherit the Duke;'s title. So, when he died, the title died with him. Also according to Harper's Bazaar, he remarried after he and his wife separated (and she later died) and even his new marriage was not legalized. So the Duchess of Sussex, aka Meghan Markle's new title, has actually never existed.
There's also an American connection, in a manner of speaking, to this new title and its royal history. Prince Augustus Frederick was the son of King George III. Yes, Hamilton fans, it's that King George.
The original Duke of Sussex's rebellious streak apparently caused a rift with his family. According to the Royal Collection, he was estranged from his father and the whole court because of his political views. He supported the abolition of the slave trade, parliamentary reform, religious freedom and rights specifically for Catholic and Jewish citizens as well as dissenters in general, the abolition of the mercantilist Corn Laws, and was an avid and official supporter of the Arts.
According to the BBC, he also "had the range," or told people that he did. He had a huge library and also collected pet birds. What a character! The BBC also notes that he was a favorite uncle, as Harry likely is as well to his brother's three children.
So it's a fitting title for Harry — though his liberal and rebellious ways are a bit less scandalous in the 21st century. Yet is giving the youngest son a title famously connected to a man "unlucky in love" on his wedding day a kind of royal hazing? Are they making fun of Harry with this title? Perhaps, but not necessarily.
It has actually long been speculated that this title would come back into the family at some point. When Prince Edward was married in 1999, rumors suggested that the Duke of Sussex might go to him — but he was ultimately given the title Earl of Essex instead. Back in 2010, it was one of the potential titles for Prince William and Kate Middleton, who ultimately took on the Duke and Duchess of Cambridge. Bets were placed and everything.
Then, according to The Daily Mirror, Harry was promised the Duke of Sussex title in 2011, but only if he got married. So this title was in the cards for him long before he met Meghan Markle. It has nothing to do with her, and more to do with the Prince and what he represents.
All in all, Harry's new title is a nice way to nod to the past while also looking forward to the future. It is tradition that members of the royal family receive new titles when they marry, and this is a way to make that tradition fitting and appropriate for this particular royal wedding between the currently-named Prince Harry and Meghan Markle.