There's An Important Meaning Behind The Royal Wedding Décor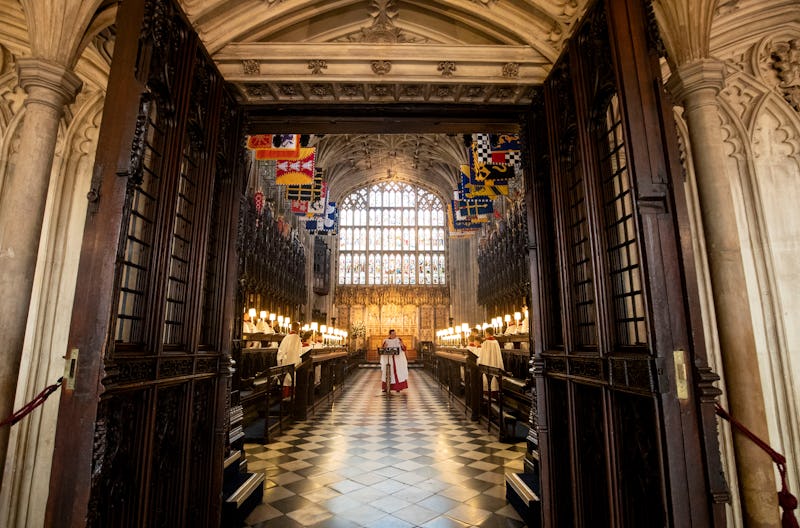 WPA Pool/Getty Images Entertainment/Getty Images
From the cake to the drinks to the dress to the flowers, tradition informs every part of royal wedding preparation. While Prince Harry and Meghan Markle have broken tradition with a number of their wedding plans, the royal wedding color scheme was likely carefully chosen to marry the couples' taste with royal traditions.
Keeping with Markle and Prince Harry's break from tradition, Lisa Forde, director of wedding stationers Tree of Hearts, told Express UK that this royal wedding is expected to incorporate a bit more color than Prince William and Kate Middleton's wedding, though the colors will still be understated and tasteful. "I don't think we will see any bright colors coming through, it may be more muted colors and very personal."
Sophie Easton, florist and events planner, told Express UK that the couple may play up the spring season, and their choice of cake could provide some clues. "Considering they're having a lemon and elderflower cake, it wouldn't surprise me if the color schemes white, greens, and either pale yellow or pale pink." A Welsh gold, ivory, and pale pink color scheme is no doubt a beautiful, yet understated, celebration of spring and new beginnings.
You might not know that the tradition of brides wearing white on their wedding days was also reportedly started by the royal family when Queen Victoria opted for a white gown during her wedding to Prince Albert in 1840, E Online reported. "Believe it or not, before Victoria opted for her white-lace gown, white had been a rather unpopular color choice among brides-to-be. Her decision, which was both a political and stylistic choice, began the era of white bridal gowns that has continued to this day." White, therefore, symbolizes tradition — a fact that brides and brides to-be are all too familiar with.
Another color that we'll likely see come tomorrow is pink, specifically in the form of peonies. Peonies are reportedly Markle's favorite flower, and pink peonies symbolize romantic love. While the color of the flowers are top secret, the bouquet will definitely contain a sprig of myrtle per royal-wedding tradition. Even if there aren't any pink flowers, there will most likely be plenty of rosé.
What's more, Markle and Prince Harry's wedding is expected to inspire future brides to be to opt for neutral color palettes, She Finds predicted, because neutral color schemes signify sophistication. According to the website Empowered by Color, the mean of ivory "in color psychology for weddings is calming, yet encouraging, with a feeling of simple elegance and sophistication. It often has an old-fashioned feel to it."
And yellow in the color scheme of course includes the wedding ring. According to British jeweler Clogau's website, members of the royal family have used pure Welsh gold to create their wedding rings since 1923. Welsh gold is a nod to Markle's independent spirit. If you choose gold as one of your wedding colors, this means you "radiate charisma, personality and confidence, making others feel relaxed and valued in your company. With your optimism and warmth you add richness to the lives of those with whom you come in contact." And, selecting pink as a wedding color symbolizes unconditional love and understanding.
This means that guests at the royal wedding will be attending an elegant affair that will make them feel calm, inspired, appreciated, and understood, themes that will likely also be highlighted in Markle's wedding speech. The big day is less than 24 hours away, and as soon as you wake up tomorrow all of your burning questions about the wedding of the century will finally be answered, including the color of the hat Queen Elizabeth will wear. Because, for the guests, it's all about the hats.