Carrie Underwood Fans Will Be SO Inspired By This Positive Post-Injury Update From The Singer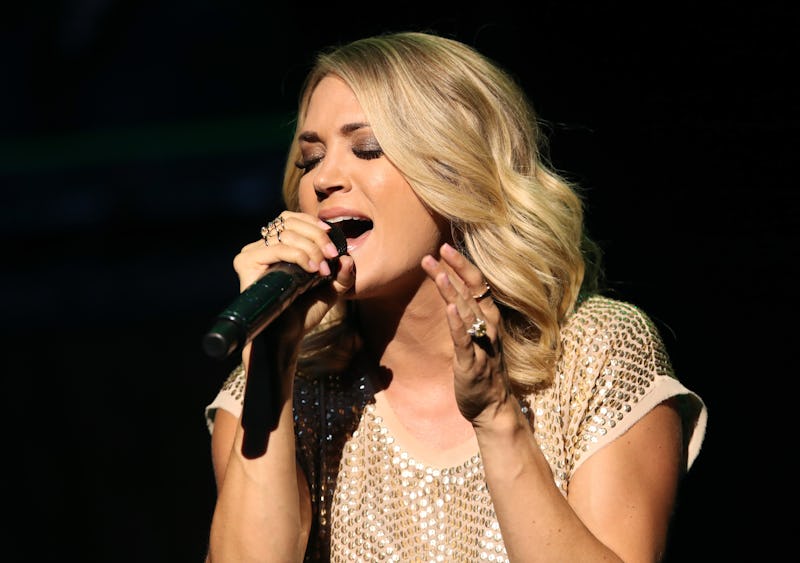 Christopher Polk/Getty Images Entertainment/Getty Images
Amazing news for country music fans: Carrie Underwood is ready to return to the stage. The singer posted an Instagram on Friday, April 6, and Carrie Underwood's latest post-injury photo showed the singer as she practiced with her band. According to several sources, it's the first photo of Underwood's full face since her November 2017 accident, which sent her to the emergency room. According to a note Underwood wrote to her fan club (and was obtained by People), she slipped and fell outside of her home in Nashville.
According to People, Underwood wrote the following in the note:
In addition to breaking my wrist, I somehow managed to injure my face as well. I'll spare you the gruesome details, but when I came out of surgery the night of my fall, the doctor told [Underwood's husband] Mike that he had put between 40 and 50 stitches in. Now, here we are 7 weeks later, and even though I've had the best people helping me, I'm still healing and not quite looking the same.
Since then, Underwood has slowly been returning to the public eye. In recent weeks, she's begun to post photos of herself behind the scenes, including the country star working in the studio, advertising a performance on Today, and just at home with her dogs. It's an encouraging sign for fans who have been worried for the Grammy winner. She appears healthy, strong, and back to work, though.
Underwood's April 6 Instagram photo features the singer on stage for rehearsals on April 6. "Missed these guys," she wrote on Instagram, adding the hashtag "#Bandrehearsals". The photo is an action shot of Underwood, dressed in casual clothes while seemingly belting out a song. Her hair is in a perfect messy bun.
It's not the first picture Underwood has posted of herself since November, but it is the closest fans fans have gotten to a complete look since the accident. On April 4, she did post a black and white photo to Instagram of herself in profile. Fans embraced the singer in comments, admiring her strength and her fortitude, and encouraging her to continue.
She's not the only major celebrity that has suffered a similar trauma; Tina Fey prefers to be photographed on one side to hide a facial scar, for example, from a childhood incident. The fact that Underwood isn't just seated in the studio, but up and rocking out with her band, is just inspiring. Us Weekly reported that she was forced to cancel tour dates in the weeks after her accident in 2017, so perhaps she's preparing to make those up to fans sooner rather than later.
Underwood has been open with fans about her healing process. In January, she wrote a note to members of her fan club that her appearance might change slightly post-accident per Taste of Country. The magazine reports her exclusive message said the following:
"I'm still healing and not quite looking the same. I honestly don't know how things are going to end up but I do know this: I am grateful. I am grateful that it wasn't much, much worse. And I am grateful for the people in my life that have been there every step of the way... I'm determined to make 2018 amazing, [so] I want you all to understand why I might look a bit different. I'm hoping that, by then, the differences are minimal, but, again, I just don't know how it's all going to end up."
The fan club announcement came a few weeks after a December 2017 Instagram post, where Underwood shared a cozy winter selfie. In the photo, face was mostly wrapped in a scarf, though her eyes were as twinkly as ever.
It's so inspiring to see Carrie Underwood for getting back out on stage, and for having the courage to be open and vulnerable with her fans.