This Is What The Latest Winter Storm Quinn Forecast Is Saying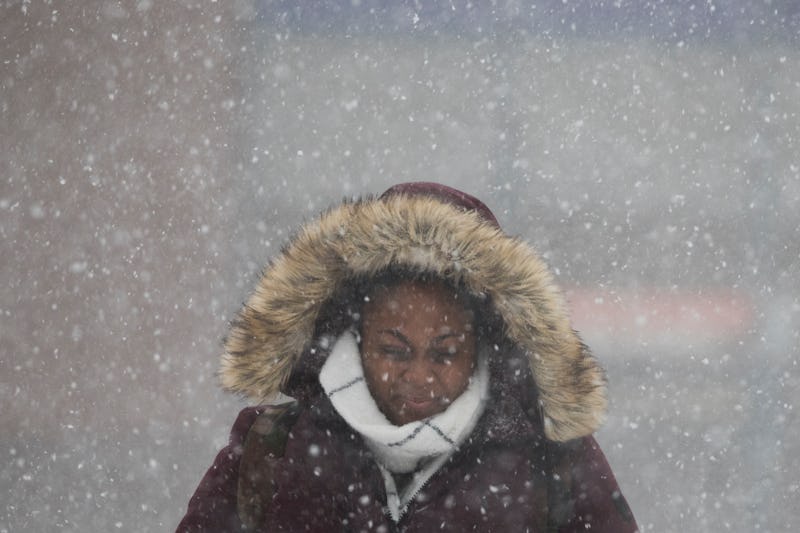 Drew Angerer/Getty Images News/Getty Images
On Wednesday, the Northeast braced itself for a fresh bought of winter weather in the form of a storm named "Quinn." The latest forecast for Winter Storm Quinn shows that rain, snow, and heavy winds are still expected, with some areas possibly set to receive up to two feet of snow.
Updates from the Weather Channel at 7 a.m. on Wednesday morning showed that snow had already reached upstate New York, the upper portion of the Chesapeake Bay, and parts of New England, with rain hitting Delaware and parts of New Jersey and Massachusetts. In many areas the forecast continued to look as bad as was previously expected on Wednesday morning, but the outlook for certain places actually worsened overnight. Several cities received more optimistic forecasts early on Wednesday.
New York City's projected snow accumulation rose over Wednesday night and is now expected to be between 12 and 18 inches. Boston is still projected to be hit right along Quinn's rain-snow line, meaning that some parts of the city will see snow while others will mostly just get hit with rain. The interior part of the state will experience heavy snowfall. An updated forecast for Philadelphia predicted 5 to 8 inches of snow; the northeastern parts of Pennsylvania are expected to receive the most accumulation.
Some initial forecasts for Rhode Island looked more grim, but it now seems that much of the state — except for its far western areas — will receive just light snowfall. The National Weather Service updated its estimated accumulation in Baltimore to 3-4 inches, which is slightly lower than what was previously expected.
Overall, the areas that will be hit worst by the storm will be New England and the northern part of the Mid-Atlantic. The places that should receive the most snow are certain interior regions of New Jersey, New York, Connecticut, Massachusetts, Vermont, New Hampshire, and Maine.
Quinn had entered parts of the interior Northeast by 9 p.m. Eastern on Tuesday. As the storm approached, many schools across the Northeast canceled Wednesday classes. The governor of New Jersey and the governor of Pennsylvania declared states of emergency, and Philadelphia changed or canceled several of its bus routes to prepare. The New York City Emergency Management Department (NYCEM) put out a hazardous travel advisory noting that commuters should expect longer travel times on Wednesday.
"Mother nature's March madness continues as another nor'easter is forecast to bring snow that will make travel dangerous on Wednesday," warned NYCEM commissioner Joseph Esposito. "New Yorkers should take mass transit if possible and allow for extra travel time."
Quinn comes less than a week after the storm Riley brutally hit parts of the Northeast and caused extreme flooding in certain areas. Many places were still recovering from Riley, which left nine people dead, as they prepared for Quinn. Meteorologist Jim Cantore described it as a "race against time before the next storm."
Unlike Riley, Quinn will involve less flooding and more snow. It will, however, begin with rain in many areas before turning into snow.
Quinn might not be as bad as Riley, but it could still cause serious damage. The accumulation of heavy, wet snow combined with powerful winds may knock down trees and cause power outages, according to The Weather Channel. If you need to prepare for that possibility, The New York Times recommends "stocking up on good, bright LED flashlights and spare chargers for your cellphone in case the power goes out." The Red Cross recommends staying inside as much as possible, conserving fuel, and staying updated on the latest weather forecasts. It also notes that public transit is safer than driving a personal automobile during a storm.