The Lawsuit Against Usher, Explained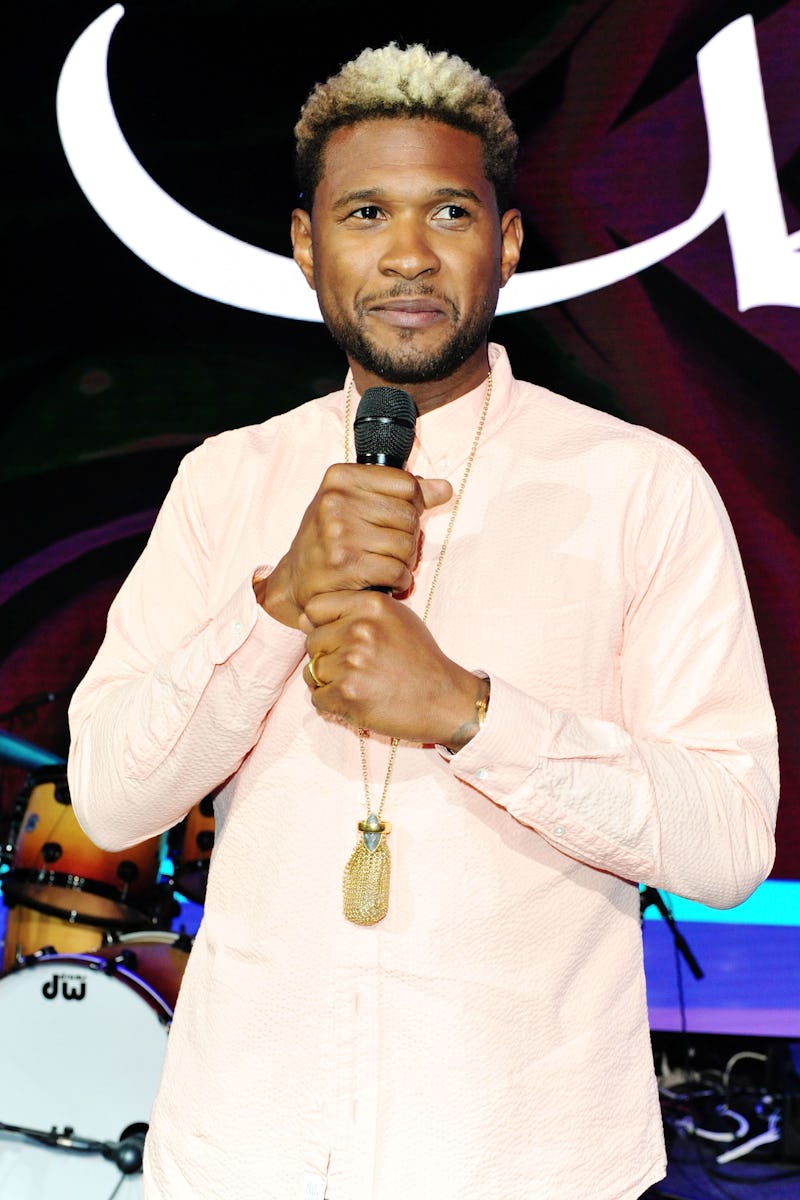 Jerod Harris/Getty Images Entertainment/Getty Images
If you've been hearing about a case involving "U Remind Me" singer but aren't clear on what's happening, here's an explanation of the current lawsuit against Usher. On Friday, Aug. 4, civil rights attorney Lisa Bloom shared on Twitter that she would be filing a lawsuit in California against the 38-year-old (real name: Usher Raymond IV) for allegedly failing to disclose an alleged herpes diagnosis to three sexual partners. She also tweeted that one of his accuser's would publicly present her case at a press conference on Monday.
UPDATE: A TMZ story published on Aug. 24 reports that according to court documents from the lawsuit in which he is being sued for $20 million, Usher said that a previous sexual partner could have infected the woman and that he is requesting the case be thrown out. Bustle reached out to Usher's reps regarding this report, but did not receive an immediate response.
EARLIER: Bustle has reached out to Usher's rep about the allegations made by the three individuals, the allegation that Usher has herpes, and the other claims and reports mentioned below about court cases and his sexual activity, but did not receive a response at the time of publication.
On Monday, The Huffington Post reported that a woman named Quantasia Sharpton, spoke at a New York press conference held by Bloom, where she opened up about an alleged sexual encounter with Usher. Sharpton claimed that after being invited backstage at one of Usher's concerts with her friends while they were celebrating her 19th birthday, she gave her phone number to a security guard. Sharpton claimed Usher eventually called her at that number and they met up. "We spoke for a while and then we engaged in sexual contact," she alleged at the press conference. "He never warned me about any STDs, it was just after my 19th birthday."
Sharpton also clarified at Monday's press conference that she has tested negative for herpes. She claimed (via People),
"When I first heard reports that he had herpes, I couldn't believe it. I had a child a year ago, and I knew I was negative ... But I contacted Lisa Bloom to find out what my rights are as a woman. Although I am negative, I am upset by the reports because I never would have consented, if I would have known. I would not have taken a risk of getting an incurable disease. My health is very important to me, now that I am a mother. I feel that my rights were violated."
In 2012, according to court documents obtained by RadarOnline, Usher was sued over an allegation that he "consciously and purposefully" withheld an alleged herpes diagnosis from a partner with whom he was allegedly having unprotected sex. RadarOnline reported that he paid her $1.1 million in a settlement. In July, TMZ reported that Usher was also sued for $20 million by a different woman who made similar claims against the R&B singer.
In Bloom's statement released on Aug. 4, she wrote, "Many news organizations have recently reported that musician Usher was diagnosed with herpes in approximately 2009, and in 2012 settled a case with a woman who claimed he'd transmitted the disease to her." She continued, "Usher has not publicly denied these claims."
As shared by Bloom in her original statement, Usher's other two accusers are remaining anonymous and are being referred to as Jane Doe and John Doe. According to the lawsuit (obtained by TMZ), Sharpton and the anonymous female plaintiff claim they had vaginal sex with Usher, while the anonymous male plaintiff alleges he had oral sex with the singer.
At the press conference Monday, Bloom said (via Huffington Post), "If Mr. Raymond is in fact a carrier of the virus, as these reports state, my three clients allege that he violated their rights by failing to warn them prior to having sexual contact with them. At least one of my clients has tested positive for the virus and alleges it was Mr. Raymond who transmitted it."
Bloom also shared at that in addition to the three plaintiffs, other individuals have contacted her with similar allegations regarding Usher. "No one in America, not even a popular celebrity, is above the law," she said. "And everyone, even ordinary people who find themselves swept away by a superstar, has the legal right to be respected, which includes being warned about STDs so that they can make their own choices about their own bodies."
In California, it is a crime for anybody "afflicted with any contagious, infectious, or communicable disease" to willfully expose another person to that disease.