The Little Drummer Girl' Will Leave You Begging For Answers For This Key Reason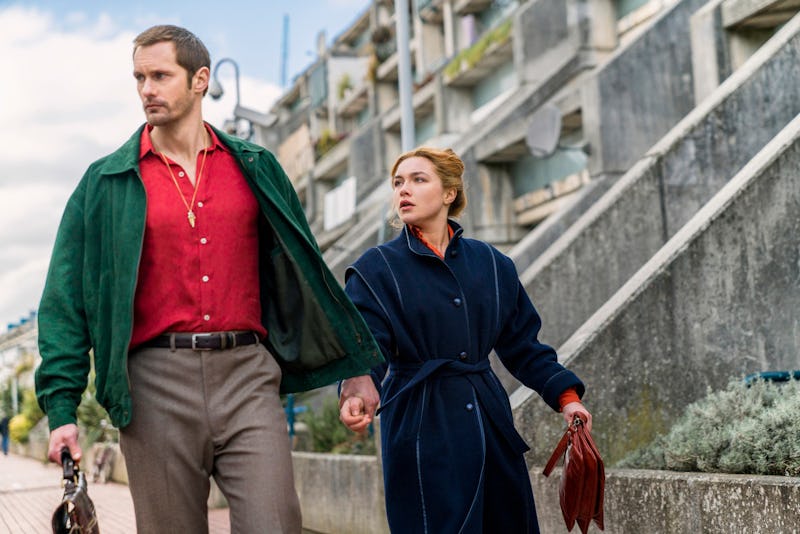 BBC/Ink Factory/The Little Drummer Girl Distribution Limited
The BBC is killing it when it comes to thrilling TV programmes. We've had Bodyguard, The Cry, and now another is set to take over your Sunday night screen. The Little Drummer Girl is a tale of espionage set in the 1970s and is based on John le Carré's novel of the same name. It's common for TV shows to end differently to the books they were inspired by and this BBC adaptation could do just that. But I'm hoping the emotional yet frustrating book ending of The Little Drummer Girl will make it to the screen. (You don't need me to warn you that there are definite spoilers ahead.)
Alexander Skarsgård (best known for Big Little Lies and, er, Tarzan) teams up with British actress Florence Pugh in the BBC series. Just like the book, the plot sees a British actress called Charlie (Pugh) experience a holiday fling with Becker (Skarsgård). Little does she know that he's actually an Israeli intelligence officer sent to recruit her for the biggest acting role of her life.
Becker's boss, Kurtz, has become obsessed with capturing (or killing?) a Palestinian terrorist by the name of Khalil. Charlie is asked to become a double agent, ingratiating herself into Khalil's community by pretending to be the girlfriend of his dead brother. She spends a considerate amount of time with the Palestinians, learning their ways (including the illegal ones) and is eventually sent to deliver a bomb.
Throughout the tale, it's clear that Charlie is becoming more sympathetic towards the Palestinian cause, leading to a conflicted mental state that only gets worse as time goes on. Eventually, Becker (who's known as Joseph in the book) and other Israeli spies go on a huge killing spree, resulting in the death of every Palestinian person Charlie had lived and worked with during her mission.
After leaving her agent life and realising that almost everyone had manipulated her into believing what they wanted her to believe, she experiences a severe mental breakdown. It seems like an obviously tragic ending until Becker turns up to help, despite Charlie's protestations that it's too late to help her. The final ending of the book is a little mysterious: "Locked together, they set off awkwardly along the pavement, though the town was strange to them." Told you it was heart-wrenching.
At a first glance, it's easy to think that Charlie is easily led by the men in her life. But Pugh wants viewers of the BBC adaptation to realise that this isn't the case. "Charlie's not a spy — she's not brilliant at rolling over cars. She's a very normal girl that has a strong voice and is very opinionated and loud and fierce," she told Harper's Bazaar.
In the same interview, Pugh also revealed a sliver of the TV series' ending. "There is a big powerful punch at the end — but [the series] has to be slow because we're dealing with a really sensitive topic which is a situation that is relevant now, will always be relevant, and it's good to educate ourselves and make sure that we're listening. I'm excited to know the mixed views."
Perhaps the TV series will go in a slightly different direction or perhaps Pugh is alluding to how people will feel about the 'switching sides' of her own character in the Israeli-Palestinian conflict. Either way, this six-part thriller is set to be a gripping one.
The Little Drummer Girl starts on BBC One on Sunday October 28 at 9 p.m.