The New Lizzie Borden Movie Will Make You Sympathize With An Accused Murderer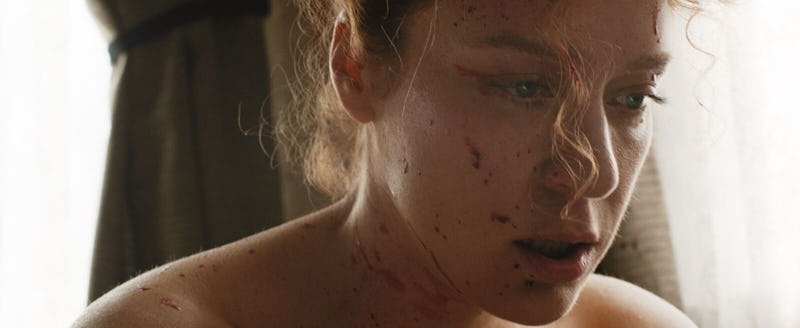 Saban Films/Roadside Attractions
Premiering Sept. 14, the biographical thriller Lizzie dives into one of the most infamous mysteries in American history, the murders alleged to be committed by Lizzie Borden (Chloë Sevigny). In 1892 Massachusetts, Borden was accused then acquitted of killing her father and stepmother, and the new film serves up a final murder scene that's graphic, poignant, and nearly impossible to forget. But as horrifying as it is, audience members may find themselves cheering Borden on, rather than squeamishly watching the scene between their fingers. As Sevigny explains, that kind of reaction is actually totally understandable — in fact, the actor wants audiences to empathize with Borden, who's portrayed as a suppressed and isolated woman trapped by the burden of her extremely wealthy family.
"It was important for women to relate to that kind of character... I think our intention was to make Lizzie relatable and likable in that you want to root for her," Sevigny explains when we speak over the phone, a few weeks before the film's release. "She's so complex… I was in it from day one. I had to see myself over to that in whatever that meant."
She laughs, adding, "I remember the first day of shooting, we were sitting in the yard in the post mother murder scene where I'm kind of dazed, out of it... And I was like, 'What? Is this troubling? What does this say about me as a person?'"
As both an actor and producer on Lizzie, Sevigny did an intense amount of research into Borden's story, trying to tell it in a way that would make audiences empathize with the titular character as she rebelled against society. "We're not condoning murder," Sevigny jokes, but there's still something sympathetic about the driving force behind Borden's alleged act. The film is about "women kind of acting out [against] whatever the social norms were of the times," the actor adds, "Even today, what's expected of you, social norms, it's always fascinating to me."
Further, Sevigny explains that Lizzie was influenced by films showcasing women defying expectations, like 1994's crime drama Heavenly Creatures, about two young women who get revenge on people who believe their relationship is too intense. "There's this camaraderie amongst women that makes them feel empowered to take down whatever are the forces of oppression in their lives," the star says.
Although Sevigny says she wasn't totally rooting Borden on, she does understand her alleged actions. Specifically, she sees how they were driven by Borden's connection to the family maid Bridget (Kristen Stewart) and her desire to liberate them both. "I think for me, the final moments, she's clearly on a quest for freedom," she explains. "When people fall in love, they have unrealistic expectations. She [thinks if she] frees herself from the parents, gets the money, gets the girl, everything's gonna be great in her life."
Since Lizzie premiered at Sundance in January, audiences have recognized how eerily relevant the story is in the current era of Time's Up and #MeToo. But although Lizzie is hauntingly timely with its themes of feminism and rebellion, Sevigny says this wasn't totally intentional.
"I've been trying to get this off the ground for so long and then somehow it's timed to now, with the #MeToo movement and Time's Up and the conversation around feminism and injustices and abuses of power," the actor explains. "It's very timely and I'm very glad we could join in that conversation and I think a lot of people are going to see how relevant it is. That's all one could hope for."
The fact that a tale like Borden's is so relatable hundreds of years later is perhaps the real horror story.