Luxie Beauty's Wonder Woman Brush Set Is Stellar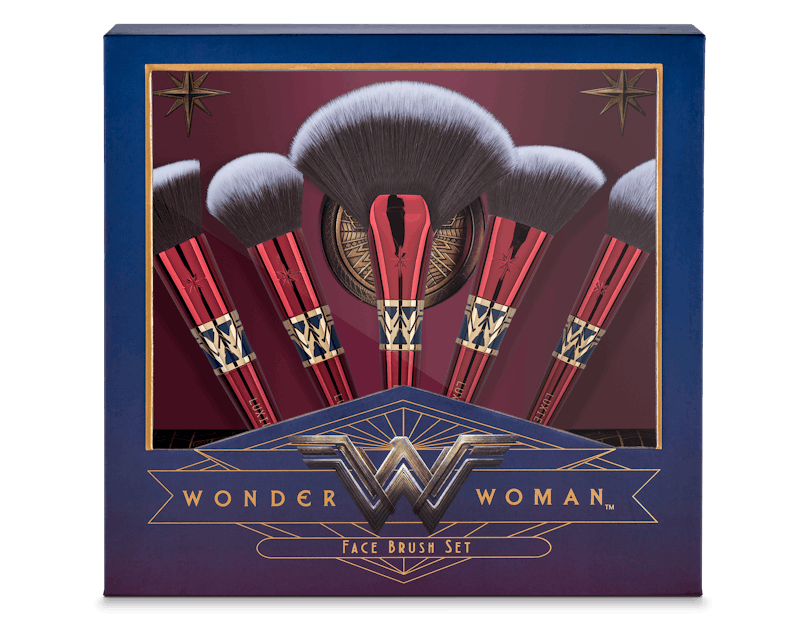 Courtesy of Luxie Beauty
With the Wonder Woman movie cruising into multiplexes next weekend, Wonder Woman-branded merch and products are becoming more readily available. In addition to the Wonder Woman brushes, bags, and makeup currently on sale at Walgreens, the Luxie Beauty x Wonder Woman Brush Set has revealed itself. The brand teased a Wonder Woman beauty collab connected to the character earlier this year, leaving me wondering what, exactly, it would be. The brand specializes in brushes but it does sell other items, so I was certainly guessing.
Luxie provided the full details about the Wonder Woman Brush set to Bustle via email.
Here's what we know about the five-piece, face brush set. The brushes were handcrafted with premium synthetic bristles, which were specially designed to give you a smooth and flawless canvas aka your face. The brush heads are soft and can be used by those of you with even the most sensitive skin.
The cruelty-free brushes are available for pre-sale as of Wednesday, May 24. The face tools officially launch on Wednesday, May 31.
If you are not yet super familiar with Luxie, let's have a crash course. The brand's mission statement is to empower makeup artists to find strength, love, and grace within themselves, like Wonder Woman! The brush set advances the brand's motto of "Driving Beauty."
Diana Prince must have these on her vanity.
The Flat Kabuki brush is amazing. Look at the tapered, glossy red handle, the Wonder Woman logo, and the white-tipped heads.
The head of the Tapered Kabuki brush looks like a work of art. The placement and density of the bristles feels so perfect.
The Beauty Buffer brush will help diffuse product.
The Angled Buffer has a killer curve.
The Fan brush has a fan.. in me!
Here's the full set! When the brand first teased the collab, I thought it might be a compact or color products of some sort, based on the image that was shared. But Luxie is primarily a brush brand, so this makes sense. There is no way that these brushes won't be as functionally superior as they are stunning to look at.