If You Love Fantasy Novels, You Need To Visit This Library ASAP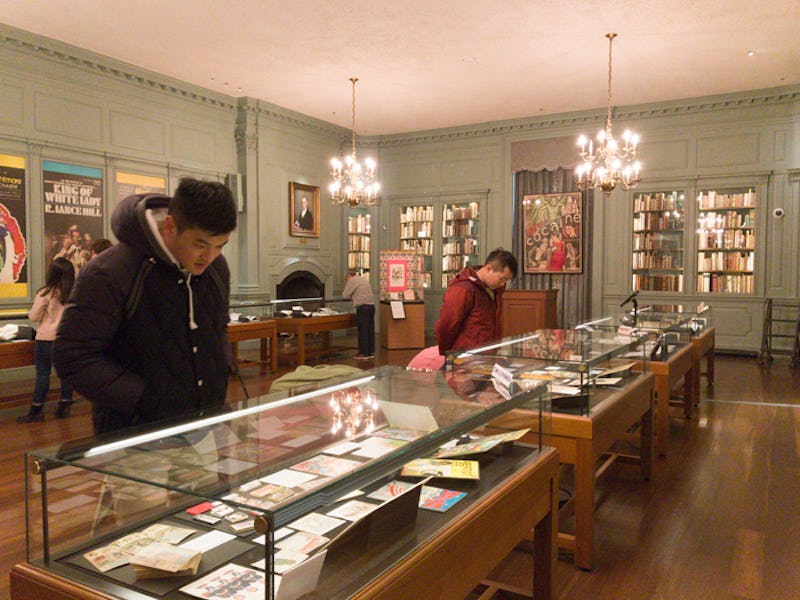 Photography by Dennis O'Reilly, Ars Agassiz
I read a lot of fantasy novels as a child, and I always enjoyed studying the maps in the front and back pages of those books to see what the characters' worlds looked like. I even tried my hand at drawing a few maps of my own, after pouring over the lines that defined Alagaësia, Middle-earth, and the Old Kingdom.
If you love fantasy cartography as much as I do, Harvard University's Houghton Library has a new exhibit you're going to want to see. Landmarks: Maps as Literary Illustration features more than 60 maps from your favorite books. On display to commemorate the bicentenary of the Harvard Map Collection, Landmarks is curated by Peter X. Accardo, and will be viewable in the Houghton Library's Edison and Newman Room through Apr. 14. Another map-related exhibition, Look But Don't Touch: Tactile Illusions on Maps, is on display at the Pusey Library's Map Gallery Hall through Feb. 17.
Wondering if you'll be able to catch your favorite literary map on display at Harvard? The Landmarks exhibit includes maps from many beloved science-fiction and fantasy novels for children and adults, including:
Even if you aren't interested in looking at maps from fantasy and children's books, the Landmarks exhibit has something you'll enjoy. From the press release:
[T]his exhibition brings together over sixty landmark literary maps, from the 200-mile-wide island in Thomas More's Utopia to the supercontinent called the Stillness in N.K. Jemisin's The Fifth Season. Visitors will walk beside Dante on his spiritual journey; traverse literary geographies from William Faulkner's Yoknapatawpha County to Nuruddin Farah's besieged Somalia; or perhaps escape the world's bothers in Pooh's Hundred Acre Wood. Landmarks is organized around eight categories: journeys, utopian literature, novels, island fiction, poetry, mystery and science fiction, fantasy fiction, and children's literature. What's your orientation? At this intersection of literature and cartography, get your bearings and let these maps guide your way.
Other books with maps on display in Landmarks include Don Quixote, The Lord of the Rings Trilogy, and Gulliver's Travels. The titles I've listed here only scratch the surface of what Landmarks has to offer, however, so believe me when I tell you that there's even more magic waiting for you at the Houghton Library this spring.
If you will be in the Cambridge, Mass. area before Apr. 14, make an effort to check out Landmarks: Maps as Literary Illustration while you're there.
The exhibition is free to the public during the Houghton Library's opening hours, which begin at 9 A.M. Monday through Saturday. The library is closed on Sundays.