The Audience Reactions To The Emmys Marriage Proposal Will Make You Say "Absolutely, Same"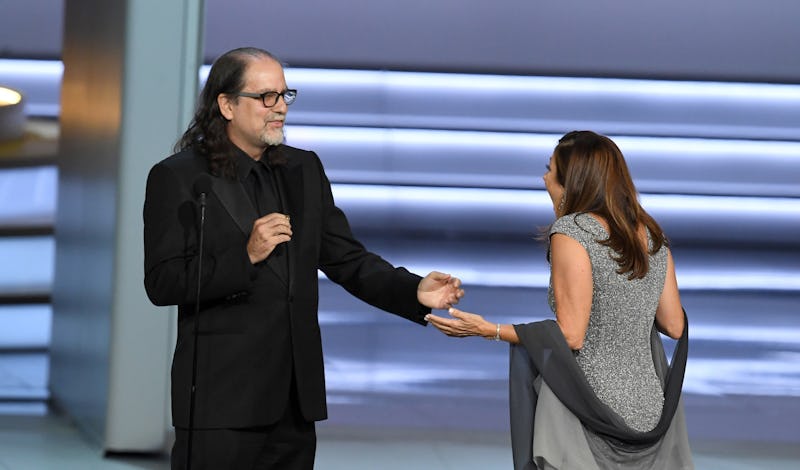 Kevin Winter/Getty Images Entertainment/Getty Images
Typically, people complain that award shows are boring, and yeah, for the most part, they can be. But that was before there was a heartwarming marriage proposal at the Emmy Awards on Monday night. Yes, Glenn Weiss proposed at the 2018 Emmys, and the audience reactions were absolutely priceless.
Picture this — you're tearfully watching your boyfriend, Glenn, accept the award for Outstanding Directing For A Variety Special for his role in directing the Academy Awards, and all of a sudden, he's talking about his recently (only two weeks ago!) departed mother. And then, he's talking about how you, his girlfriend, is the sunshine of his life, and like, his mother says, you should never let sunshine go. And you're his girlfriend, but you really should be his wife... and then you get proposed to on national — nay, global — television with the ring that your boyfriend's father gave his mother 65 years ago.
That's what happened to Jan, Weiss' girlfriend (well, fiancée now), and it was truly a moment for the ages. Nobody in the house could have predicted a proposal, probably except for Weiss, who obviously had the ring in his pocket. Here's video of the whole dang thing:
And let me tell you — the crowd went wild. Just look at Leslie Jones' face.
Wasn't that everyone's face? Have you ever seen Javier Bardem this happy? I know he only plays really upsetting, mean characters, but come on.
Twitter was in awe, too.
Many Loved A Public Proposal, Even If They Didn't Want To
It's embarrassing in theory, but so cute when you see it.
The Emmys Has A Better Track Record Than The Bachelor
Is there a new reality show idea coming from this?
Billy Eichner Had An Idea Of His Own
Always upping the ante.
Some Called It The Best Thing Ever
It's pretty close to sliced bread.
Weiss took a huge risk in proposing to his girlfriend in front of millions of viewers, but he had to know that she was going to say yes, right? He had the ring in his pocket, an Emmy in his hand, and his mother watching over the whole thing, and so he just decided to go for it. (I wonder what would have happened if he didn't win...)
In any case, Weiss' huge leap of faith and act of love was the perfect injection of soul and heart into what was really a mostly boring awards show. Michael Che and Colin Jost, who are usually so good behind their desks on Saturday Night Live's Weekend Update, were a little flat in their deliveries. The awards went to the people we thought the awards would go to. Weiss' proposal reminded us that a little love in the world really makes people go nuts. And since we seem to need so much of it, why not spread that love and joy? At the very least, you'll get a lot more time for your acceptance speech.