The Proposal At The Emmys Was Actually The Best Win Of The Night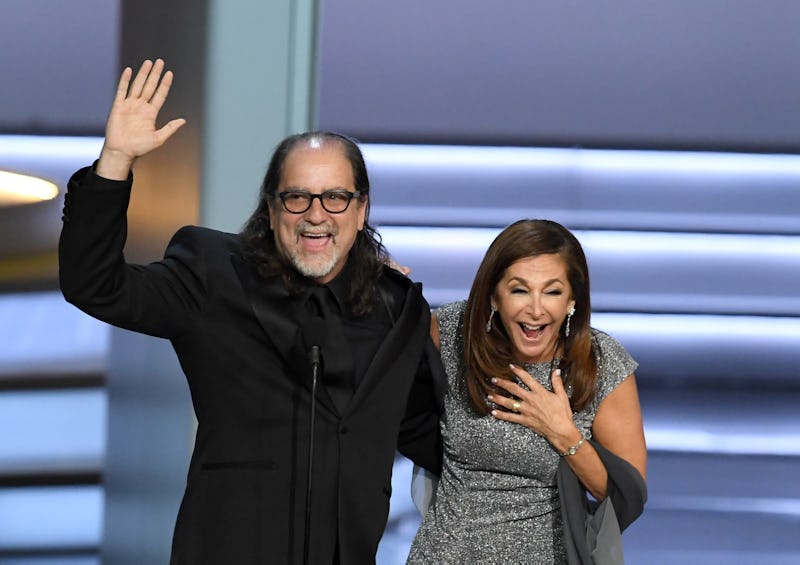 Kevin Winter/Getty Images Entertainment/Getty Images
Midway through the Emmys, the show stopped. But it wasn't because someone cursed on live television, or because of technical malfunction. It was because of a proposal. Glenn Weiss proposed at the 2018 Emmys, bringing the audience to its feet and fans straight into their feelings. Weiss, who won an Emmy Award for Outstanding Directing for a Variety Special for his work directing The Oscars, didn't just accept his award when he was onstage. He decided to spread the love, and get down on one knee to propose to Jan Svendsen.
This was Weiss' fourteenth Emmy win — he's got over a dozen back home for directing the Tonys and other various special events and award shows — but this might just be his most memorable win yet. Weiss began his speech honoring his mother who died two weeks ago. "A part of my heart is broken. I don't think it will ever be repaired," he said. "Mom always believed in finding the sunshine in things, and she adored my girlfriend Jan." Now here's where things turned romantic. "Jan, you are the sunshine in my life, and Mom was right, don't ever let go of your sunshine." The feed cut to Jan, who looked on, thrilled. "You wonder why I don't like to call you my girlfriend? Because I want to call you my wife," Weiss said.
The crowd, naturally, erupted with cheers as soon as the proposal began, and they began standing up. Leslie Jones of Saturday Night Live was particularly shocked, standing up, open mouthed, just waiting to see what would come next. (In other words: she was all of us watching at home.) As the crowd stood, Jan collapsed into her chair out of shock, before getting up and making her way to the stage (with some help from Emmy nominee Milo Ventimiglia).
"This is the ring that my dad put on my mom's finger 65 — 67 years ago," he said, turning to the camera, "And to my sisters and brothers, I didn't swipe it, Dad knows I have it, OK?" The crowd laughed, but it was clear everyone was swept up in emotion. "Jan, I want to put this ring that my mom wore on your finger, in front of all these people, and in front of my mom and your parents watching from above. Will you marry me?" Weiss got on one knee, but he was already halfway through putting the ring on his new fiancée's finger. She said yes, the two shared a kiss, and Weiss returned for one final thank you. "Thank you to the Academy! Thank you everybody," he said. And then he proceeded to walk off stage, Emmy in one hand, and a bride to be in the other.
It was quite a memorable moment, one that had soon-to-be Emmy winner Claire Foy in tears. It also had viewers at home tweeting up a storm.
As comedian Fortune Feimster and writer Samantha Highfill pointed out, the speech, which began with a dead mother and ended with a proposal, was quite the emotional roller coaster.
So here's to Glenn Weiss and Jan Svendsen. May your love last longer than all the award shows combined.