The Hidden Meaning Behind 'The Marvelous Mrs. Maisel' Season 2's Soundtrack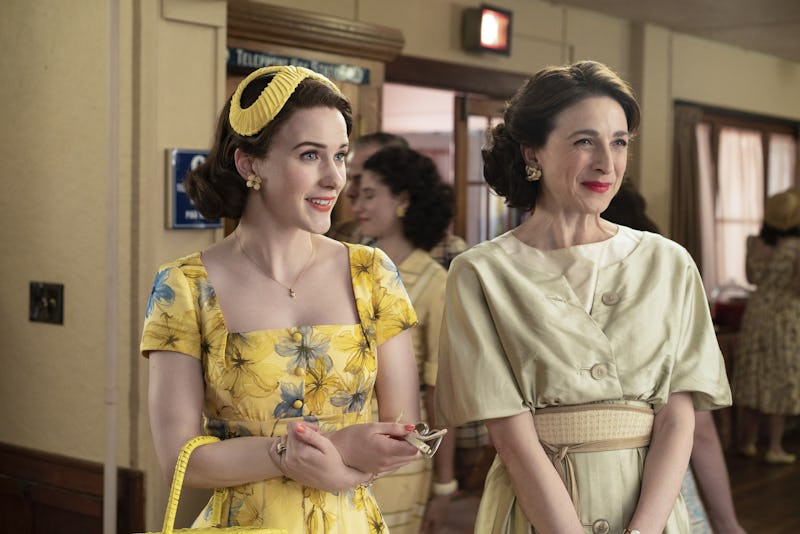 Amazon Studios
The Marvelous Mrs. Maisel may not have the small town charm of Gilmore Girls, but Lane Kim would be proud of the soundtrack. The music on Amy Sherman-Palladino's Amazon series is a mix of classics and deep cuts that will make you want to compile a new playlist stat. And while the Marvelous Mrs. Maisel Season 2 soundtrack isn't available just yet, there are already a few (unofficial) songs to add to your "play next" queue.
"My husband has a mental problem when it comes to music," joked Sherman-Palladino in a Vulture interview about the Maisel music. "He's a bit of a savant, and I'm at times concerned with him. We have an incredibly extensive music library at home because he has everything. It's very weird. Music has always played a very big part in everything that we've written."
It shouldn't be long before the official track list is released. The music from The Marvelous Mrs. Maisel Season 1 was made readily available for fans with a curated Amazon playlist from Amy Sherman-Palladino and Dan Palladino, a single version of Sutton Foster's "I Enjoy Being A Girl" from Flower Drum Song cover, and an official soundtrack that you can stream or buy as a CD or vinyl album.
Season 2 kicks off with "Just Leave Everything To Me" by Barbra Streisand. There's also lot of Blossom Dearie, a delightful cover of "There's No Business Like Show Business" from Mary Hopkin, and a few anachronistic songs that play over the credits from artists including The Waitresses and The Hues Corporation.
In some instances, those latter tracks are just a fun or punctuating a joke, but in others, like with Transvision Vamp's "Tell That Girl To Shut Up," they're deliberately highlighting how far we haven't come as a society, as we have the same frustrations now that we do then and are literally singing the same tune decades later.
In the same interview with Vulture, executive producer (and the savant spouse in question) Dan Palladino explained that choice:
"It points the viewer forward. We're trying to be careful to use the music and emphasize that we don't want this show to feel like it's locked in time or locked in a precious box for people to look at. We wanted it to feel like something that's happening now, but it was happening in 1958. That burst of music at the end points a few decades into that future."
While you wait for an official download, you can compile your own Season 2 soundtrack playlist while you're watching the new episodes — and you don't even have to ask Siri or Shazam to do it. Amazon Prime's X-Ray feature allows you to see the song title and artist of any song playing in the background of any scene just by hovering over one side of the screen. (It's also super handy for figuring out which obscure Broadway actor just popped up, as X-Ray also names every actor and character on screen in that moment.) No, this is not an ad — just a hot tip for eager fans!
No matter how you eventually end up listening to it, the music of The Marvelous Mrs. Maisel doesn't disappoint, and a true soundtrack will be here soon enough.