'Mary Queen Of Scots' Has Saoirse Ronan & Margot Robbie Coming For The Oscars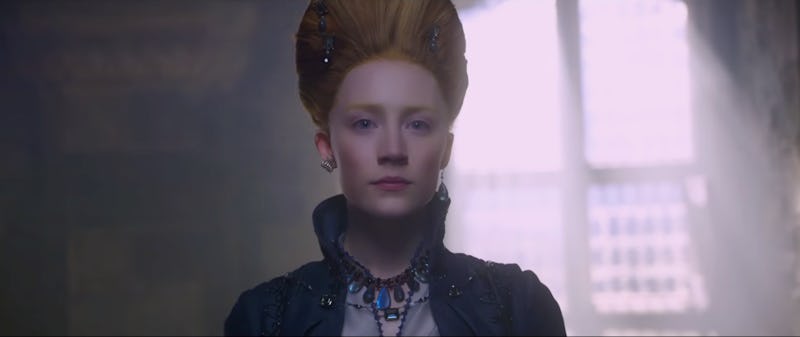 Focus Features
Remember that dream you had, where two of Hollywood's most formidable 20-something actors went up against each other in a tale of friendship, rivalry, and intrigue? Well, it's here, and it's spectacular. The trailer for Mary Queen of Scots stars Saoirse Ronan and Margot Robbie as Mary Queen of Scots and Elizabeth I, respectively, and it definitely looks awards-worthy. The period piece is rare in that it features two prominent female leads, but let's be real about this, it's classic Oscar bait. The Academy Awards love actors who turn in gripping performances of aging, real world leaders, and the film has a prime Oscar-worthy release date of December 7. Not that making a play for the Oscar is a bad thing. In fact, by the looks of the Mary Queen of Scots trailer, both Robbie and Ronan will be fully deserving of any and all accolades.
The film is based on the true story of Queen Elizabeth I and Mary Queen of Scots, distant cousins who rivaled one another for the throne when Mary Stuart laid claim to it. To be clear, this is a different historical Mary from "Bloody Mary", though said Mary was also a rival to Elizabeth I. Elizabeth I and Mary Queen of Scots were cousins, both related to Margaret Tudor. (She was a great-aunt to Elizabeth I and grandmother to Mary Stuart.) More importantly, both have reputations as intense and powerful women. And Mary Queen of Scots gives an up close look at the inner workings of their lives, their rivalry, as well as their romantic lives, religions, and family heritages. If the film is half as juicy and dramatic as the first official trailer, then it is sure to have people talking.
The trailer offers a curious, unique portrayal of both queens, one that can be argued as more or less feminist than the actual version of events. The trailer leans heavily on Elizabeth I's rumored infertility, thereby suggesting that her resentment for Mary was borne (pun intended; sorry) from her ability to bear heirs. And one could make the case that the trailer would fare better to lean less heavily on the "women are emotional and petty and unfit to rule" narrative. That said, given that this is the first trailer for the movie, it's far too early to judge. After all, the film is called Mary, Queen of Scots, and not Mary and Elizabeth or A Long, Drawn-Out, and Historically Accurate Though Nonetheless Interesting Piece of Cinema. It's not about "how things were" exactly; it's ostensibly about Mary Stuart's complex desire for power.
Feminist or not, there's no denying that Mary Queen of Scots appears to be on the fast-track to awards season. It's star, Ronan, has been nominated for Oscars several times over — first for Atonement, then Brooklyn, and most recently, Lady Bird. Meanwhile, Robbie earned her first nomination this year, when her performance as Tonya Harding in I, Tonya was met with critical (and audience) acclaim. It will be interesting to see whether they submit themselves in the Leading or Supporting categories, or whether one actor's performance will be received more highly than another's. Robbie has certainly put herself up for a challenge here, as both Helen Mirren and Cate Blanchett have taken on the role of Elizabeth I in the last 15 years. (Blanchett earned an Oscar nomination and took home a Golden Globe for her role in Elizabeth, while Helen Mirren also won a Golden Globe for her portrayal in the mini-series Elizabeth 1.)
Whether it wins awards or not, Mary Queen of Scots looks incredible. If nothing else, Saoirse Ronan's eery resemblance to Mary Stuart already deserves a lot of praise.