The 'Matilda' Challenge Is The Internet's Newest Obsession & It's Absolutely Magical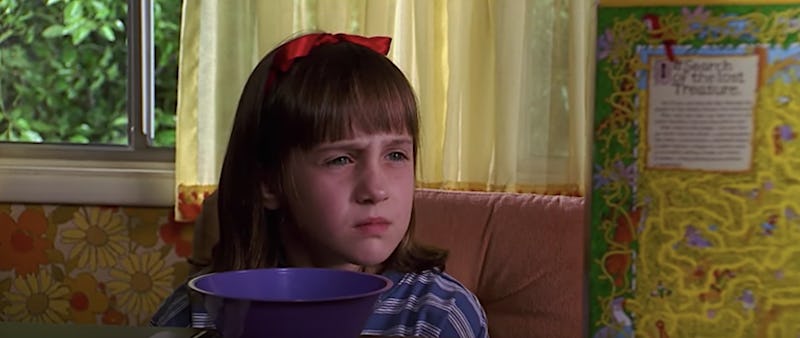 TriStar Pictures
Believe it or not, it's been over 20 years since Mara Wilson first stepped into the role of Matilda Wormwood. And while the film, which hit theaters on July 28, 1996, may not have broken any box office records, Matilda's impact on the world was profound and undeniable. Which is why it should come as no surprise that a viral Matilda Challenge now exists and, much like the character itself, the results have proven to be a work of pure magic.
In a time before Hermione Granger, it was rare to see young girls honored for their strength and intellect. However, when it came to Matilda, her mind proved to be her greatest weapon in more ways than one, whether that meant sitting down with a good book or making objects fly across the room. So it's fitting that the next big trend to go viral centers around the iconic scene from the film when Matilda fully embraces her telekinetic abilities and proceeds to make various objects fly across her living room while dancing to "Little Bitty Pretty One" by Thurston Harris.
From serving up some Cheerios for breakfast (without lifting a finger) to making various inanimate objects move on her command, this is definitely considered to be one of Matilda's shining moments. And for those who are having a difficult time remember the exact scene, just check out the clip below for a little refresher:
Taking a page from Matilda's book, participants in the Matilda challenge are shown dancing along to the very same song while tidying up their place. Sounds pretty normal, right? Well, it is — until their various household objects start moving on their own to the beat of the music. And while it could definitely be thanks to the help of a hidden third party member, the resulting footage will make you want to believe in magic.
And the best part is that Mara Wilson totally approves of the project, even tweeting out her excitement over its discovery. "Hahahahaha I LOVE THESE #MatildaChallenge," she wrote on her social media account while linking to numerous examples of the challenge, including the one that Wilson believes started it all:
There have been plenty of great Matilda Challenge videos, but this adorable pug one, which parallels Matilda's own unique attempts at eating cereal hands-free (or in this case, let's say paws-free), is definitely a standout.
Some involve cute umbrellas and dancing teddy bears:
While others shake it up with some stellar picture frame action instead:
Regardless of which one resonates with you the most, they're all pretty creative, and a challenge that's actually a lot of fun, not to mention completely safe. So if you're already wishing it was the weekend and find yourself in need of a little pick-me-up, start browsing through these challenge videos and you're pretty much guaranteed to start feeling better. Or better yet, perhaps this will end up inspiring you to create a video of your very own to add to the ever-growing collection.
Give magic your best shot, and, who knows, Matilda herself might approve.