The 'Mean Girls' Musical Needs To Include These Moments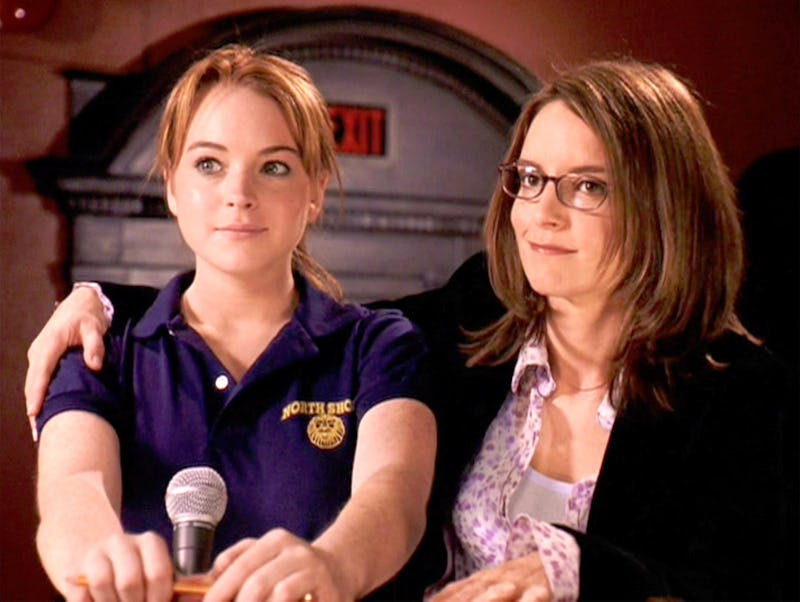 Paramount Picture
I'm not trying to make "fetch" happen or anything ridiculous like that, but there's something pretty "fetch" going on in the world of Mean Girls. The Associated Press reported on March 21, Tina Fey's musical stage adaptation of Mean Girls is set for a world premiere at The National Theater in Washington, D.C. While it is certainly exciting that the world is about to be gifted a musical version of the exploits of a teen girl trying to navigate high school and popularity, there are a few memorable moments the Mean Girls musical needs to include for the collective enjoyment of us all.
The story for the musical version of the film was adapted by Fey from her original script. Her husband and Emmy-award winning composer for a Fey's other projects 30 Rock and Unbreakable Kimmy Schmidt, Jeff Richmond, took on the music, while Tony Award-nominee Nell Benjamin of Legally Blonde is responsible for the lyrics. This award-winning and award-nominated crew is joined by director and choreographer Casey Nicholaw, who previously wowed with the Hamilton of its' time, The Book of Mormon.
It's no surprise the team behind this musical adaptation is awesome, but regardless of all the glitz and glamour, I hope they include the parts of Mean Girls that make it so great. I mean, every single moment of the the iconic film great, but you know, the most memorable ones.
1. The Phone Calls
How funny would it be to see the drama behind the Plastics phone calls on the stage? There's a zillion hilarious wthat thtys to get creative with this concept.
2. The "Not Regular" Mom
I want Amy Poehler to reprise her role as as "cool mom" in the musical version. We need her.
3. The Candy Cane-Grams
Seriously Glen Coco, way to go. You've launched yourselves in our hearts and minds forever.
4. The Intense Display Of Feelings
"She doesn't even go here!"
5. Cady Heron Falling In The Trash Can
What better way to showcase Cady's issues with fitting in than her falling into a trashcan? Slapstick humor for the win!
6. The Jingle Bell Rock Dance
And they better still use Janis' original choreography.
7. The Zombie Bride Costume
It's key to Cady's fitting in to "Girl World" that she figures out that Halloween isn't about spooky costumes, it's "the one day a year when a girl can dress up like a total slut and no other girls can say anything else about it."
8. October 3rd
Any Mean Girls musical must include the most important day of the year. I wouldn't say no to perhaps a whole song dedicated to the moment when Aaron Samuels asked Cady what day it is.
9. "You Can't Sit With Us!"
Dare I say, the most iconic line in any film ever? I dare.
10. The New Plastics Getting Hit By The Bus
That scene is jarring literally every time I see it, so I am certain it will be even more jarring and hilarious on the stage.
11. The On-Point Sex-Ed Classes
It's a subtle scene, but so key to explaining the sort of environment the characters live in.
12. Any Time Tina Fey Appears
Ms. Sharon Norbury may be just a divorced math teacher, but her dry wit makes her sparkle. And like, Tina Fey could totally still play the character if she wanted to.
13. Cady's Spring Fling Speech
Hey, Principle Duvall, you might not think its necessary for a speech, but we all need it for closure of the musical, so chill out and enjoy, OK?
These moments from the movie would make the musical unthinkably fetch, and that's a good thing.