The Meaning Of Beyoncé's First Photo Of Her Twins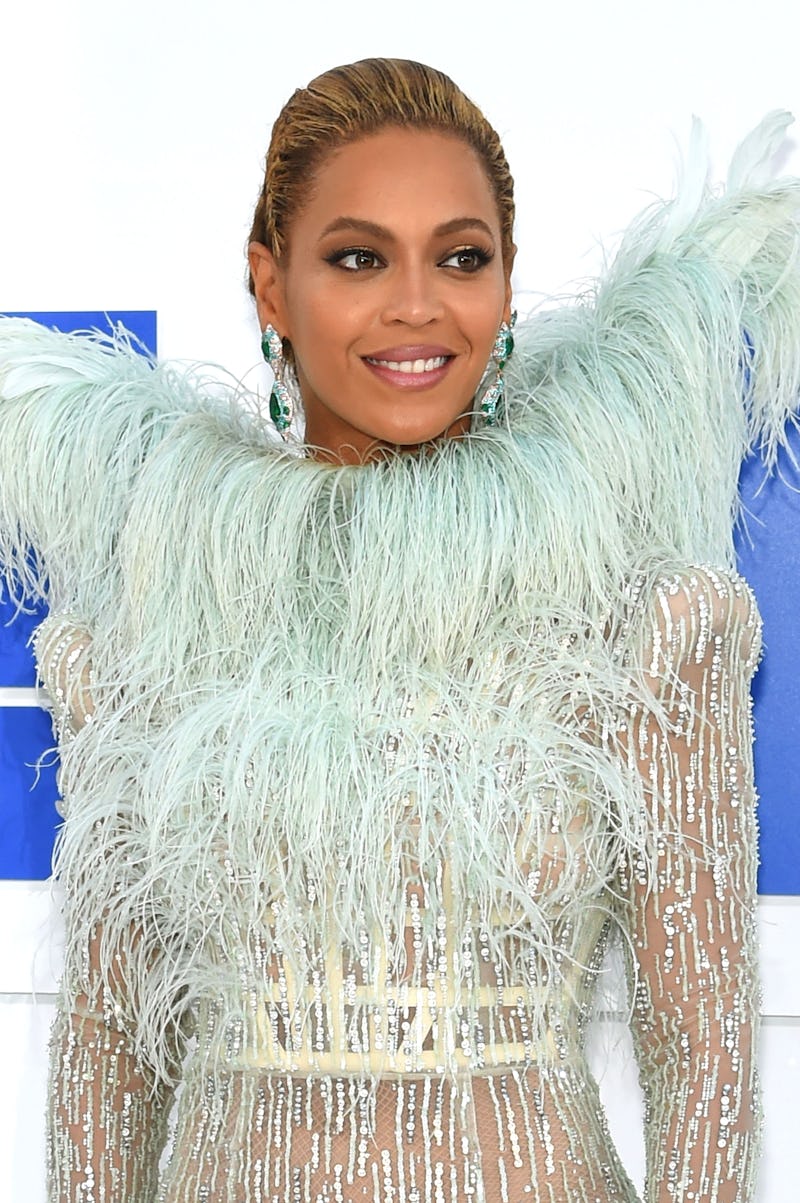 Jamie McCarthy/Getty Images Entertainment/Getty Images
Only Beyoncé would drop the first image of her one-month old twins, Sir Carter and Rumi, during the super early morning hours while many people are asleep. Now that the picture is out there for the world to gawk over, it's time to discuss the meaning of Beyoncé's photo with her twins. She always seems to post some type of elaborate, yet meaningful, photo when making a big announcement, and that's exactly what's going on here.
At first glance, you'll notice that the picture of Bey and her twins is awfully similar to her pregnancy reveal image she posted on Instagram in February. It's safe to assume that the Lemonade artist is making some type of callback to the special moment in her life when she shared with the world that she would become a mother again — and this time to twins. However, this latest picture has many differences, including that the twins are featured, Bey is standing, not kneeling, she isn't in a bra and underwear, and she is wearing a blue veil, not a green one.
That said, like her pregnancy announcement image, it appears this one is also filled with religious and maternal symbolism. Seeing as this photo is similar to the one with Bey and her twins, both most likely have a connection when it comes to the imagery presented. As Dennis Geronimus, Associate Professor and Chair of the Department of Art History at New York University, told Harpers Bazaar in February about the reveal photo, "Beyoncé's pregnancy announcement photos make a great many references to works of art, both famous and little known."
The image showcasing Bey kneeling in front of flowers and wearing a green veil could possibly refer to the Roman Catholic Patroness of Mexico and the Americas, the Virgin of Guadalupe, per Harpers Bazaar. Jim Nikas, the Director of the Posada Art Foundation told the outlet, "The Mexican people see [the Virgin of Guadalupe] as the mother of everyone, not just the mother of God. Pretty clearly, the imagery there is a mom, who is Beyoncé. You could say she's likening herself to the mother of God, but I don't think that's the message so much as the joy of motherhood."
Nikas also explained that flowers symbolize fertility, which may be why there are luxurious flowers behind the singer in both images. The way Queen Bey presents herself with flowers in the picture with Sir and Rumi could very well be her way of not only embracing religious imagery like she seemed to do in her pregnancy photoshoot, but possibly also her way of expressing her maternal side.
As for the reason Bey switched from a green veil to a blue one, there isn't a concrete answer, but according to Hello Giggles, veils, in general, present a form of protection of the person or object they are covering. Furthermore, Hello Giggles also explains that the color green in Islam represents "submission to Allah's will" and means "benefits" if seen in a dream.
The color blue is something that many also associate with the Virgin Mary, who is often seen in blue. Per Aleteia, "For the people of Israel blue brings to mind the following of God's Commandments, as opposed to a person's selfish will." The website also explains the color blue "has deep spiritual meanings" and is considered a "sacred color, one that reminds us of Mary's faithfulness and her privileged role in salvation history." Blue can also be a symbol for "women's piety, sacrifice, and observance."
Tabloid Art History's Twitter account has also taken the time to compare the photo of Beyoncé and her twins to several famous works of art. It's unclear if these particular pieces influenced her photo, but it's hard to ignore the similarities.
Whatever the true meaning behind the photo is, it certainly seems like Beyoncé put a lot of thought into it and wanted to make sure the first photo of her twins shared with the world would be a special one.