This New Netflix Show Is Basically Just 'Childrens Hospital' But With Cops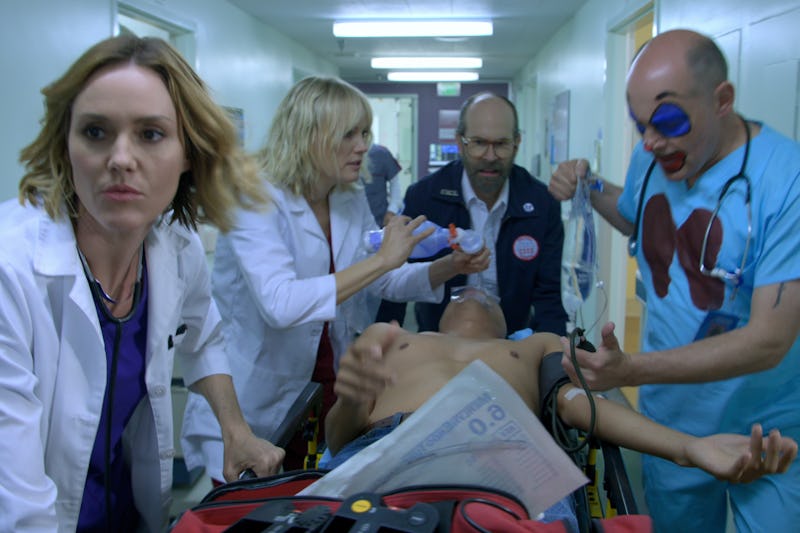 Courtesy of Netflix
Childrens Hospital fans, assemble: the cast of Medical Police is picking up where the cult WB comedy left off. Three years after Childrens Hospital went off air, the new Netflix show sees Erinn Hayes and Rob Huebel reprise their Childrens Hospital characters. This time, however, Lola Spratt and Owen Maestro aren't just medical professionals; they're self-ascribed "cop doctors."
While working at a pediatric hospital — which is obviously located in São Paulo, Brazil and definitely not Los Angeles — Lola and Owen discover the existence of a virus that threatens to wipe out humanity. As a result, the unlikely duo are recruited by Sloane McIntyre (Sarayu Blue) at the Centers for Disease Control (or CDC) to try and stop the deadly virus before it spreads.
Along with Hayes and Huebel, viewers will recognize Childrens Hospital stalwarts like Ken Marino (who again plays his character, Dr. Glenn Richie), Rob Corddry (as Dr. Blake Downs), Henry Winkler (Sy Mittleman), Brian Huskey (Chet), and Malin Akerman (Dr. Valerie Flame). There's no sign of Megan Mullally, but perhaps she'll make a surprise cameo — if not in Season 1, then maybe in future seasons. For now, here's who you can count on seeing in Medical Police come Friday, Jan. 10.