People Are Meme-ing Demi Lovato's Face At The Billboard Music Awards & It's Rude AF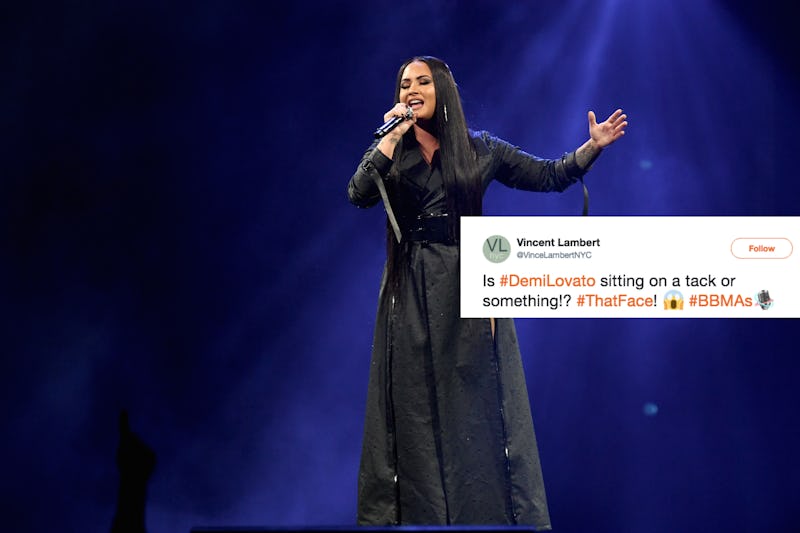 Kevin Winter/Getty Images Entertainment/Getty Images
When the camera cut to Demi Lovato on Sunday, the Internet immediately took note that Demi Lovato's face at the Billboard Music Awards was prime meme material. She looked less than impressed, and the Internet loves a #notimpressed joke. But, these memes and tweets are honestly a little rude. Can we just let her live?
While Shawn Mendes was performing his new song "In My Blood," the camera caught Lovato looking to her right, giving what could be called some side-eye, and flipping her hair. Then, she was spotted looking stern again while Taylor Swift accepted the award for Top Female artist.
Fans immediately took note. Many dubbed the expression her "resting b*tch face," and others called her out for not looking happy. While there's no telling whether Lovato, who was nominated for three awards, was actually mad or not, people on Twitter immediately took those seemingly steely glances and ran with them. Some fans thought she looked angry in general, while others wondered if she was throwing shade at fellow artists.
@BrookeWoodward_ tweeted, "I'm sorry but why did Demi make a face during Shawn's performance? MS LOVATO EXPLAIN..." while @tamara2192 wrote, "#DemiLovato looks so done with everything tonight lol her resting bitch face is giving me life."
Meanwhile, @KissesA94 said, "@ddlovato face be looking like she dont care bout none of these people Lmfaooo," and O10Courtney wrote, "Demi Lovato's resting b*tch face when Taylor Swift won top female artist. I want to be that petty."
However, if Lovato was upset at all, she shook it off before she took the stage for a triumphant performance of her duet with Christina Aguilera, "Fall In Line," the latest offering from Aguilera's upcoming album Liberation, and fans turned their attention from her facial expressions to her passionate vocals.
The two powerhouses vocalists belted the empowering anthem side by side on the stage, singing lines like:
"Little girls, listen closely.
'Cause no one told me, but you deserve to know.
That in this world, you are not beholden.
You do not owe them your body and your soul."
Fans online delighted in seeing the two together onstage.
@CNBuontempo wrote, "That Christina and Demi duet was the duet I never knew I needed but now I can't live without it," while @cgvmin tweeted, "Christina and Demi are killing it! I love this song!"
@Liz_Reyna_ said, "Christina and Demi shook me to the core!! Powerhouse vocalists DID THAT!!!"
The song is a celebration of strong women, and upon its release Wednesday Aguilera and Lovato also took to their respective accounts to post notes of mutual support.
Lovato, a longtime fan of Aguilera's, posted a photo of the two on Instagram, writing, "I hope you love this song as much as I do. It's such an honor to lend my voice to this anthem for women with one of the most inspiring individuals I've ever met."
Aguilera posted the same photo, and praised Lovato's work, writing,
"I believe our paths were destined to cross and I am so proud to come together from the pasts we've overcome; to the strong women we are today! You are truly a GEM, I have immense love and respect for you! You are an inspiration for future young girls of your generation. Beautiful work!"
Fans can look forward to seeing the two artists together again very soon. Aguilera recently posted a photo of she and Lovato kneeling in a field surrounded by flowers, captioning the photo with video camera and heart emojis, seemingly hinting at a forthcoming "Fall In Line" music video.
If her performance is any indication, hopefully when the video drops fans online will continue to focus on Lovato's work — and leave her face alone.