JAY-Z's '4:44' Mini-Doc Is All About Vulnerability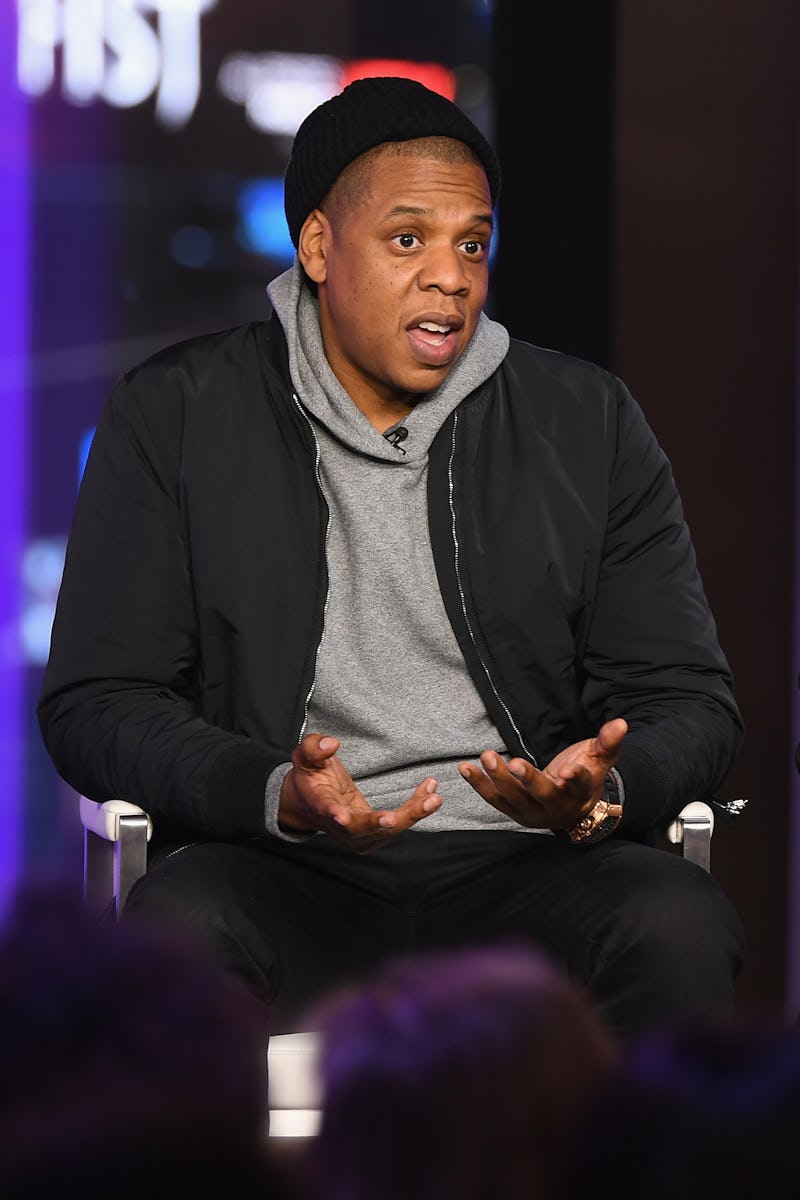 Dave Kotinsky/Getty Images Entertainment/Getty Images
JAY-Z has been getting personal recently, and this time, he brought a bunch of his famous friends along for the ride. Monday night, JAY-Z released a mini-documentary about "4:44" on TIDAL, offering a little bit of insight into the struggles he and Beyoncé have had in their marriage. But aside from what he said about his own marriage, several celebrities also chimed in to discuss what they've learned from their own relationships or instances of infidelity. And even though we can all get wrapped up in what seems like harmless celebrity relationship gossip, their stories are a good reminder that these are real people in real relationships that we're talking about.
In the video, which is called Footnotes For "4:44," JAY-Z and his guests sit down for a very open and honest discussion about the mistakes they've made with the women they love. While JAY-Z himself took the opportunity to admit that his relationship with Beyoncé wasn't "based on 100 percent truth," Grey's Anatomy actor Jesse Williams chose to open up about his divorce from his wife of 13 years, Aryn Drake-Lee, and the rumors that he'd left her for someone else and was allegedly dating Minka Kelly soon after the announcement of his and Drake-Lee's split. (Bustle reached out to a rep for Kelly for any comment on the rumors, but did not receive a response at the time of publication.)
When it was his turn to share his feelings on camera, Williams said:
"I was in a relationship for 13 years. 13 real years — not five years, not seven years, 13 years. And all of a sudden, motherf*ckers are writing thinkpieces that I somehow threw a 13 year relationship — like, the most painful experience I've had in my life, with a person I've loved with all of my heart — that I threw a person and my family in the trash because a girl I worked with was cute."
Williams' perspective on this kind of situation is so valuable, because it's one few people will understand until they're in the unique situation of going through something so personal on the public stage. It's easy to feel like you know a celebrity through following them on social media and watching their TV shows and movies, but it's important to remember that even our favorite stars are still total strangers — and real humans.
In the same video, Blackish star Anthony Anderson opened up about his relationship with his wife, Alvina. They called off their divorce earlier this year and seem to be working through their issues. Anderson said:
"Seeing the pain that I've caused my wife, seeing the pain that I've caused my children and my immediate family by my selfishness, by me wanting to be right, by me wanting what I want, you know, when it was just an unnecessary want and a primal urge."
Infidelity — whether one has actually committed it or is confronting rumors that they did — is such a difficult topic to tackle, especially since it's something people have such strong feelings about. Whether or not it's a permanent relationship ender is an individual decision, but regardless of that decision, it's something those in the relationship will have to struggle and live with themselves. Scrutinizing that decision isn't going to help, even if the people involved do happen to be famous.
As fans, we may never know what really goes on in the relationships of stars like JAY-Z, Williams, and Anderson, but what they have chosen to share is truly eye opening. Whether you agree with their opinions or not, making themselves so vulnerable about such a sensitive subject is admirable. Maybe, this kind of open discussion is what will help us all understand each other better as people and to have more empathy — something our world definitely needs.