The Desserts Served At Meghan Markle's Cookbook Launch Were Truly Next Level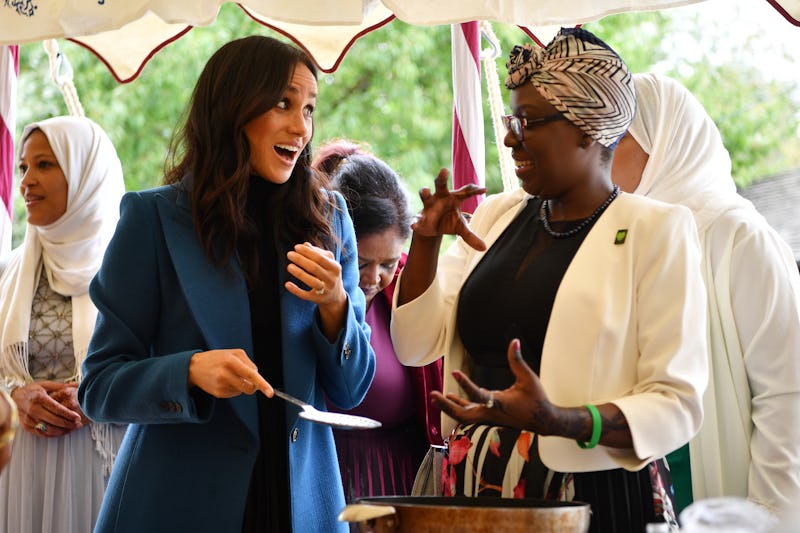 WPA Pool/Getty Images Entertainment/Getty Images
If you're a royal watcher (or just a fan of Meghan Markle and not the others — that's cool too), then you've surely seen pictures from the launch party the duchess hosted for the Hubb Community Kitchen's cookbook, Together: Our Community Cookbook. But while the photos are great, there's another aspect of this event worth checking out: the menu at Markle's cookbook party, because it sounds damn delicious.
First, though, the event. On Thursday, Markle threw a party at Kensington Palace in honor of Together, which was written by the women of the Hubb Community Kitchen. Some of these women were residents of Grenfell Tower during the fire and others are neighbors. After the fire, they all came together to cook at the Al-Manaar Muslim Cultural Heritage Centre, and started calling themselves the Hubb Community Kitchen. ("Hubb" means "love" in Arabic.) The book was put together in conjunction with the Royal Foundation, of which Markle is a patron, and she also wrote the foreword. Proceeds from the cookbook benefit the kitchen and its members.
The event, at which Markle was joined by her mother, Doria Ragland, and husband, Prince Harry, looked wonderful. The cookbook authors and other guests gathered on the palace grounds under a huge beautifully decorated tent and actually cooked some of the food during the event itself. The menu was shared on Twitter by Hannah Furness, the Daily Telegraph's royal correspondent, and it sounds so good.
As you can see, the selection represents a number of different cuisines. There's potato fritters with chutney, vegetable samosas, kofta kebabs, tabbouleh, sweet puff pastries, and so much more.
Markle remarked on the diversity of the group in her speech. "I had just recently moved to London, and I felt so immediately embraced by the women in the kitchen, your warmth and your kindness, and also to be able be in this city and to see, in this one small room, how multicultural it was," she said. "On a personal level, I feel so proud to live in a city that can have so much diversity. It's 12 countries represented in this one group of women. It's pretty outstanding."
If you want to make the recipes from the book yourself, of course, that is possible by purchasing the book. It's available on Amazon for $16.99. And if you want a preview, People has shared complete versions of three of the recipes: Jaysha Bora's Kuku Paka Coconut Chicken Curry, Gurmit Kaur's Eggplant Masala, and Faiza Hayani Bellili's Caramelized Plum Upside-Down Cake. If those names alone don't convince you this food was amazing, then just check out this video of Harry stealing an extra samosa.
According to the Royal Foundation site, the Duchess of Sussex started visiting the Hubb Community Kitchen in January and has continued to make visits in private ever since. Markle's interest in the kitchen and its cause makes a lot of sense, because she's long been a cook herself. For years Markle had a lifestyle blog called The Tig on which she shared recipes and her own experiences with cooking. Unfortunately, the site was shut down in 2017, but some of the recipes can still be found online.
Whether you're a home cook, want to support this great cause, or just love Markle, Together sounds like a great buy. And if you actually cook dishes from it, your friends and family will probably agree.