Jeff Sessions' Church Is Officially Accusing Him Of Child Abuse Over Trump's Border Policy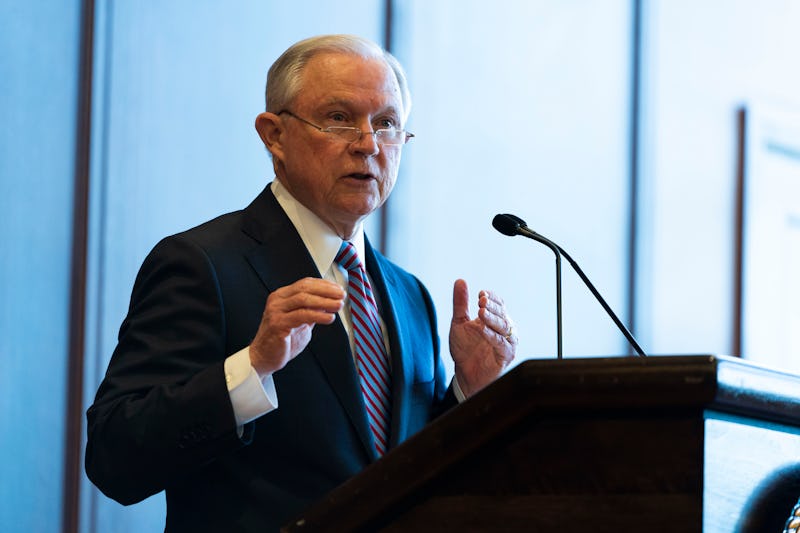 Jessica Kourkounis/Getty Images News/Getty Images
The United States is currently in the midst of an immigration crisis, as the Trump administration continues to enforce aggressive policies meant to deter illegal border crossings. But while administration officials have attempted to make the ongoing family separations a partisan issue, one Christian denomination appears to be having none of it. According to reports, the Methodist church is charging Attorney General Jeff Sessions for his role in enforcing the so-called "zero tolerance policy," potentially triggering internal judicial proceedings.
"As his denomination, we have an ethical obligation to speak boldly when one of our members is engaged in causing significant harm in matters contrary to the Discipline on the global stage," reads an open letter written by 640 clergy members and laypersons in the church, and obtained by TIME. It continues:
Several Bishops and other denominational leaders have spoken out about this matter, urging Methodists to contact Mr. Sessions and for these policies to change, but we believe that the severity of his actions and the harm he is causing to immigrants, migrants, refugees, and asylees calls for his church to step into a process to directly engage with him as a part of our community.
According to the letter, which is addressed to the pastors of two Methodist churches which Sessions reportedly attends, the signatories were hesitant to call for charges against Sessions, who is a church layperson. But ultimately, they wrote, they felt the impact of his power and actions warranted confrontation.
Per the Methodist Book of Discipline, signatories charged Sessions with child abuse, immorality, racial discrimination, and "dissemination of doctrines contrary to the standards of doctrine of the United Methodist Church." All charges were traced, in some way, to Sessions's participation in the family separation policy. They also chastised Sessions for using Romans 13 as part of his defense for enforcing obedience to secular law.
Though it is rare, the charges could potentially initiate a "reconciliation" process. The Book of Discipline, per UMC's website, allows for internal "church trials" to take place, though often complaints are solved locally, in conversation with a member's pastor. Ultimately, it's unclear how far any potential disciplinary proceedings may progress, but the public nature of the aforementioned letter is significant in and of itself.
The open letter is not the first time that the United Methodist Church (UMC) has vocally opposed the Trump administration family separation policy. On June 7, the church issued a press release officially condemning the practice. The statement highlighted the church's history of working with migrant populations, and acknowledged that people who leave their home countries don't always have another option.
"Leaving their communities is often the only option they have to provide safety for their children and protect them from harm," UMC officials wrote. "Tearing children away from parents who have made a dangerous journey to provide a safe and sufficient life for them is unnecessarily cruel and detrimental to the well-being of parents and children."
Other high-profile Methodists have also come out against the child separation policy, including former first lady Laura Bush, who wrote an op-ed for The Washington Post on Sunday.
"I live in a border state," Bush wrote. "I appreciate the need to enforce and protect our international boundaries, but this zero-tolerance policy is cruel. It is immoral. And it breaks my heart."
According to UMC, Bush is a lifelong Methodist.
The family separations began in May, when Sessions and the Department of Homeland Security both made statements announcing a new "zero tolerance policy" for prosecuting illegal border crossings. While illegal border crossing has long been a misdemeanor, it has not always guaranteed prosecution. Additionally, families who were to face prosecution were often released together to await judicial procedures because children are not allowed to be kept in jail.
Now that all illegal crossings are facing prosecution, children are being separated from their families and being placed in various detention centers. Photos, videos, and first-hand accounts of those centers have fanned the flames of the ongoing controversy. President Trump has consistently made the false assertion that Democrats are to blame for the separations, however, there is no law requiring that families be separated.
There are several legislative proposals before Congress that would seek to stop the separations, but whether or not they will pass is currently unclear.