The #MeToo Movement Has Reached South Korea & The Accusations Are Horrifying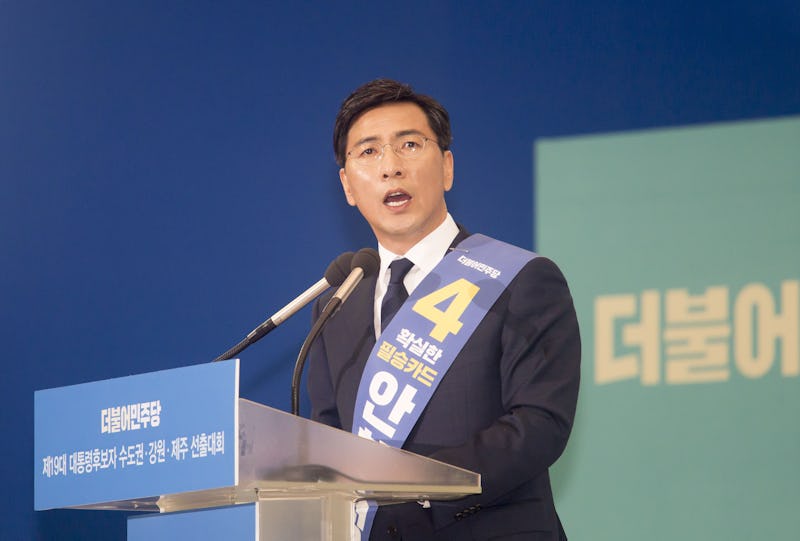 Aflo/REX/Shutterstock
Just a week after the Winter Olympics left the country, the #MeToo movement arrived in South Korea with force. On Tuesday, regional political star and 2017 presidential hopeful An Hee-jung stepped down from his position as governor of South Chungcheong province after he was accused of sexual assault.
His accuser, an aide, alleged repeated sexual assault in a television interview. After an initial denial from his office, An came clean in a Facebook post: "My staff office's description of the relationship as consensual was incorrect. Everything is my fault." He added that he apologized to everyone, especially the survivor, Kim Ji-eun.
The revelation came out on Korean network television, JTBC, on Monday night. Kim alleged that the politician raped her four times over eight months, sexually assaulted her in other ways on more occasions, and that she was not his only victim.
Kim credited the #MeToo movement that has grown on social media and in general culture the world over for giving her the strength to come forward. After the first allegations in Hollywood brought the campaign to prominence, Kim said that An seemed "anxious." She says he even referenced #MeToo, asked if she was OK, and apologized for his behavior — but then went on to allegedly assault her again.
An wrote on Facebook that he will resign from the governorship and retire from political life; in addition, his political party, the ruling Democratic Party, quickly removed him. The Chungnam provincial police department has also launched an investigation into the case.
For many South Koreans, the allegations are even more distressing given the party that An belongs to, The New York Times reported. The Democratic Party has positioned itself in favor of human rights since the fall of South Korea's military dictatorship in the 1980s, and leaders in the party have "billed themselves as holding a higher moral ground."
While many American men accused of sexual misconduct have lost their jobs in the entertainment industry, the top echelon of politics has proven harder to touch. In D.C., there has been an observed split between the Republican and Democratic parties. One on side, Democrats like former Sen. Al Franken of Minnesota and former Rep. John Conyers Jr. of Michigan have stepped down after allegations arose.
Republicans, though, have given a more mixed response to allegations. Some, in the House, have been dealt with swiftly. Others, though, were not so much as punished. The party continued to support former Alabama Senate candidate Roy Moore after allegations of his misconduct with underage women came out; he claimed, "I do not know any of these women."
The party has also chosen to ignore some 19 allegations against the president. Trump has denied them all, and his Press Secretary Sarah Huckabee Sanders has tried to use the election to justify moving on without further investigation.
"The people of this country, at a decisive election, supported President Trump," she said, "and we feel like these allegations have been answered through that process."
In South Korea, An is one of the first prominent people to be held responsible by the #MeToo movement. Seo Ji-hyeon, a prosecutor, said on television in January that she had been groped by a male boss, whch drew attention to the movement in that country.
Even President Moon Jae-in, a member of the Democratic Party, has spoken out on the movement. "This is a problem that has been festering so long it could have burst open any time," the president said. "I applaud those who had the courage to tell their stories." He also noted culture would need to change in addition to laws to prevent this from happening in the future.
An's case now shows that South Korea is listening to survivors.