How Jonah Hill Fought To Get All Your Fave Classic Tracks On The 'Mid90s' Soundtrack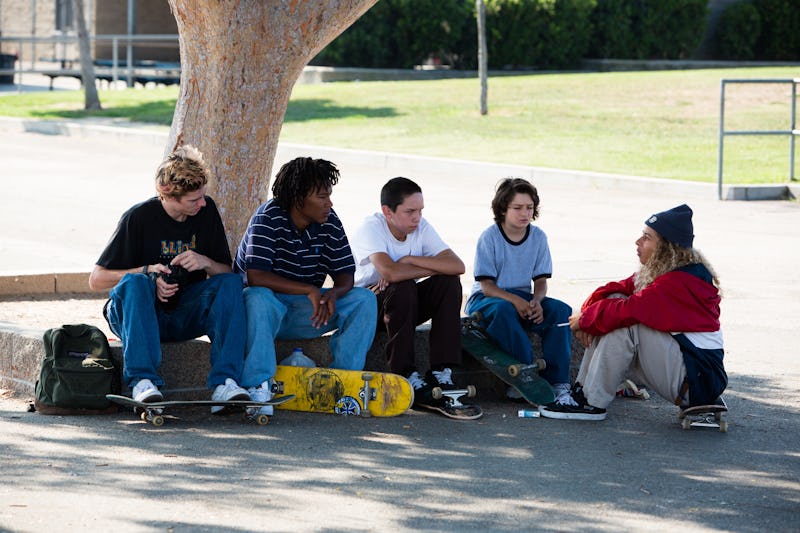 Tobin Yelland
Considering that Jonah Hill's feature film debut is titled Mid90s, it's no surprise that it contains music from the era. In fact, one of the first songs that plays in the film is Seal's "Kiss From a Rose". But that ubiquitous ballad is really an outlier when it comes to the overall soundtrack for Mid90s, which is full of hip hop and rock songs from the decade, many of which Hill sought out permission from the actual artists to use.
During an appearance on The Tonight Show, Hill explained, "We didn't have any money, and the soundtrack is crazy. Like, we had no money, so I had to write letters to all of my favorite artists ... I wrote, every song that's in the film, I wrote the scene to have that song in it." He went on to say that he wrote to Morrissey first and says the musician wrote back, "It is my pleasure and I can't wait to see Mid90s." Of course, this made Hill freak out that not only had Morrissey given the OK, but now was talking about his movie. "I was like, 'Morrissey knows what Mid90s is! He said the words Mid90s!'"
Hill said in an interview with The Hollywood Reporter, "The two rules of the movie are no skate porn and no nostalgia porn, meaning like... the name Mid90s is even a misdirect, 'cause you think its gonna be like 'alright, nostalgia fest', but it's all super low-key, it's blended in."
This come across in the song choices. While there is plenty that viewers can recognize, you aren't being hit over the head with one-hit wonders. (Even the use of Seal's hit just comes in the background during a scene at a restaurant where Seal actually would have been played.) Hill also talked to Pitchfork about using hip hop, specifically, "Hip-hop is often butchered in film — it's usually used to show someone driving through the hood or making a billion dollars and buying champagne — but it was the emotional backbone for me growing up. So a large ambition in making this film was to frame A Tribe Called Quest or Wu-Tang Clan in the same way that the Beatles were framed to our parents' generation."
There won't be a traditional soundtrack for the movie released, but A24, the production company behind Mid90s, and Hill teamed up with Spotify to release a soundtrack in a new way. Starting mid-October, the playlist will be released in four waves and will include songs from the movie, other related music, and exclusives from Hill and the cast. The Motion Picture Playlist that is already available includes songs from the film such as the Pixies' "Wave of Mutilation", Nirvana's "Where Did You Sleep Last Night", and GZA's "Liquid Swords".
On top of the songs included in the movie and chosen by Hill, the score was done by Trent Reznor and Atticus Ross, who previously scored Gone Girl, The Girl With the Dragon Tattoo, and The Social Network, for which they won the Oscar for Best Original Score.
Basically, there's a lot to be excited about musically when it comes to Mid90s. And while anyone interested can start taking in the music now, the film will hit theaters for a limited release on Oct. 19.