Yes, Miley Cyrus Really Is In 'Guardians 2'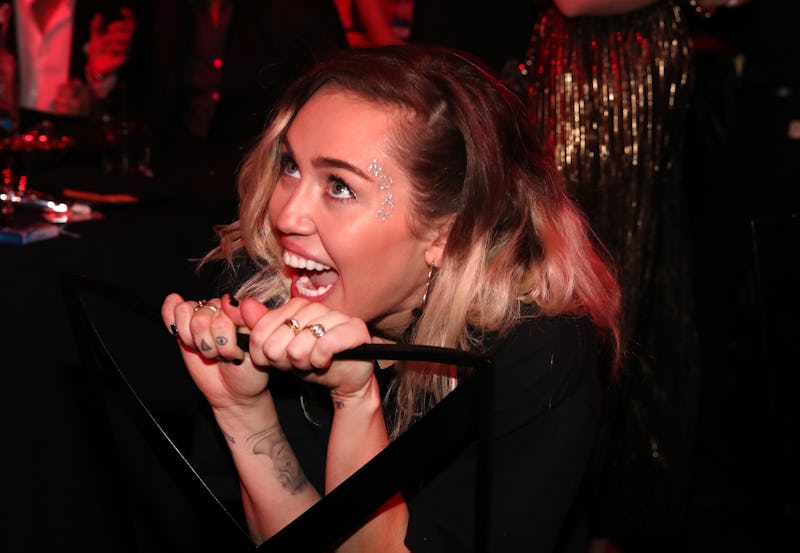 Christopher Polk/Getty Images Entertainment/Getty Images
Guardians of the Galaxy: Volume 2 takes the already loaded cast of the original and adds even more big names to it. There's Kurt Russell as Star-Lord's father, Ego the Living Planet, Sylvester Stallone as Stakar, and Pom Klementieff as new team member Mantis. But there's another huge star with a role in the film that has received much less attention, and if you've seen the movie, you're no doubt wondering what the deal was with Miley Cyrus' Guardians of the Galaxy 2 cameo.
Now, if you haven't seen the movie, then I'll add this caveat: You won't actually see the singer in the film. She instead voices a CGI character, but since she has a pretty recognizable voice, you'll probably be able to pick her out anyway.
If you want to avoid some small spoilers, my advice would be to turn back now. Still here? OK, so Cyrus voices a character named Mainframe in one of the movie's five post-credit scenes. Diehard Marvel Comics fans may recognize Mainframe as an android created by Iron Man, but the version in the movie is a little different since she's a robotic alien warrior. In her scene, she joins Stakar in a reunion of sorts.
See, Stakar calls together Mainframe, as well as other alien warriors Charlie-27 (Ving Rhames), Aleta Ogord (Michelle Yeoh), and Krugarr. The purpose of these characters is to represent the coming together of the original Guardians of the Galaxy team, of which Yondu was also a member. In the comics, all of these characters — Yondu included — were members of the original Guardians of the Galaxy who hailed from the 31st Century. Introduced in 1969, they were never super popular in their sporadic '70s appearances nor in their early '90s comic book run, and were eventually largely forgotten about. The title was then rebooted in 2008 with characters like Star-Lord, Groot, Drax, Gamora, and Rocket, and the rest is history.
However, Cyrus could still end up playing a sizable role in a future Guardians film. Writer/director James Gunn has said that Stakar is integral to the future of the franchise, and if he's reuniting the original Guardians team at the end of Guardians 2, then they'll all probably be doing something big in Guardians 3. And that may mean that Guardians fans haven't heard the last of Cyrus as Mainframe.