Miss USA 2017's Top 10 Are Mostly Women Of Color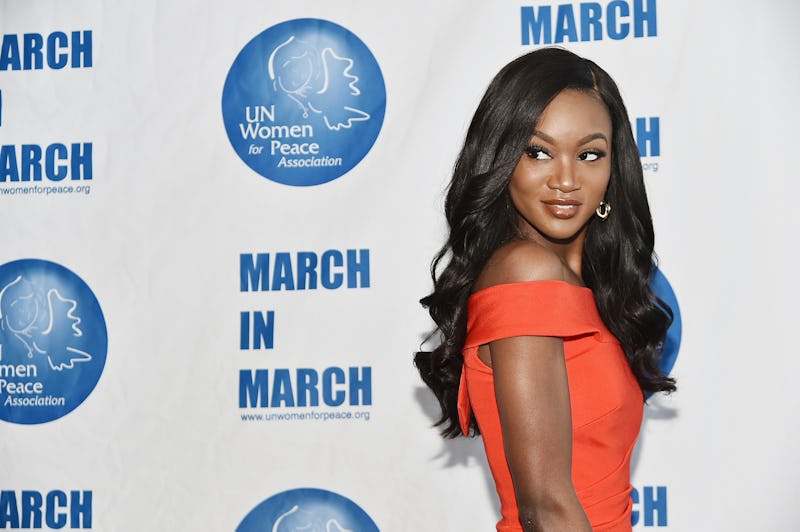 Mike Coppola/Getty Images Entertainment/Getty Images
On May 14, Miss USA 2017 narrowed the field by selecting its Top 10 participants from all 51 in the competition. As hosts Terrence J and Julianne Hough read off the names of the entrants who'd be advancing, it became clear: most of the Miss USA Top 10 are women of color, and that's huge. The diverse Top 10 women are Miss New Jersey Chhavi Verg, Miss Missouri Bayleigh Dayton, Miss California India Williams, Miss District of Columbia Kára McCullough, Miss South Carolina Megan Gordon, Miss New York, and Miss Illinois Whitney Wandland. That's seven women of color out of the Top 10 finalists, and that is a huge achievement.
All of these women are also super accomplished as well. McCullough is a physical scientist at the United States Nuclear Regulatory Commission and runs a science outreach program for kids. Dayton is the first African-American women to be named Miss Missouri in pageant history. Williams is an aspiring entrepreneur and has been has been studying Mandarin Chinese. Wandland is an accomplished dancer who has appeared on the hit Fox TV series Empire.
And Twitter definitely noticed this development, celebrating the diversity of the Top 10 of Miss USA 2017. Many people were happy to see the real America reflected in the group.
Others just embraced this development a lot.
Many people through it was a historic happening.
And then there were those who just felt like dancing about it.
No matter how you chose to celebrate, it was amazing to see so many women of color as finalists during Miss USA 2017. The pageant world finally appears to be reflecting the awesome diversity of backgrounds in this country.