The Mom Fleeing Tear Gas In A Viral Photo From The Border Is Speaking Out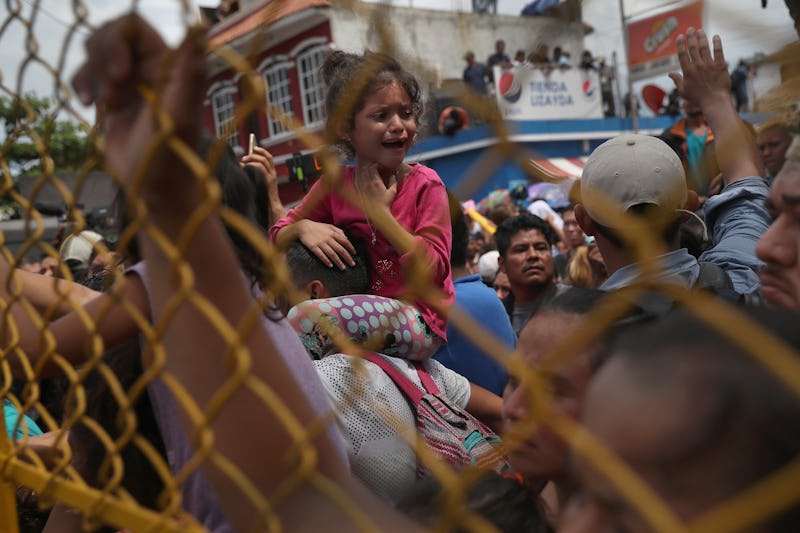 John Moore/Getty Images News/Getty Images
On Sunday, a photograph of a mother running with her two daughters after agents fired tear gas at the U.S.-Mexico border quickly spread across the internet. A day later, BuzzFeed News identified the mom fleeing tear gas in the viral photo as 39-year-old Maria Meza, a Honduran woman with five children who was standing by the border fence when patrol agents fired tear gas at the crowd. To BuzzFeed News, Meza said, "I felt sad, I was scared. I wanted to cry. That's when I grabbed my daughters and ran."
Meza continued, "I thought my kids were going to die with me because of the gas we inhaled."
All of Meza's children escaped unscathed, though Meza did note that one of her sons passed out and she had to splash water on his face to wake him up. Now, Meza and her children are back at their encampment by the Benito Juárez Stadium near Tijuana, where most of the members of the migrant caravan are being housed.
"I hope God will help me enter [the US] with these kids because we're suffering," she said to BuzzFeed News. She added, "I'm a single mother who wants to provide for my children."
According to The Washington Post, a colleague of the Reuters photographer who took the picture was able to speak with Meza, and learned that she is trying to reunite her children with their father, who lives in the United States. Meza has traveled from Honduras to Mexico with all five of her children, and they will continue to seek asylum.
To Axios, Meza said, "We never thought they were going to fire these bombs where there were children, because there were lots of children." She added, "It wasn't right, they know we are human beings, the same as them."
The U.S. Border Patrol has warned that most of the migrants currently waiting at the San Ysidro border will not qualify for asylum, since economic hardship does not count as a reason for asylum. However, Meza insisted that she and her children were seeking asylum because of the widespread violence in Honduras. She said to Axios, "I came here for one reason, and that's because there is a lot of violence in Honduras."
According to U.S. Citizenship and Immigration Services, migrants qualify for asylum if they have suffered persecution (or are afraid that they will suffer persecution) due to their religion, race, nationality, membership to a social group, or political beliefs. In other terms, those who seek asylum are often people who claim to be refugees of their country, but whose claims have not been evaluated yet.
The San Ysidro border was shut for several hours on Sunday, and Trump has since threatened to close the border permanently. Meza told Axios that if that happens, she hopes another country will take them in. "If they close the border I ask God that here in Tijuana, or in another country they open doors to us, to allow me to survive with my children," she said.