A Thousand Oaks Shooting Victim's Mom Is Speaking Out — And Her Message Is Crushing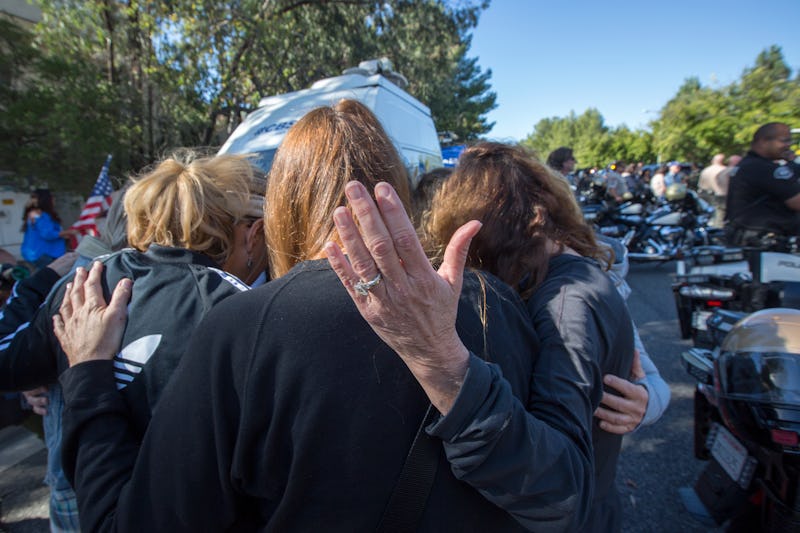 David McNew/Getty Images News/Getty Images
A tragic coincidence that perhaps speaks to the prevalence of mass shootings in America, some of the people present at the bar in Thousand Oaks, California, where 12 people were killed last night, happened to have survived the Las Vegas Route 91 music festival shooting last year. The mom of a Las Vegas shooting survivor who was killed Wednesday night at the Borderline Bar spoke out Thursday, and her message was an urgent call to action.
"My son was in Las Vegas with a lot of his friends and he came home. He didn't come home last night," Susan Orfanos told KABC in an interview. "I don't want prayers. I don't want thoughts. I want gun control, and I hope to God nobody else sends me any more prayers."
She shook her head as she spoke: "I want gun control. No more guns!"
The New York Times also spoke to Orfanos over the phone, and she made a similarly impassioned plea. "He made it through Las Vegas, he came home. And he didn't come home last night," she said. "The two words I want you to write are: Gun control. Right now — so that no one else goes through this. Can you do that? Can you do that for me? Gun control."
The Thousand Oaks massacre, which comes just 12 days after the shooting at a Pittsburgh synagogue is the deadliest to strike Southern California since the San Bernardino shooting, which killed 14 people.
Orfanos' son Telemachus worked as a security guard at the bar, according to a friend who spoke to HuffPost. She described him as "the sweetest guy," saying he had been enjoying a night off on Wednesday. The shooting at Route 91 Harvest festival in Las Vegas last year, which Orfanos said he attended, killed 58 people and injured more than 850 others. It is to date, the deadliest mass shooting in American history.
Gun control is a topic that routinely comes up after mass shootings. The Thousand Oaks massacre marked the 307th such event in America just this year, according to Gun Violence Archives, a nonprofit organization that researches and compiles data on gun-related deaths. This tragedy was no different, with advocacy organizations like Moms Demand Action and Everytown for Gun Safety releasing statements urging lawmakers to implement common sense gun reform.
With Democrats soon to be in power in the House of Representatives, gun reform activists sense a glimmer of hope in that regard. Nancy Pelosi, House Minority Leader who on Wednesday won her congressional race in California's 12th District, told CNN's Chris Cuomo on Thursday that gun reform would be at the top of her agenda when Congress convenes for its next session in January.
"In this Congress … there is bipartisan legislation to have common sense background checks to prevent guns going into the wrong hands," she said. "It doesn't cover everything, but it will save many lives."
Pelosi's colleagues seem to agree that the next session will bring more opportunity for meaningful reform. "Especially today, we're reminded of the urgency of this," Democratic Rep. Ted Deutch told CNN on Thursday. "I'm confident in the early days of the next Congress, we'll move forward on common sense, bipartisan gun safety measures that have enjoyed overwhelming popularity everywhere in the country except the United States Congress."