Infuriating GOP Responses To IWD 2017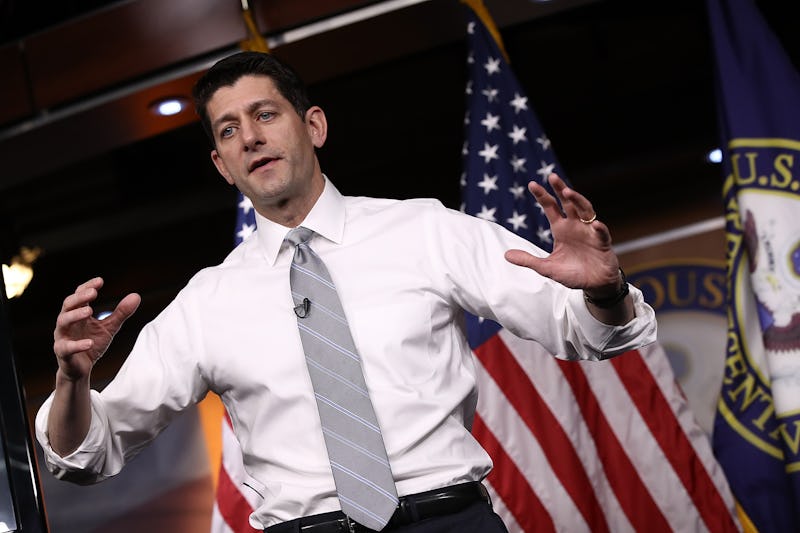 Win McNamee/Getty Images News/Getty Images
March 8 was a busy day in the United States for more reasons than one. Congress started discussing the GOP's Obamacare replacement; the VA announced expanded mental health care for veterans; and last but not least, women all over the world celebrated International Women's Day by supporting women's organizations, attending rallies and marches, and taking the day off from paid and unpaid labor. As a result of what was called A Day Without a Woman, several media outlets "went dark," schools were forced to close, and there was a global conversation on women's labor, women's rights, and sexism and misogyny in general. But, as is par for the course, there were several infuriating responses to the strike, including some from prominent members of the GOP.
Obviously, there's no one right way people are supposed to celebrate the day. And public figures aren't obligated to make statements about it at all. However, when it comes to people in positions of power, their responses to IWD 2017 and its associated strike reflect on just how much of a priority women's rights and issues are for different politicians. Republicans aren't exactly known as the feminist party of the United States, but IWD could have been used as an opportunity to combat that image. Unfortunately, several Republicans' responses to the day fell way short.
Speaker of the House Paul Ryan
Like many members of Congress, Ryan spent IWD using social media to promote the American Health Care Act meant to repeal and replace Obamacare. He did take time out, though, to honor the Boy Scouts. That's right. Ryan used Women's Day as an opportunity to send a shout-out to the Boy Scouts who, while they do admit girls, bar girls from several of its most important activities, including earning merit badges, joining troops, and becoming Eagle Scouts.
Ryan also took the time to honor our nation's veterans. The infuriating part is he used a picture that appears to show a woman veteran, but didn't single out women veterans in his tweet. And it's not as if women who are currently in or have previously served in the armed forces don't deserve a special show of support. According to the VA, 1 in 5 women seen by the VHA say they have experienced Military Sexual Trauma. The number is still higher than that of men despite the fact that way more men serve in the military. Really, how hard would it have been for Ryan to add the word "women" into that tweet?
Rep. Ileana Ros-Lehtinen
Florida Rep. Ileana Ros-Lehtinen used her social media presence on IWD to call attention to international women's rights issues such as the ongoing fight to save women and girls abducted by Boko Haram and the work of women activists in her native Cuba. However, her tweets conveniently left out the struggles and needs of women stateside. This is especially infuriating considering Ros-Lehtinen has repeatedly voted against abortion funding and access bills, has voted to defund Planned Parenthood, and voted against the Lily Ledbetter Fair Pay Act. It's one thing to support the rights of women worldwide. It's completely another to do so while working against the interests of women in the country you work for.
Gov. Bruce Rauner
Illinois Governor Bruce Rauner acknowledged that IWD 2017 was happening with this tweet of a picture of sculptor Julia Bracken Wendt's work in the Illinois Statehouse. But beyond that, Rauner had nothing to say specifically celebrating the contributions and accomplishments of women. Rather, he stated a dry fact about the representation of a woman by a woman artist. The tweet falls short, especially considering how enthusiastic his next tweet that day was.
Overall, Rauner's IWD 2017 tweet rang hollow, especially considering the high number of Illinois women concentrated in low-paying jobs.
Pres. Donald Trump
President Donald Trump gave women everywhere a shout-out via Twitter and even made a special appearance at the First Lady's International Women's Day luncheon. But not after patting himself on the back for his self-declared "tremendous respect for women." But it's precisely Trump's treatment of women that makes his Women's Day statements so maddening. The president's sexism in his words and actions is extremely well-documented. His cabinet has been called out for whitest and most male since Reagan, and according to a new report by Bloomberg, the vast majority of Trump's White House hires have been men. The reasons why Trump's Women's Day tweets are infuriating goes on and on. And no doubt, that list will only continue to get longer as his presidency goes on.
Everyone Who Was Silent
Perhaps most infuriating was just how many Republicans had nothing to say at all about International Women's Day. It's a significant group that includes the likes of Wisconsin Gov. Scott Walker, U.S. Ambassador to the U.N. Nikki Haley, and Louisiana Sen. Bill Cassidy, whose state currently has one of the largest gender wage gaps in the country.
Obviously, the GOP isn't the first group one looks to for inspiring International Women's Day statements. Even so, you'd think some Republican politicians would have tried a bit harder at least for the sake of pandering. Now this isn't to say no members of the GOP recognized IWD 2017, and indeed many Republican politicians honored women in official statements and tweets on March 8. Still, those who didn't or did so disingenuously can still be called out. Hopefully, this year, every IWD 2017 statement from a politician will be backed up by real, legislative action. And if not, let's hope IWD 2018 sees even more acts of resistance on behalf of women.