Kylie Jenner Just Set A Social Media Record That Will Be Very Hard To Break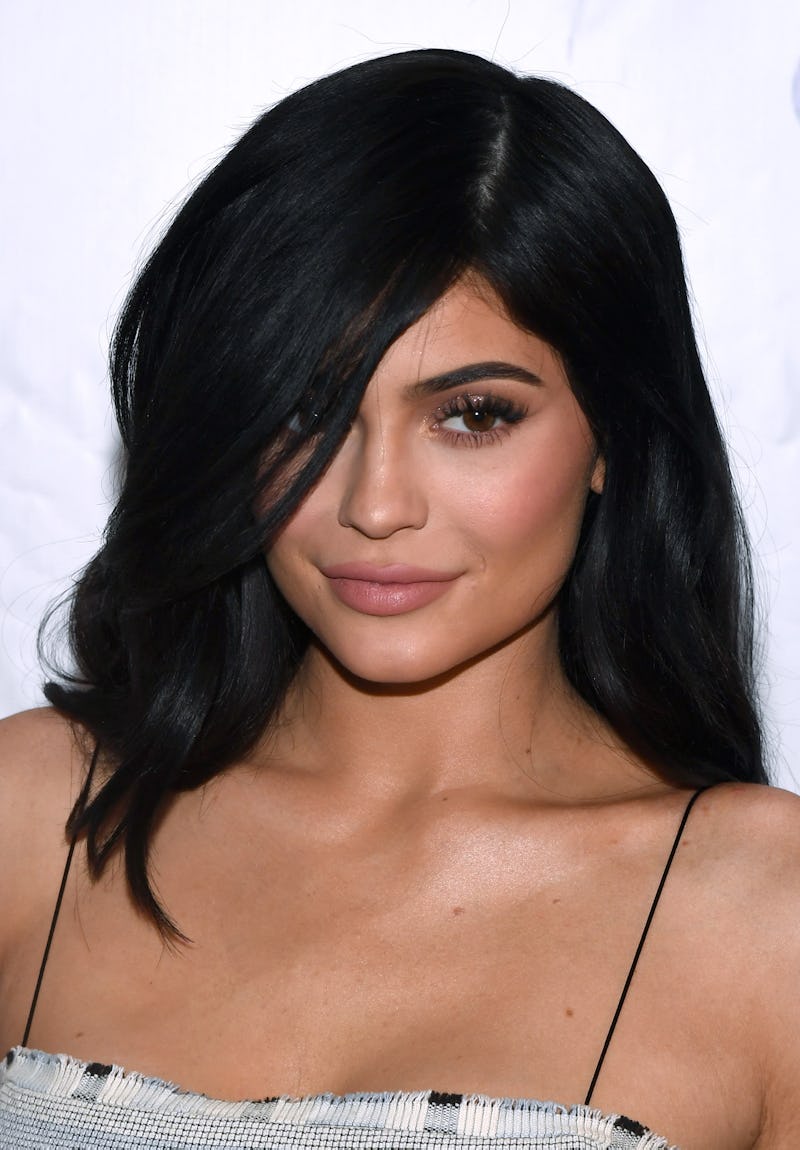 Ethan Miller/Getty Images Entertainment/Getty Images
Hardly three days have gone by since Kylie Jenner made her explosive return to social media, following a near-six months' leave of (formerly) unexplained absence. But it seems 72 hours was all the new mom needed to reprise her status as Instagram's reigning queen. As of Wednesday, Jan. 7, the most-liked Instagram photo in the platform's history is Jenner's baby name announcement. The photo was posted for less than a day when it set the record, and it has already racked up 13.7 million likes and nearly half a million comments — and counting.
In claiming IG's top spot, Jenner's post surpassed the previous title-holder of Instagram's "most-liked": none other than Beyoncé's iconic pregnancy announcement from February 2017, which touts 11.2 million Instagram likes. Because, as Jenner's pregnancy has confirmed, there's almost nothing fans love to obsess about more than high-profile celebrity babies.
Jenner's mom, Kris Jenner, took to her own Instagram account Wednesday morning to share the exciting news with her social media following. (She later deleted the post.) Accompanying a screenshot of her youngest daughter's original post — which Jenner initially unveiled Tuesday, Jan. 6 — Kris penned an emphatic caption in which the 62-year-old momager thanked fans for their support and gushed about the scope of her newborn granddaughter's internet debut.
"Thank you everyone for the outpouring of love for our precious Stormi!" Kris wrote. "How incredible, the most-liked picture in the history of Instagram!!" She also threw in quite a few hashtags, for good measure: #blessed, #stormi, #proudmama, and #love. In a lot of ways, Kris Jenner pretty much assumes the basic characteristics of your average overjoyed, new grandmother. (If your grandma was an active Instagram user, that is.)
Stormi, for the record, is the name of Jenner's daughter, who — unbeknownst to fans, at the time — was born less than one week ago, on February 1. In a highly-anticipated unveiling, Jenner finally confirmed those furious, long-circulated pregnancy rumors with two back-to-back Instagram posts on Sunday, Feb. 4. Suffice it to say, upon catching wind of the announcement, the internet just about imploded.
"I understand you're used to me brining you along on all my journeys. My pregnancy was one I chose not to do in front of the world," the 20-year-old Life of Kylie star wrote in the initial post. "There was no gotcha moment, no big paid reveal I had planned."
But, while Jenner's 11-minute tribute video to her pregnancy journey did provide fans with a glimpse into what the past nine months of her life have actually looked like, the post arguably yielded more questions than answers. Over the proximate 48 hours that followed, fans were running themselves ragged on social media, speculating about the baby's name, the details of which were absent from Jenner's pregnancy announcement post. So, when an adorable close-up shot of the newborn, captioned "stormi" (and later changed to "stormi webster") graced Instagram's airwaves Tuesday, fans' excitement was palpable —as evidenced by the near 14-million IG users who clicked "like".
In an age of social media influencers, internet moguls, and reality TV kingdoms, Instagram is rapidly becoming prime stomping ground for celebrities to share remarkably candid tidbits of their personal lives with fans. In a statement about Jenner's newly-minted IG record, a rep from Instagram said, "More and more, we're seeing the world's most influential public figures turn to Instagram to share their most intimate and personal moments, and in turn, bring Instagram's global community in on the joy and celebration."
That's certainly the case for Jenner, whose illustrious IG account touts an enormous digital audience, 103 million followers strong. (As far as maneuvering social media is concerned, Jenner is something of a tycoon.) And — much to fans' comfort, no doubt — judging by the magnitude of her record-breaking Instagram revival, there's a good chance Jenner is really be back on the app for good.