This Is The Most Popular Dating App Conversation Starter In Your City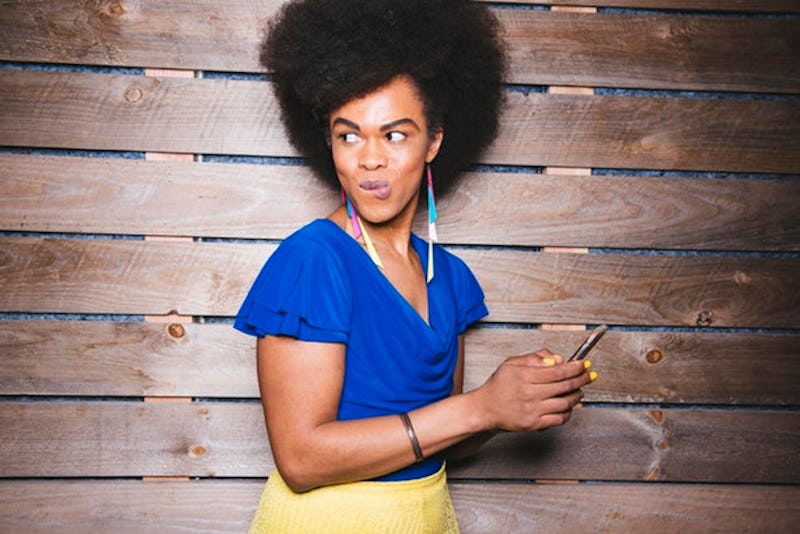 BDG Media, Inc.
Coming up with the best opening line on a dating app is never easy. You want to sound interesting but not too out there, you want to get to know them but not be too aggressive. I've always been a strong believer in asking a lot of questions and trying to get someone to open up that way. When you seem curious about people, they tend to really relax. But what kind of information are people willing to share with a total stranger?
On dating apps we tend to see a lot of "hey"s and "sup?"s at the beginning of a conversation, but it doesn't have to be that way. Since relaunching as a relationship app and moving away from a swiping model, popular app Hinge reports that only one in every 500 conversations starts with "hey". Thanks to the app's new model, which features Prompts on your profile, they've been five times more effective at getting conversations started — and at turning those conversations into dates.
Prompts are basically ideas to get the conversation going — little nuggets like "the next vacation I want to go on is..." or "my last meal would be... ". You finish the sentence and your potential date can learn a little about you. But there's still a huge range of choice for how you can start a conversation, whether you use a Prompt or not.
Hinge looked at its data to see how people started conversations and found something really interesting — conversation starters varied around the country — a lot. People in Dallas had a very different approach than those in New York. In fact, every city had their little quirk.
If you want to get an idea of go-to openers near you, here were the top conversation starters for different cities.