Apparently Terrifying Clowns Will Be The Most Popular Halloween Costume Of 2019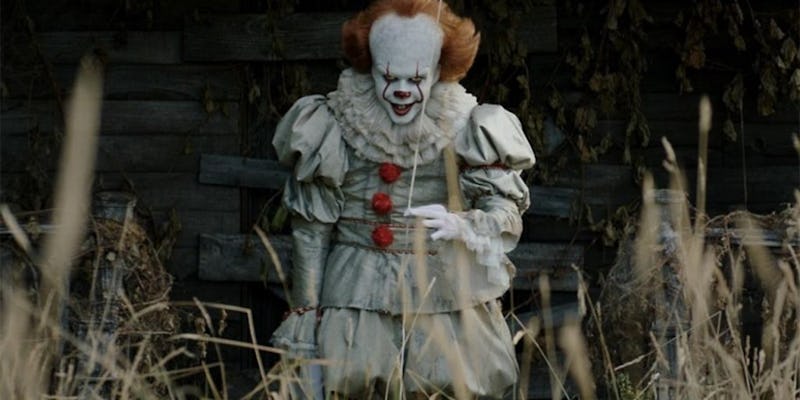 New Line Cinema
Halloween is almost here, which means one thing: your Google search history is filled with Halloween costume-related inquiries — among other pumpkin-spiced searches. Many of us spent the entire month of September searching for costume inspiration and Halloween content, and Google Trends has been keeping track. Leaning into the festive spirit, Google has launched its 2019 Halloween trends site, Frightgeist, an interactive destination that allows users to see what the most popular Halloween costumes of 2019 will likely be based on what people are Googling, and much, much more.
If you're having a hard time settling on a costume, looking at the list of what the most-searched Halloween costumes have been this year so far could be good inspiration. That said, some of the items on the list definitely won't surprise you at all — it's definitely a mix of pop culture from 2019, as well as oldies but goodies. One unfortunate trend that seemed to pop up: Clowns. Between IT: Chapter Two and the classic tradition of dressing up as a creepy clown, it seems like anyone who has a fear of clowns might have a bit of a rough time getting through this list... or Halloween in general this year.
Here's a list of the top 10 most-searched Halloween costumes for 2019 according to Google's Frightgeist data. The site itself also has more info on what costumes are popular in what states (maybe you'll want to see what states the creepy clown costumes are most popular in and avoid them?), what couples costumes are trending, what group costumes are trending, and more.
Pennywise From IT: Chapter Two
Want to terrify your neighborhood? Apparently most of America does! That creepy clown Pennywise from IT: Chapter One and IT: Chapter Two was the number one most searched Halloween costume in the U.S., according to Google, so prepare yourself for a lot of terrifying clowns with balloons. I'm not about that life, personally, but maybe you are.
This costume includes: A jumpsuit, a collar, and a mask.
Witch
The classic witch costume never gets old, apparently. You might be surprised to see that the number two most searched Halloween costume, according to Google, is a witch. Lucky for you, you probably have a witch costume in your closet already. If not, though, it should be pretty easy to find one at literally any costume store in the world.
This costume includes: a button-down jacket, a long skirt, a green and black layered over skirt which can also be worn as a cape, a belt with decorative buckle, two hat ties and a witch hat.
Spider-Man
Will the Spider-Man costume ever get old? So long as the movies keep coming out — thankfully, still in the Marvel Cinematic Universe for now! — this costume will likely continue to trend.
This lycra costume covers you from head to toe, much like I imagine the actual Spider-Man suit would do.
Dinosaur
Considering the fact that Halloween falls on a Thursday, a dinosaur costume might be the greatest throwback costume of all time. #TBT literally!
This costume includes one jumpsuit with attached gloves.
The Descendants
If for no other reason than a great excuse to wear a cool colored wig, Google's data indicated that people are very curious about costumes based off of the Disney Channel franchise The Descendants.
This costume includes one pink bodysuit withs skirt connected.
Clowns
Not quite a Pennywise from IT look, but still... clowns are really dominating the trends this Halloween! Luckily, clown costumes are surprisingly easy to put together. So long as you have access to some colorful face paint, you can pull of the classic Halloween look.
This costume includes: a rainbow clown wig, a red clown nose, a bowtie and vest.
Fortnite
Ah, yes: Fortnite. Considering the fact that it's impossible to go a day without hearing at least one person talk about Fortnite, it's not surprising that Google's data indicated people were searching the hell out of Fortnite character costumes for Halloween. I'm just going to say Fortnite one more time. Fortnite.
This costume includes one zip-down plush hooded jumpsuit.
Chucky From Child's Play
Gah. This terrifying doll makes a very recognizable and effective Halloween costume if you're looking to cause people to scream and run away from you at every party you go to. It's also a costume that you've likely seen each year since you were a kid, so no surprise it's still topping the popular Halloween costume charts.
This costume includes a pullover Chucky hoodie.
1980s
Yes, the '80s are still cool. As per Google's report, '80s costumes made the top 10 of most-searched for Halloween costumes.
This costume includes: a beaded necklace six bangles, a headband, leg warmers, two pairs of earrings, fishnet gloves, a tutu skirt, and a party shirt. Classic '80s.
Unicorn
If your everyday wardrobe doesn't consist of rainbow colors, you might be enticed by a unicorn costume. At least, according to Google, many people are.
This costume includes zippered dress and attached hood.
Rabbit
Rabbits are still popular. The fuzzy-eared animal is pretty easy to dress up as, so it's not that surprising that people return to it as a Halloween costume over and over again.
This costume includes: full body zip-up plush bunny suit with ears attached to the hood.
Pirates
Pirates, though a classic Halloween costume choice, are still in. Get yourself a hat with a skull and cross bones and pull the rest of the look from your wardrobe. Let's be real, you have at least one blouse that looks like something a pirate would wear. Remember your peasant top phase?
This costume includes: white peasant blouse, black vest, skirt and headscarf.
Stranger Things
Stranger Things is one of those shows that has such incredible wardrobes (likely by virtue of being set in the '80s) that you can't help but find yourself picking out which character you want to dress up as on Halloween... months before Halloween is actually due to occur.
This costume includes: '80s romper and socks.
Mouse
Karen Smith's influence is alive and well, according to Google's trend report. Mouse costumes were in the top 10 most-searched Halloween costumes for 2019, and though it's not totally clear if people were looking for Karen's Mean Girls "I'm a mouse, duh!" version of a mouse costume, it's still a nice homage to one of the most iconic scenes in cinematic history.
This costume includes: a jumpsuit, the ears, and fingerless gloves.
Harley Quinn From Suicide Squad And Birds Of Prey: And The Fantabulous Emancipation Of One Harley Quinn
Harley Quinn is very well decorated and is featured in a new solo film in early 2020 — Birds of Prey: and the Fantabulous Emancipation of One Harley Quinn — so it's no wonder she's trending on most-searched Halloween costume lists. Her costume is a very fun mix of fashionable and fantastical, not to mention extremely colorful.
This costume includes: jacket, shirt, shorts, belt, fingerless gloves and tights.