These Were The 8 Most Popular Lush Products Of 2017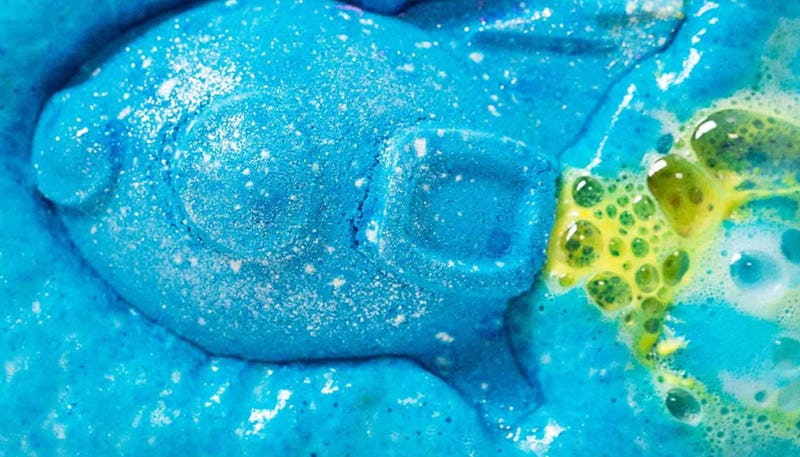 Courtesy of LUSH
While LUSH has been cultivating a community of loyalists for years, 2017 was The Year of LUSH — especially on the internet. Lushies were not shy about expressing their love for bath bombs, or creating and sharing #bathart on Instagram. The most popular LUSH products of 2017 went viral and broke the Internet, understandably so. But according to LUSH, eight specific products went on to sell over two million units combined. And they make up the most elite LUSH products of 2017.
The cruelty-free brand is known for its handmade products and its epic Halloween and Christmas collections. This year, however, customers were all about the calming, lavender-scented Sleepy Lotion, which rocketed to new heights thanks to the Lushie claim that it lulled them into a restful sleep state. The black, wizardry-inspired Jelly Bomb was also a winner, among others.
Here are the eight most popular LUSH items from the year. These cult faves have magical powers and will certainly transform your bathroom into a spa paradise.
1. Sex Bomb
Sex Bomb, $7.95, lushusa.com
There were rumors that One Direction's Harry Styles created his self-titled solo album cover using a bath bomb. The brand responded as expected — LUSH sent the singer 100 Sex Bombs. Swoon! Album cover inspo or not, Sex Bomb, which sold over a million units in North America this year, will tint your bath water a milky, millennial pink hue and fill the air with a jasmine, ylang ylang, and clary sage scent.
2. Sleepy Body Lotion
Sleepy Body Lotion, $9.95, lushusa.com
This pale purple, cozy, and comforting lotion was originally a Christmas 2016 exclusive. It was upgraded to permanent status when it went viral. Lushies espoused its virtues, going as far to claim it cured insomnia. Global sellouts ensued, with 265,000 jars sold in North America.
3. Scrubee Body Butter
Scrubee Body Butter, $7.95, lushusa.com
LUSH listens! This dual-purpose, exfoliating and hydrating body butter, which boasts ground almonds and coconut shells, honey, and shea and cocoa butters, began life as a Mother's Day 2017 exclusive. A #SaveScrubee petition resulted in the product's upgrade to permanent status. To date, over 378,000 Scrubees have flown off North American shelves.
4. Bubble Spinner Bubble Bar
Bubble Spinner Bubble Bar, $6.95, lushusa.com
Fidget spinners were trendy toys in 2017. Of course they were eventually reimagined as a LUSH bath product. The citrus-scented bath enhancer sold out on the quick when it crashed U.S. shores — and bathtubs! Over 124,000 of these babies have been sold so far.
5. Jelly Bombs
Jelly Bombs, $8.95, lushusa.com
Of course a new and innovative LUSH bath product is always going to be met with excitement and quick sellouts. When dunked in water, these bombs bubble on the surface and the result is frothy, foamy, and fragrant bath that softens skin. While they only just arrived in North America in September of this year, nearly half a million have been sold thus far.
6. Giant Golden Wonder Bath Bomb
Giant Golden Wonder Bath Bomb, $19.95, lushusa.com
Yes, this bomb is 38.8 oz. The gigantic, glittery, and limited edition bomb, which looks like a bath brick and features zesty lime and orange oils, generated quite the fizz online, selling out within 24 hours upon launch. More than 5,000 have been sold online in the past two weeks alone.
7. Rocket Science Bath Bomb
Rocket Science Bath Bomb, $5.95, lushusa.com
It's no surprise that the brand moved over 225,000 Rocket Science Bath Bombs, which boast a yummy lemon and bergamot scent. Look at how cute it is!
8. Elbow Grease
Elbow Grease, $10.95, lushusa.com
This mega moisturizing balm, which is packed with good stuff like extra virgin coconut oil and murumuru butters, gained popularity for the way it brightened tattoos. It also went on to sell out upon arrival. Over 34,000 tubs have been sold in North America since summer.
There you have it — your new wishlist of LUSH products.