Cancel Your Plans — There's A 'Naked & Afraid' Shark Week Crossover This Weekend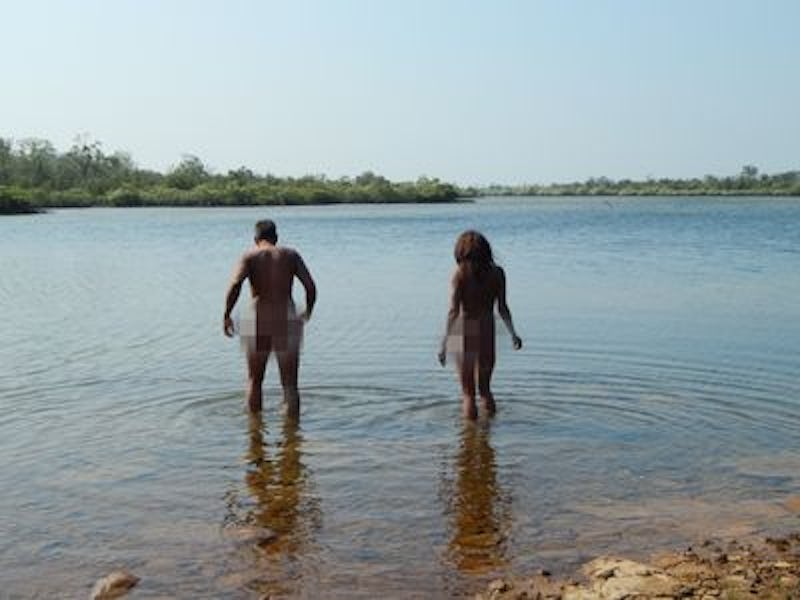 Discovery Channel
Five naked people. Countless wild sharks. Yes, this truly is the golden age of television. The show that makes Survivor look like a week-long stay at a Sandals resort is teaming up with the Discovery Channel's week long even that capitalizes on people's morbid fascination with the most-feared monsters of the deep. Give the people what they want right? The tow hour Naked and Afraid crossover with Shark Week is all going down on Sunday night withNaked and Afraid of Sharks, and it's going to be wonderful.
What better way to commemorate the finale of the 30th anniversary of Shark Week than by sending buck naked strangers to a deserted part of the Bahamas, in the middle of shark-infested waters, and making them swim for their suppers? Discovery Channel decided to mash up two of its most fear-inducing entities to mark this special occasion.
The usual rules for Naked and Afraid apply: male and female contestants are dropped in a deserted location. They're given no food or water. Oh, and they're all totally naked. The exact chosen location for the challenge, Press of Atlantic City reports, is Andros Island. Britannica reports that Andros Island has a population of around 8,000 people, all of which are concentrated on the east coast of the island. Naturally, the contestants on Naked and Afraid are forbidden from interacting with other non-participants, and so they will most likely be restricted to an area on the western side of the island, which is relatively unexplored.
According to People, the special was filmed over just 14 days, as opposed to the usual 21. Five Naked and Afraid vets were asked to return for the occasion: Ky Furneaux, Ryan Holt, Chris Fischer, Steven Lee Hall and Eva Rupert. Shark expert Tristan Guttridge gives all five of them a little run down on the 40 different species of sharks swimming free in the surrounding waters, and tries to prep them with the appropriate words of caution. Plus, unlike in previous versions of Naked and Afraid, the contestants will be blessed with fishing equipment. You know, to help them hold their own against all those sharks.
In an interview with Press of Atlantic City, Chris Fischer explained what it was like to actually get up close and personal with sharks for two whole weeks. "This was much more than I could have ever imagined," he said. "I've had some experience with sharks, but again, it's always been while I was on a boat. To have had that face-to-face confrontation and contact really gives you a whole new respect for them."
"Every meal you had was competition," Fisher went on. "The challenge was that the sharks would take your food or threaten to attack you. You had to recognize their behaviors and know when it was time to go. Any time there was a bull shark, you were done. You had to get out of the water."
For Orlando-based artist/adventurer Steven Hall, getting the chance to swim with Jaws was "a dream come true," he told the Orlando Sentinel. "This one was the most difficult by far," Hall said. "If it's not hard, then it's not worth doing in my book. I love when people tell me something can't be done, it just makes me to go out and do it." Hall also told the Orlando Sentinel that the whole ordeal helped him quit cigarettes. Definitely a more extreme option than the patch, but hey, whatever works!
There's no telling what might happen during these two wild hours (personally, I'm hoping for four to five adrenalin-filled brushes with a dorsal fin and at least one or two nibbles), so be sure you get your own desert-island crew together to watch the spectacle with you. Clothing optional, of course.