Khloe Kardashian Revealed What She Wants To Name Her Baby & It's So Sweet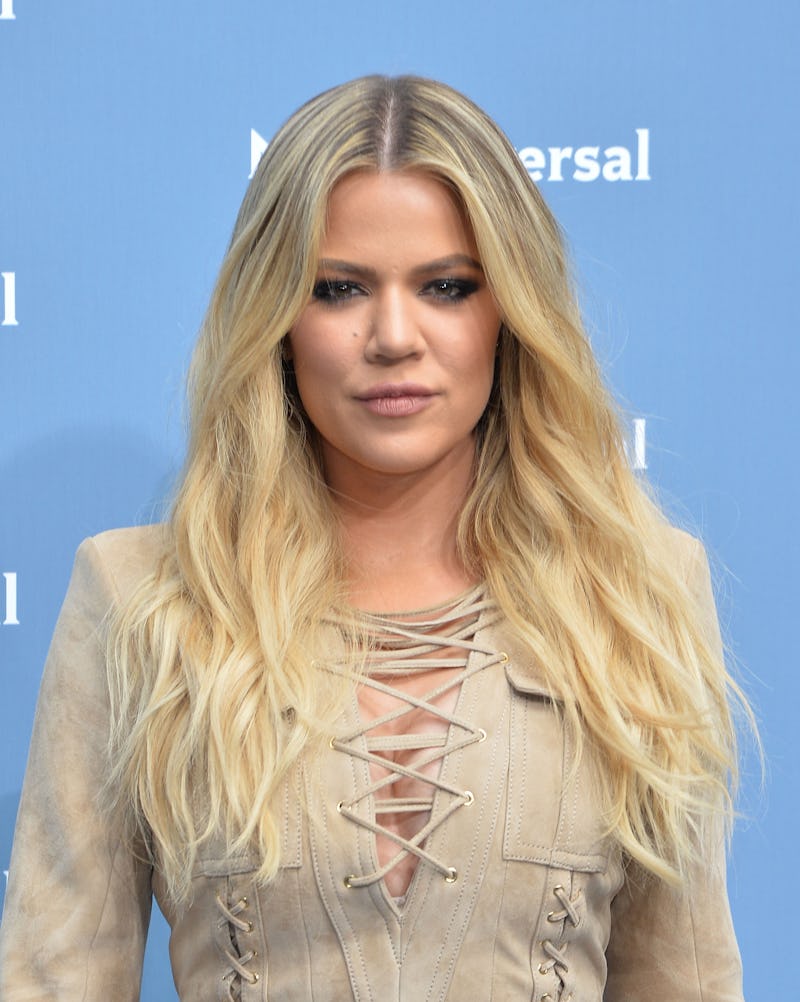 Slaven Vlasic/Getty Images Entertainment/Getty Images
So far, Khloé Kardashian has spent most of her pregnancy keeping things under wraps, but now, she's opening up about her plans for when the baby arrives — starting with his or her name. As it turns out, Kardashian wants to name her baby after boyfriend Tristan Thompson if the baby is a boy. But so far, when it comes to potential girl names, she's at a total loss.
Kardashian broke the news on Tuesday's episode of The Ellen Show, where she stopped by to discuss her pregnancy. It doesn't sound like she's planning to follow her mom's example and name everyone in her family starting with the same letter, but she is into the idea of giving her little one a name to carry on from his father.
"I think if it's a boy I'll go with Junior — Tristan Jr.," Kardashian said. "Then for a girl, I don't know where to begin."
Naming her baby after his dad is a really sweet thing to do, and it's a tradition her own family has had, since Rob was named after his dad, Robert Kardashian. And if the baby's a girl, surely Kardashian will be able to come up with something adorable and just as meaningful, too.
And speaking of the baby's sex, that's something that Kardashian is definitely planning to find out before her baby is born, and fortunately, fans will find out, too. Although she did tell DeGeneres that she still doesn't know if she's having a boy or a girl, earlier this week she admitted on Twitter that she's going to make that big reveal later this season on Keeping Up With The Kardashians (executive producer: Farnaz Farjam).
Longtime fans of the family and their show know that Kardashian has wanted to have a child for a long time, so it's no surprise that her excitement for this time in her life really showed during the interview. It sounds like, aside from the first trimester miserable-ness she described, she's actually loving this, and so is Thompson.
For fans, it was hard to wait until Kardashian was ready to share her pregnancy news herself, especially since rumors were rampant for months before she made the official announcement. But in her interview, Kardashian also explained why she decided to wait, and it makes a lot of sense.
She said:
"I just wanted to do something myself and write something that was heartfelt for me. I've wanted to have a baby for so long and it's just the perfect timing in my eyes. God always has his plan and I just wanted to do it on my time and when I felt comfortable to do so."
The wait felt so agonizing, but it definitely sounds like it was the right choice for Kardashian — and obviously, she's the only one who can decide what's right for her and her growing family. It was also worth it to hear the exciting news in her own words, and seeing the Instagram post she shared in December, showing off her baby bump for the first time alongside Thompson.
And now that Kardashian is open about the fact that she's expecting a baby, it seems like she's ready to share whatever the coming months hold, both on her show and on social media.
Now, all we have to do is wait for that KUWTK gender reveal, and fans will finally know if Kardashian and Thompson will have a little Tristan Jr. or a daughter whose name is still to be determined. Either way, it's going to be so much fun to see everything that happens along the way.