The Songs From Netflix's New Rom-Com 'Nappily Ever After' Are As Uplifting As The Movie Itself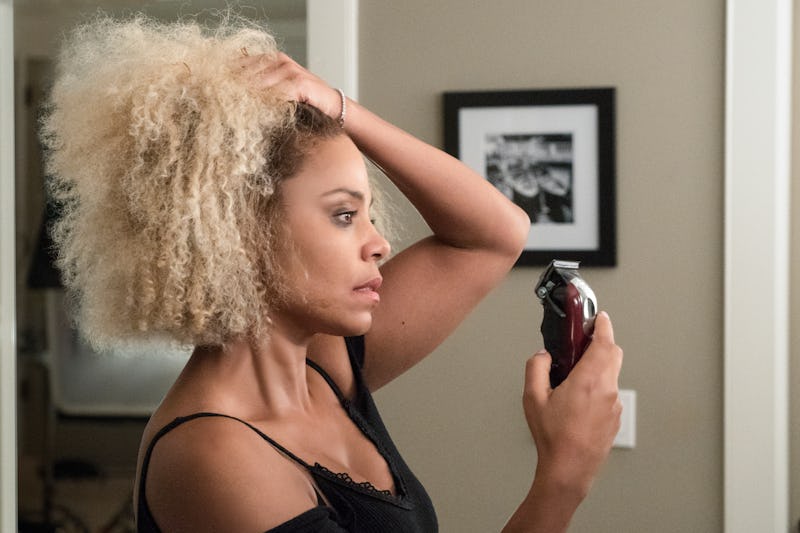 Netflix
Netflix has found big success within the romantic comedy genre as of late, particularly with rom-coms based on books. So it's no surprise the site is going to that well again with its upcoming — and uplifting — film Nappily Ever After. The movie is about a woman (Sanaa Latahn) who decides to break free of society's expectations by shaving her head, giving up what she thought was a big piece of her identity only to discover her true self. The film is one big emotional and inspiring journey, so naturally the Nappily Ever After soundtrack must include some iconic free spirited jams... right?
Unfortunately, that information just isn't available to fans as of yet. No soundtrack has been released or even announced for the film, and it's unclear if one will even be produced. There are a couple of purported soundtracks floating around Spotify as playlists, but these are unconfirmed and unlikely to be the real deal (case in point: one of them consists of a whopping 77 songs). However, the film's trailer appears to feature a number of samples from Lesley Barber's score, along with one bona fide pop song. That song is "Advice" by Kehlani, and one listen of the song's lyrics will convince you that it's the perfect fit for the film.
The plot of the movie is this: A perfectionist considers herself to be on top of the world after successes in her professional life and her romantic life. Holding everything together is her meticulously cared for hair, which is always seen in the form of a wig or weave and never looks anything but immaculate. But after going through setbacks at her job and a bad breakup with her boyfriend, she decides to make a sweeping change and shaves her head, throwing caution to the wind and letting go of her former perfectionist tendencies. Now, have a look at some of the lyrics from Kehlani's song that's featured in the film's trailer and see why it's the perfect fit:
It's time to take, take my own advice, take my own advice
Need me to take my own, take my own advice, take my own advice
You had to break me, take me, to make me better
But I had to save me, baby, now or never
The song is all about a woman taking care of herself after being let down by a man, and discovering the power that she has always held within. Kehlani herself seems quite proud to have the song featured in the film, as she wrote on her Instagram alongside the trailer, "Honored to have my music included in this. @sanaalathan i'm so ready to watch! Nappily Ever After out on @netflix September 21st."
Although it's not yet known what the rest of the Nappily Ever After soundtrack will consist of, or if it will even contain actual pop songs, it's evident from the inclusion of "Advice" in the trailer that the movie could utilize music in helping to tell its story. And if that ends up being the case, then the film's soundtrack — if one is ever released — may end up being just as inspiring as the film.