You'll Never Guess All The Celebrity Cameos In Netflix's 'Neo Yokio'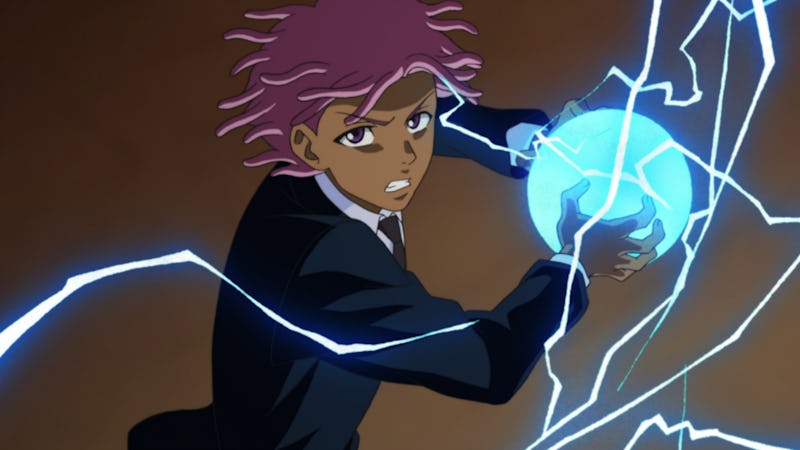 Netflix
At a time where it feels like television is more unpredictable than ever before, surely there's no show whose mere existence is as surprising as the Netflix anime series Neo Yokio. The show is an anime-inspired passion project from creator/writer/executive producer Ezra Koenig (best known for being the frontman of indie band Vampire Weekend), that stars Jaden Smith. That pedigree alone would make the series worth noticing, but the show's exceptional cast of supporting characters may be what inspires you to add it to your queue. Koenig has assembled some beloved celebrity voices to bring Neo Yokio to life, and at least one name on this list is sure to surprise you.
It's not hard to imagine how such varied, impressive talent came to the project. Voiceover work is a lot easier to make time for than shooting a live-action television series or film, and a collaboration between Twitter's greatest philosopher and the man behind "A-Punk" is simply too weird and potentially great to decline. The scope of the cast Neo Yokio has assembled ranges from up-and-coming talent to A-list Hollywood stars to long-time character actors and even an Oscar winner.
Neo Yokio may go down as the weirdest show that Netflix has ever produced, but even subscribers who may not be interested in a demon-hunting anime series could be interested in hearing the many celebrities who lend their voice to this show. Keep your ears open for these cast members:
Jaden Smith
Neo Yokio follows the journey of demon hunter and one of the titular city's most eligible bachelors, Kaz Kaan, as played by Jaden Smith. Smith's star turn is one of the biggest draws of the series, but hopefully Neo Yokio benefits from his presence more than Smith's other Netflix original show. After the cancellation of The Get Down, in which Smith played a major supporting role, Neo Yokio is his sole television project. However, the anime sounds extremely on-brand with Smith's avant garde Twitter personality and artistic instincts.
Jude Law
Jude Law, probably the most famous name attached to Neo Yokio, plays Kaz Kaan's demon-fighting robot butler Charles. Over his 25-year career, Jude Law has never played a role quite as weird as this. If Jude Law playing a giant robo-butler that saves the world from the forces of evil isn't enough to entice viewers to check out Neo Yokio, it's likely that nothing will.
Susan Sarandon
Susan Sarandon, an Oscar-winner for Dead Man Walking and Emmy-nominee for Feud: Betty and Joan, stars in Neo Yokio as Kaz's Aunt Agatha. Agatha is one of Kaz's primary resources in learning everything there is to know about demon hunting.
Tavi Gevinson
Gevinson is best known as the founder of Rookie Magazine, but she's been making a name for herself as an actress as well. Roles in indie films like Enough Said and Broadway productions of This Is Our Youth, The Crucible, and The Cherry Orchard have led to her providing her voice in Neo Yokio. In the show, she plays Neo Yokio resident and teen blogger Helena St. Tessero. Who better to cast as a teen blogger than arguably the world's most famous teen blogger?
Jason Schwartzman
Jason Schwartzman may be better than anyone else in Hollywood at playing an absolute jerk. (See: Rushmore, Wet Hot American Summer.) Those skills are put to good use in his role as Kaz's upper-crust rival Arcangelo Corelli.
Steve Buscemi
Steve Buscemi is best known for playing hard-edged criminals in films like Fargo and Reservoir Dogs and for playing a corrupt politician in Boardwalk Empire. The actor is taking an equally sinister turn in Neo Yokio, playing a character known as "The Remembrancer."
Ike Barinholtz
Ike Barinholtz, known for his role as Morgan Tookers in The Mindy Project, will have a minor appearance in Neo Yokio. Barinholtz will likely be bringing his trademark goofiness to his role as Kaz's lower-class cousin.
Desus & Mero
Desus & Mero, the Bronx-bed comedy duo that hosts the popular VICELAND show of the same name, will be playing Kaz's two best friends, Gottlieb and Lexy.
Stephen Fry
Stephen Fry will be bringing some high-brow levity to the proceedings, playing Kaz's principal, who enlists him to put down the pencil and pick up and demon-killing weapons he can find.
Alexa Chung
The British model, designer, and writer will be featured in Neo Yokio as a former flame of Kaz's.
Richard Ayoade
Comedian and director Richard Ayoade, is lending his voice to multiple characters in Neo Yokio. This anime won't mark the first time Ayoade and Koenig have worked together, as Ayoade previously directed the music videos for Vampire Weekend's "Oxford Comma" and "Cape Cod Kwassa Kwassa," which both heavily featured Koenig.
Kiernan Shipka
Shipka is known for playing some of the most complicated daughters on television including Sally Draper on Mad Men and B.D. Merrill on Feud: Betty and Joan. Now, she's bringing her voice to a minor, unnamed role in Neo Yokio.
Willow Smith
It seems that Neo Yokio is a family affair for the Smiths, as Jadon's sister Willow contributes her voice to an unnamed character, who may or may not whip her hair back and forth.
While some of the biggest names make for surprising additions to this demon-hunting cartoon, that's only the tip of the iceberg when it comes to Neo Yokio voices and characters. Koenig and Smith have assembled a cast interesting enough to make Neo Yokio the latest must-watch Netflix oddity.