Kimmy Schmidt Just Discovered TV Marathons & It'll Make You Say "Absolutely Same"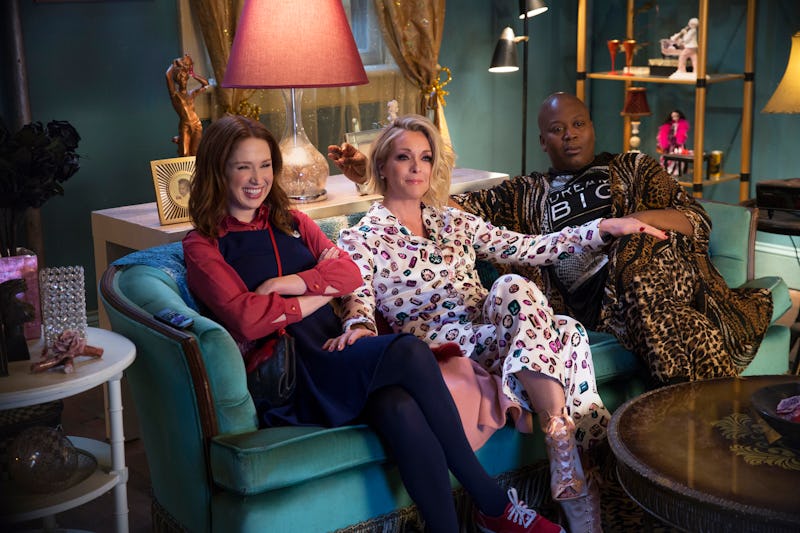 Eric Liebowitz/Netflix
Mild spoilers for Unbreakable Kimmy Schmidt Season 4 Part 1 ahead. The first half of Unbreakable Kimmy Schmidt's fourth season is full of pop culture and real-life references. And with one recurring joke, the series is poking fun at its own home network and the people who watch it. Unbreakable Kimmy Schmidt's Netflix parody — affectionately named "HouseFlix," is a nod to the network that's been behind Kimmy Schmidt all along.
In Episode 2 of Season 4, Kimmy, Jacqueline, and Titus settle in to spend their night as so many people do — watching endless hours of their favorite streaming service while perched on the couch in their pajamas. After Kimmy adorably mispronounces "HBOgo," "Hulu," "Amazon," and appears to be flabbergasted that "Starz" is a real network, she finally settles on HouseFlix. There, they find a saucy comedy about single women called Gals on the Town, an obvious Sex and the City parody. And the next time you see Jacqueline and Titus, they're sprawled out on the couch, slowly stirring after apparently falling asleep during the all-night marathon.
That's not the last time HouseFlix is brought up. Later that same episode, Titus and Kimmy are back on the marathon. "Why go through all that trouble when HouseFlix will just choose stuff for you?" Titus asks. "Because it picks weird stuff," Kimmy responds. "It's always a true crime show, or a movie where a woman murders her boyfriend after falling for a college professor with a dark secret."
This sure seems like a playful jab at the fact that Netflix is regularly streaming ultra-dramatic true crime docs and harrowing tales of tumultuous relationships, and also how its recommendations for users can sometimes seem a little bit bizarre. "You know how Al Gore invented the internet?" Titus asks Kimmy, referring to the infamous flub in which the former Vice President seemingly misspoke in an interview. "Well, he also invented a rhythm for it. It's a powerful rhythm. It's called the Al-Gore-rhythm."
The joke ventures into some absurd territory, but the fact that Titus is so woefully uninformed on algorithms and streaming services is kind of the best, and watching him explain all this nonsense to Kimmy is hilarious. And in the end, in a truly relatable move, Kimmy ends up watching one of those gritty true crime shows, no matter how much she claims she doesn't want to become sucked into one. Let alone one that involves someone very close to her.
Because from there, the whole thing only gets more meta. Episode 3 of Season 4 starts out just as a Netflix original documentary would, complete with opening titles and a HouseFlix logo flashing on the screen. Dramatic music unfolds, and nearly the entire episode is a very Netflix-esque documentary about a DJ on the hunt for DJ Slizzard (who also happens to be the Reverend who kidnapped Kimmy).
This episode had people buzzing the day the season premiered, and the HouseFlix references weren't lost on viewers. "The intro being the HouseFlix intro instead of the Standard Netflix "Duh-Dah" was brilliant, just FYI," wrote Reddit user goldgecko4. "I usually hate parodies, but this miiiiight be my favorite episode of the entire show." The half-hour is an obvious spoof of Netflix true crime docs like Wild, Wild Country and Making A Murderer, many of which have captivated audiences and proven that Netflix has some serious stake in producing high quality true crime content that keeps people talking.
Kimmy Schmidt's HouseFlix's spoofs are obviously all in good fun — the show's writers don't seem to be looking to roast the streaming service that gave it life in the first place. Netflix and streaming services in general have completely altered how society consumes media, and a show as pop culture-savvy as Kimmy Schmidt was bound to at least acknowledge its role in that. With HouseFlix, the Netflix original was able to poke fun at itself a bit, and that's never a bad thing.