This 'American Horror Story: 1984' Teaser Will Change The Way You Think About Summer Camp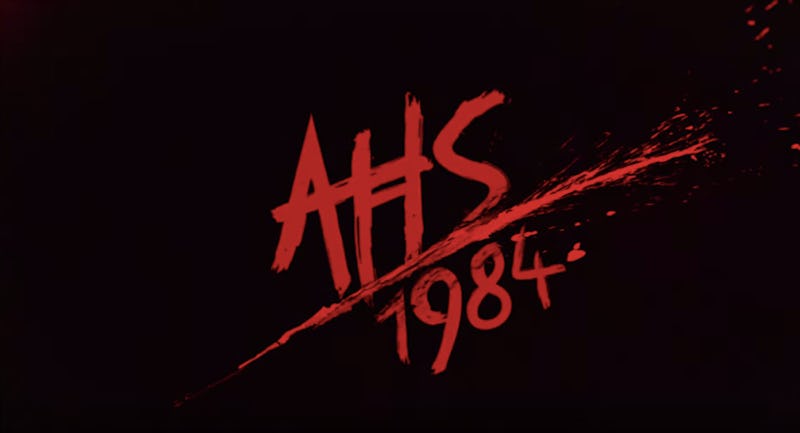 FX
Forget everything you thought you knew about summer camp because the new American Horror Story: 1984 teaser is here and ready to ruin all of your happy childhood memories. The brief clip doesn't showcase any of the core cast members that are set to star in the upcoming ninth season except for one — the masked killer, who pops up multiple times to wreak havoc on these happy-go-lucky campers, even when they're off enjoying a nice, tranquil moment on the lake for a little sunbathing. (Rude!)
Aside from the teased murderer, the promo also highlights the central location where all of this horror and mayhem will be taking place: Camp Redwood. But don't let that sunny weather and scenic atmosphere fool you — danger lurks around every corner (even from underneath the vehicles), and nobody is safe from harm. The identity of this killer remains unclear, as does what motivates them to kill Camp Redwood residents, but all of that and more is sure to come out of the woodwork once the new season kicks off on Sept. 18.
Perhaps the killer was once a resident of this very camp — a la Jason Voorhees of Friday the 13th — until something terrible happened to make him declare vengeance on the place and all those who visit there. Either way, get ready to never look at summer camp the same way ever again.
This isn't the first glimpse into the new season that fans have been given, though. Earlier this month, Ryan Murphy dropped a video montage on Instagram, showcasing the stars of Season 9, all of whom were dressed in truly stunning '80s attire while rocking out to Dan Hartman's hit song "I Can Dream About You."
Members of the cast, include returning AHS alums Emma Roberts, Billie Lourd, Cody Fern, Leslie Grossman, and John Carroll Lynch as well as newcomers to the series Matthew Morrison, best known from his days of playing Mr. Schue on Glee, Olympian Gus Kenworthy, Dear White People's DeRon Horton, and Pose's Angelica Ross.
"To celebrate the first day of filming the NINTH Season of AMERICAN HORROR STORY, here's the official 1984 cast announcement along with some amazing 80s lewks. Enjoy!" Murphy captioned the video on July 11.
Unfortunately, both Evan Peters and Sarah Paulson were noticeably MIA in the promo due to the fact that neither of them will be headlining Season 9. Considering these two have always been integral parts of the series since its inception in 2011, this is a pretty significant change-up, though the possibility of a brief cameo or two isn't entirely out of the question, so be sure to keep an eye out as the season progresses. And that's not to say that they won't ever return to the show — they're just taking a break from this particular installment.
That's too bad, though, considering this latest AHS theme looks pretty epic so far and will pay homage to '80s slasher films. (One could go so far as to say that it's to die for.) If this teaser is an indication of what's to come, this could prove to be Murphy's most horrifying season yet.