The New Apple Emojis Are Finally Here & They're Even Better Than You Thought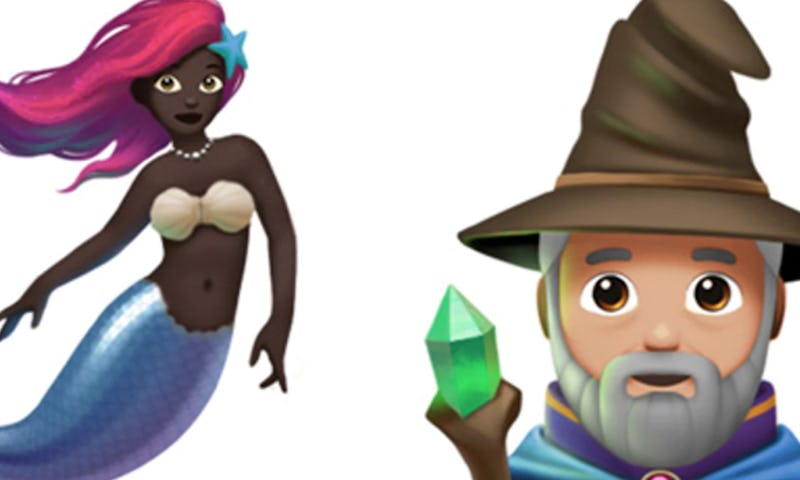 Apple
When we can't find the right words, emojis can speak volumes in their place. If you can recall, the Apple community was teased earlier this month about a new release of emojis in the next operating system upgrade. Well, Apple has finally released the new emojis along with their iOS 11.1 update — and guys, they're ever better than we could have imagined. For instance, when it comes to dessert, you don't have to be pigeonholed as a cake person anymore now that there's a pie emoji to represent. And there are also zombie emojis for when you feel like the walking dead, or when the zombie apocalypse finally happens! The caption and texting possibilities will be endless.
Since 2011 when emojis on the iPhone went public, users discovered a new way of communicating messages to one another. If you wanted to convey a sassy farewell in that "boy-bye" type of way, sending a single hand wave emoji would do the trick. If you chose to illustrate your reaction to information and were feeling quite confident about it, you would send the emoji seemingly flipping her hair. (We would later learn that this was emoji was named the "Information Desk Person" but that didn't stop any of us for letting it represent our fabulousness.)
And now, we are finally being introduced to a library of 70 more emojis with the release of iOS 11.1. Everyone, it is time for an upgrade.
The emoji has a long history, dating back to 1999 when NTT DoCoMo, a mobile phone operator in Japan, started working on a little something called i-mode. These digital stickers we now know and love and dress up as for Halloween were created to express emotion through the digital age. So, when you send a text that reads a little flat, sending an emoji to follow up allows the recipient to get a better feel for your feels.
While getting a look into the history of the emoji is never a bad thing, I bet you want to know more about the update and the characters to follow. Apple's iOS 11.1 comes a month after it's release of iOS 11 and is available now across iPhone, iPad and iPod touch devices. Communicating your ~feelings~ and seeing if you have a new ~favorite emoji~ is now officially live.
It's time to meet some of the newest emojis in the library, isn't it? When it comes to seasonal style, the emoji closet has been pretty limited. With this upgrade, we'll get to say "bundle up" with new glove and scarf emojis. A trench coat emoji will find its place in your late fall, early winter texting and give that bikini a break.
There is now a takeout container emoji that will be my personal spirit emoji and #1 in my "Frequently Used" library. A caution to those who receive texts from me on the daily: prepare for paragraphs of this emoji alone. It will translate to "let's order in, watch a movie and heat up leftovers two hours later and please don't forget to wear your sweatpants." See? There are so many words a single emoji can relay. Beyond the take out we'll have a pie emoji, a broccoli emoji to represent your emerging adulthood, and dumplings.
Beyond food, we will finally have gender neutral emojis available in various skin tones. For the adventure junkies, you'll have a rock climbing emoji to let everyone know what you're up to - literally. There will even be a just-out-of-shower emoji, which I predict will be the number one emoji used in response to "what are you up to?" within the hour. There are fairies and mermaids and wizards to use. Dinosaurs, sleds, and hedgehogs too. And when you just want to express your explicit frustration, there is a new smiley emoji for you who isn't smiling at all. In fact, the red furious face has a bar across his mouth full of "&$#!%" to insinuate certain choice words to shout.
There were a lot of new emojis added to our digital language today. Once you download iOS 11.1, you'll get to create a whole new dictionary amongst your contacts. It'll be nothing short of creative and exciting.