New Emojis Are Finally Coming To An iPhone Near You — And They're GOOD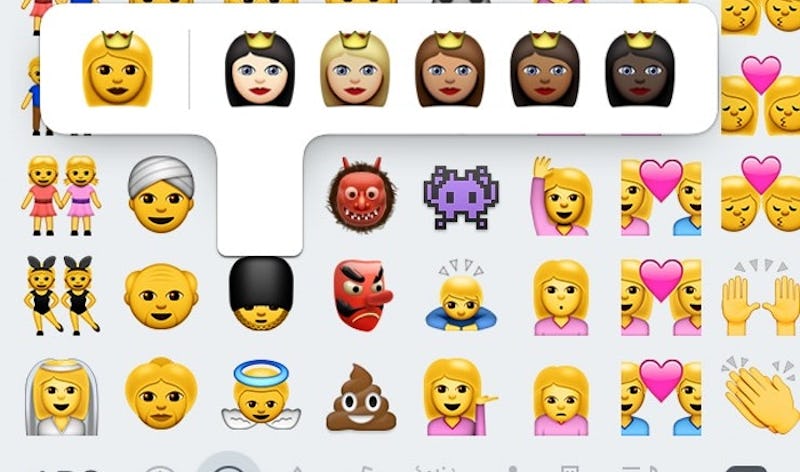 Apple
When it comes to sleep, dessert, and feminist television, more is more — and the same is true for emoji. After all, why accept a smaller amount of a great thing when you can have a bigger amount? It just doesn't compute. That's why the rollout of the new emoji that come with iOS 11.1 is a cause for celebration. And guess what? The celebration can commence right now. With iOS 11.1, hundreds of new options have arrived for your texting and Instagram commenting pleasure.
The iPhone-toting public got a preview of these new emoji back in July, when Apple released a handful of their latest colorful creations in honor of World Emoji Day. At that point, it was clear that the company was prioritizing inclusivity and social progress in these new images. Notably, the preview included a breastfeeding emoji, a woman with headscarf emoji, and a bearded person emoji. Apple also kept some levity in the mix with emoji featuring a zombie, an elf, and a sandwich. (Of course, there were some new smiley faces too. It wouldn't be an emoji update without them.)
The full rollout includes these selections from the preview (it's about time, because I've been itching to text the sandwich), along with many, many more. Here are additional details about the new emoji:
Genderless Emoji
Apple is taking a cue from the 2017 VMA's with a new genderless category of emoji. These gender non-specific faces are available in a range of ages and hair colors, and serve as an important symbol of our society's continuing move toward a greater understanding of non-binary gender.
Mystical Creatures Emoji
For the fantasy and fairy tale lover in all of us! Given how small emoji are, I'm really impressed with all of the details drawn into these characters. Next time I try to text my friends a story about my day using only emoji, you can bet that I'll be portraying myself as a mermaid.
Wellness Emoji
It seems like there are cues everywhere reminding us to practice self-care, and "everywhere" now extends to the Apple universe too. The curling and sledding emoji are particularly well-timed given the upcoming Winter Olympics!
New Clothing Emoji
Enter a much easier way to remind your pals to pack extra layers for a winter trip. The emoji wardrobe has now expanded into colder seasons with a trench, gloves, scarf, and hat.
Animal Emoji
The new iOS 11.1 emoji catalog includes new and more unique animals. These furry friends are generally super cute, but I can't say I've ever looked at my phone and wondered, "Where are all the grasshoppers?"
Food Emoji
Ah, yes, my favorite emoji category. Who knew that it was possible to make tiny renderings of food so darn cute? These latest additions are a takeout queen's dream — dumplings and a Chinese food container? — and also include more standard fare like broccoli, and something that I can only assume is a chicken pot pie.
Smiley Face Emoji
Without the iconic yellow smiley faces, emoji would probably not even be a thing, so it's only right that Apple include some new members of the smiley family in this update. The more complicated feelings we can express via emoji, the better, right?
Orange Heart Emoji
You may have noticed that orange is the one color currently missing in the assortment of rainbow hearts now offered in the emoji catalog. That's about to change! Orange lovers, prepare to have your (orange) heart grow a few sizes.
I Love You Emoji
Designed after the hand sign that means "I love you" in American Sign language, this new gesture emoji will help you spread the love in a new way via text and social media comments.