The New 'GBBO' Trailer Is Here & You Won't Believe What Song The Cakes Are Singing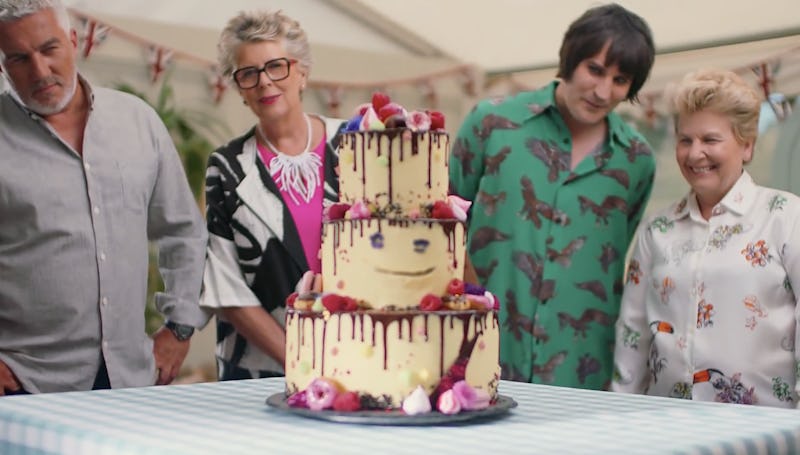 Channel 4
It's the time of year for underused cake tins across Great Britain to rejoice: The Great British Bake Off trailer has been released, meaning (a) a new series is on the horizon, and (b) thousands of viewers will soon be fleetingly inspired to attempt a mille-feuille. And said trailer, depending on your stance, will either warm you to the depths of your soul or chill your very bones. Yes, the singing bakes are back, from a deflated Yorkshire pudding to an operatic bread swan, and the Internet is staunchly divided into Camp "Adorable!" and Camp "Get Them Far, Far Away From Me."
The trailer launched on August 2, to the delight (and terror) of fans. A series of less than professional looking home bakes — a gummy-toothed hedgehog creation, and a decimated caterpillar cake — contribute to a rousing chorus of Christina Aguilera's "Beautiful." After replaying the trailer 80 times, I'm now completely consumed with guilt about the time I attempted to bake a birthday cake and promptly binned it because I accidentally added pepper and it tasted like death. That death cake was beautiful! In every single way!
The trailer continues a theme established by last year's trailer, in which a mountain of flour, a tray of baking croissants, and a tower of profiteroles banded together to perform Paul McCartney's "We All Stand Together." Those unsettled by the humanised bakes should probably accept the inevitable: these trailers will continue every year, because someone at Channel 4 just bloody loves to see a cake sing.
Now, to the Internet's reactions to the 2018 trailer. For some, the advert resonated in a deep, emotional place:
Others just found the trailer delightful:
But some were unsettled — nay, haunted — by the anthropomorphic bakes:
And the final contingent were less focused on the imagery than the core message — that The Great British Bake Off is soon to return:
Here's what's sneaky about the trailer, though. The musical cakes are so diverting that viewers barely notice one crucial thing: no date is provided for the premiere of the new series (only a measly "coming soon"). The Radio Times notes that the series typically starts in August, though, adding, "The past two series have seen Bake Off return in the last week of the month, and last year the show returned to its original home of Tuesday nights. If this year follows the same pattern, series nine could begin on Tuesday 28 August." That's three and a bit more weeks to survive, soggy bottom-less; it won't be easy, but it's doable.
The trailer confirms that judges Paul Hollywood and Prue Leith will return, alongside presenters Noel Fielding and Sandi Toksvig. Looks like Leith's as attached to a statement necklace as ever, while Fielding's got a sharp new haircut that's part Beatles, part Liam Gallagher. The printed shirts are still going strong, too — this time, zebras!
And that's about all we know about the series to date, though I've got one enduring concern. Ovens plus camera lighting inside a gazebo, during a heatwave — Channel 4, please assure me you got those poor contestants some air-con.