The New 'Grey's Anatomy' Time Slot Means More Sex In The On-Call Rooms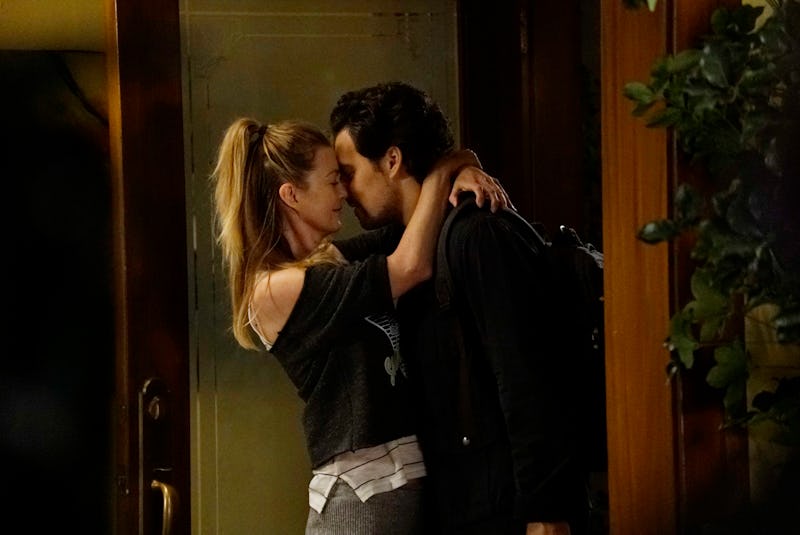 Kelsey McNeal/ABC
When it first premiered, Grey's Anatomy was known more for the fact that its doctors had a ton of sex on the job than it was for the tearjerker plotlines. But over the last few seasons, the romance has become a lot more PG-rated, thanks in large part to the fact that it moved to the 8 p.m. ET time slot. That all may be about to change, though, thanks to Grey's Anatomy's new time slot for 2020, which will find the medical drama going back to its original primetime spot. Which could also mean more elevator hookups.
Back in November, ABC announced that the series would begin airing episodes at 9 p.m. ET instead of 8 p.m. ET on Thursday nights when the series returns on Jan. 23. And while no official explanation was given for this change in the lineup, showrunner Krista Vernoff intends to take full advantage of the shift by ramping up the show's risqué content for the second half of the season. "There are different rules for a 9 p.m. show than there are for an 8 p.m. show, and we hope to take advantage of those rules," Vernoff told Deadline during a recent interview. "Grey's was definitely allowed to be a sexier show when it was on at 9 [pm]. So we are excited by the change back to our [previous Thursday] time slot."
Grey's Anatomy used to air at 10 p.m. ET when the series first debuted back in 2005. However, after the first two seasons, it was moved to 9 p.m. ET for Season 3 and then bumped to 8 p.m. ET in Season 11, where it has remained for the last five seasons. But don't worry, you'll still be seeing all of the same shows air together as usual. The network is just changing up the order in which you'll be watching.
Station 19 will now kick off the first hour of the updated TGIT schedule, airing at 8 p.m. ET starting on Jan. 23. Then Grey's will follow closely thereafter at 9 p.m. ET, followed by A Million Little Things, which will debut at its own new time slot of 10 p.m. ET. Once A Million Little Things finishes out its second season in late March, How To Get Away With Murder will take its place in the lineup at 10 p.m. ET starting on April 2, where it will finish out its final six episodes.
It's a big adjustment to the ABC schedule, but if it means Grey's will get to deliver more steamy on-call room content to the masses, then so be it.