J.K. Rowling's Original Pitch Letter For Harry Potter Is On Display & It's Pretty Remarkable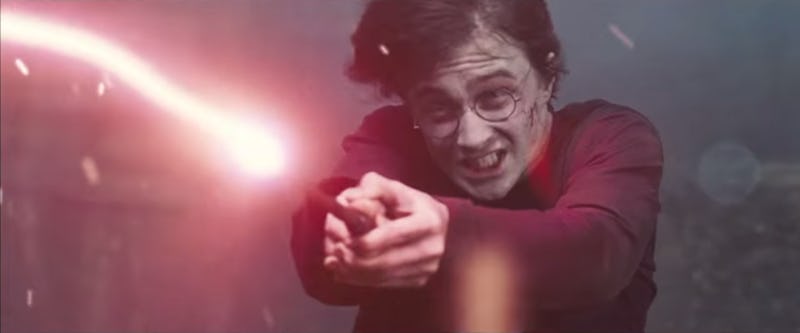 Warner Bros.
The British Library is gearing up for its Harry Potter anniversary exhibit. Harry Potter: A History of Magic opens Friday and is "the first of its kind celebrating a single series of books by a living author," as reported by Pottermore. Accordingly, the Harry Potter exhibit features a number of items that you will not be able to see anywhere else, including J.K. Rowling's original pitch letter and sketches of her wizarding world.
2017 marks the 20th anniversary of Harry Potter and the Philosopher's Stone, which hit store shelves in the U.K. on June 26, 1997. The rest, of course, is history. Rowling's series became a run-away success, spawning movies, television specials, video games, spin-offs, and even a collegiate sport. Fans of all ages were drawn to Harry's story and its themes of friendship, anti-fascism, and inclusivity.
Harry Potter: A History of Magic brings the behind-the-scenes details of Rowling's created world to life. Not only are the author's original pitch letter, sketches, and handwritten manuscripts part of the show, but fans can also peruse documents and artifacts concerning the magical creatures and myths from which Rowling drew much of her inspiration. These include "some medieval instructions on how to pick mandrakes," according to Mashable, "as well as practical advice on how to defeat a basilisk."
Of course, we can't talk about Harry Potter: A History of Magic without taking a look at just what Rowling had to say when she pitched her YA series more than two decades ago. Her synopsis begins:
Harry Potter lives with his aunt, uncle and cousin because his parents died in a car-crash — or so he has always been told. The Dursleys don't like Harry asking questions; in fact, they don't seem to like anything about him, especially the very odd things that keep happening around him (which Harry himself can't explain).
The Dursleys' greatest fear is that Harry will discover the truth about himself, so when letters start arriving for him near his eleventh birthday, he isn't allowed to read them. However, the Dursleys aren't dealing with an ordinary postman, and at midnight on Harry's birthday the gigantic Rubeus Hagrid breaks down the door to make sure Harry gets to read his post at last. Ignoring the horrified Dursleys, Hagrid informs Harry that he is a wizard, and the letter he gives Harry explains that he is expected at Hogwarts School of Witchcraft and Wizardry in a month's time.
To the Dursleys' fury, Hagrid also reveals the truth about Harry's past. Harry did not receive the scar on his forehead in a car-crash; it is really the mark of the great dark sorcerer Voldemort, who killed Harry's mother and father but mysteriously couldn't kill him, even though he was a baby at the time. Harry is famous among the witches and wizards who live in secret all over the country because Harry's miraculous survival marked Voldemort's downfall.
If you're in the U.K. before Feb. 28, when Harry Potter: A History of Magic ends, you should definitely take advantage of the opportunity to see this exhibit. Tickets start at just £5, and children ages 4 and younger get in for free. Don't fret if you can't cross the pond in the next few months, though, because Harry Potter: A History of Magic comes to the U.S., courtesy of the New-York Historical Society, in October 2018.