Danny Rand Is Facing A Tough New Villain In The New 'Iron Fist' Season 2 Trailer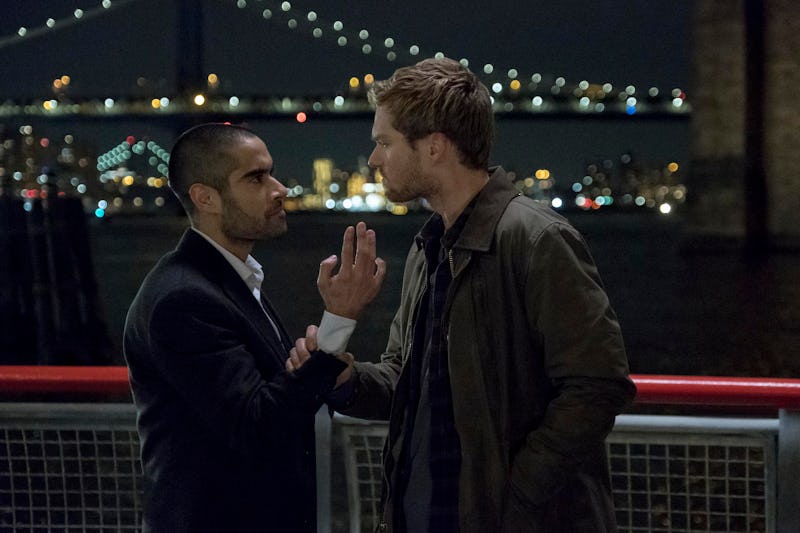 Netflix
The Earth's Mightiest Heroes (aka The Avengers) may be the most famous Marvel group of superheroes, but there is another — smaller, yet just as full of personality — group out there. They're known as The Defenders, and consist of four New Yorkers with incredible talent (like super-strength and senses), and among them is the Iron Fist, aka Danny Rand. And, if the new Iron Fist Season 2 trailer is any indication, Danny's about to face his biggest threat yet.
In the new trailer for Season 2, Danny Rand (Finn Jones) has fully embraced being a vigilante superhero. He's just trying to live his life and fight a little crime — as peacefully as possible for a Defender. In the clip, Colleen Wing, played by Jessica Henwick, hints that all might not be as normal as Danny might want. "You have not been home in days... You barely sleep when you are." But Danny just seems super preoccupied with pushing himself, trying to keep the peace. It seems that after walking away from his day-by-day office job at Rand Industries, Danny wants to commit fully to being a superhero — he just doesn't quite know how to do that yet.
As the Season 2 trailer goes on to show, finding out how to be a hero is going to be a long, hard journey for Danny after his K'un-Lun brother Davos, returns to take Danny's Iron Fist title. This time around, instead of being a long lost friend, Davos, as portrayed by Sacha Dhawan, appears to be going full villain. In the trailer, flashbacks appear to show Danny and Davos training side by side at K'un-Lun, and fighting for the title of the Iron Fist. The end of Season 1 saw Davos (possibly) team up with Madame Gao, and there's no question that he's out to get Danny in this upcoming new season.
In the trailer, it appears that Davos is coming for the powers of The Iron Fist. "[The Iron Fist]'s not a weapon to be held. It's a weapon to be used," he says. And he's willing to do anything to get it. That says, the trailer seems to hint at an alternative power, a red glowing fist, that Davos acquires to fight Danny. This, in addition to the serpent tattoo on his back, is fans' first look at Davos as the iconic Iron Fist villain, the Steel Serpent.
In happier news, fans of the almost half a dozen Marvel's Netflix shows will also be excited to see Misty Knight from Luke Cage helping out Team Iron Fist. Portrayed by Simone Missick, Misty Knight is a detective with a robotic arm, who has helped not only Cage, but all the Defenders as well. So, it's no surprise she's showing up in Iron Fist' second season to give the hero much-needed assistance. (Here's hoping for another Misty-Colleen team up.)
Also teased in the trailer for Season 2, premiering on Netflix September 7, is a look at the original costume from the comic book. Could fans finally get to see Danny Rand rocking his iconic green and yellow superhero outfit? He probably needs to survive this conflict with Davos first.