Yikes, The New 'KUWTK' Trailer Shows Some Intense Drama Between Kourtney & Kim Kardashian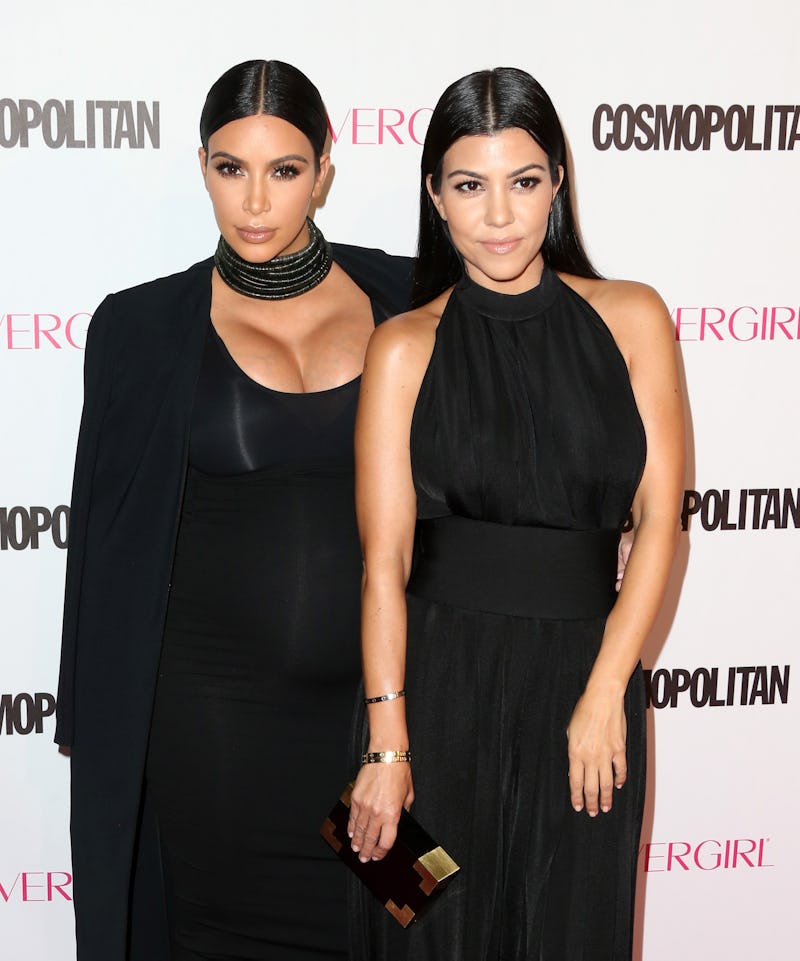 Frederick M. Brown/Getty Images Entertainment/Getty Images
What's a season of Keeping Up With the Kardashians without a little bit of drama? The show's upcoming Season 15, which premieres on Aug. 5, appears to be no exception. Based on the new KUWTK trailer, Kourtney Kardashian fights with Kim Kardashian. Honestly, their major argument could seriously rival the family's most intense blowouts.
In the trailer, Kim narrates that she and her sisters are "closer than ever." But the clip they showed from the upcoming season may paint a different story. Kourtney can be seen telling the KKW Beauty mogul, through tears, "You're just f*cking a b*tch." In response, her sister says, "Get the f*ck out of here and go." This isn't one of their silly "Don't be f*cking rude" fights, guys. Their argument is intense enough that emotions are running high throughout the whole Kardashian fam.
That's not all that went down involving Kourtney and the family. During a convo, presumably about the eldest sibling, Kim says, "She just doesn't want to be a Kardashian anymore." Khloé replies, with some of her classically crude humor, "She could shove Kardashian up her f*cking vagina." Yikes. There's no telling what exactly they were referencing, but it doesn't sound like things are 100 percent peachy among the Kardashian crew.
A previous trailer shed even more light on Kourtney's upcoming concerns during the season, per E! News. During a convo with Kendall Jenner, she hinted that the internet trolls are getting to her a little. "Have you looked on the internet? Do you see what people say about me compared to you?" Kourtney asked her sister. Based on all of the info one can gather from the various KUWTK promos, it doesn't appear that the eldest Kardashian sister will have a drama-free season — at all.
Kim already revealed that things weren't smooth sailing for her and Kourtney in her interview with KTLA in June. "I just couldn't control myself this season," she said. When asked what exactly was making her lash out, she answered, "Kourtney." But she couldn't give too much away. "You'll have to see. There are so many reasons why. I don't think you have enough tape as to why she was driving me crazy."
While she didn't reveal anything specific about the fight, she did give a little bit of insight into what goes into filming such an intense moment. Basically, you don't have to worry about their arguments being faked. In fact, the family actually has to tone things down every now and then. "I think, if anything, we try to tone it [the fighting] down for the cameras 'cause we don't want to look crazy." So, all of the drama with Kourtney and the fam is apparently all too real.
Yet, it doesn't seem like Season 15 of KUWTK is going to be all drama. The new trailer gave fans a sneak peek at some incredibly happy moments as well. Based on that previous trailer, the next season may finally include Kylie Jenner's grand return after welcoming her daughter, Stormi. In the newest trailer, Kylie explained to her older sister, and fellow new mom, Khloé, about how she's taking to motherhood.
When the Revenge Body star asked his sibling, "Are you obsessed with being a mom?," the lip kit mogul (or "Ky$$$$!!!!" as she's lovingly referred to in her sister's phone) replied with, "Yes, I am."
So, the drama may not make up the entirety of KUWTK Season 15. From Kylie's return to the series to Khloé's pregnancy journey, there are some happy moments ahead. But, at the same time, fans of the family may have to endure some heavy family drama that made even the calmest of the crew, Kim, go off.