The New TLC Album Won't Be The Same Without Lisa Lopes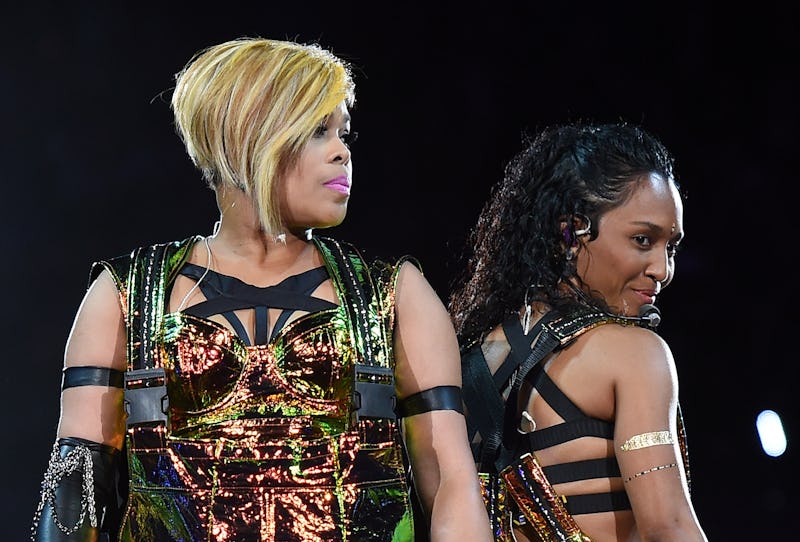 Ethan Miller/Getty Images Entertainment/Getty Images
As fans patiently await its June 30 arrival, it's becoming more and more clear that the new TLC album won't be the same with the vocals of Lisa "Left Eye" Lopes – because, let's face it – you simply can't have TLC without the "L," right? After many years out of the spotlight following Lopes untimely death, the once insanely popular '90s girl group announced plans for a Kickstarter-funded comeback album. However, it appears that in addition to her lacking her presence, the reunion project will also be missing Lopes' notorious sound.
During a recent interview with Billboard fellow group members, Tionne "T-Boz" Watkins and Rozonda "Chilli" Thomas alleged that the fallen entertainer's family have been holding her pre-recorded vocals "hostage," ultimately leaving the trio-turned-duo with no choice but to move forward with the project sans Left Eye's contributions, although the album is said to contain a brief interlude featuring Lopes' voice. Watkins explained,
The family, they held onto the other stuff ... I guess maybe they wanted money or something. I don't think she'd be happy that people are trying to hold her vocals hostage.
In an attempt to defend themselves against the band's comments, Lopes' family released a response to Variety, explaining the reasoning behind Left Eye's absence from the upcoming project. The family openly detailed their sentiments about protecting the rapper/singer's enduring legacy in a written statement. They explained,
Lisa was a fighter. When it came to her business, she was fearless to stand up for what was right. At the time of the request, we could not, in good conscience, continue to act in Lisa's interest in TLC, LLC by releasing the recordings as TLC and its managers had not acted in good faith. The management's failure to honor the TLC agreement was at issue.
Lopes, who tragically died in a car accident during a retreat to Honduras in April 2002 was, no doubt, the essence of the Grammy Award-winning group. Her outspoken persona, contagious lyrics, and remarkable style were always the integral centerpiece of TLC's colorful and vibrant performances, so it's really hard to even envision a scenario that would not include any elements of her musical style whatsoever.
Over their nearly decade-long union as a trio, TLC became one of the best-selling American girl groups of all time, selling nearly 65 million records worldwide. Since Lopes' death, her family has maintained ownership of her artistic works, including unreleased music and lyrics, according to Variety. It's been reported that the family has been at odds with the remaining members of the group for some time now, so there seems to be no chance for reconciliation anytime in the near future. leaving fans with no choice but to accept the void of Lisa's sound on the upcoming album.
It's unclear whether or not the band will be able to legally incorporate other elements of Left Eye into the album or future performances. However, they do maintain that Lopes will definitely be there in "spirit," with Thomas telling Billboard, "at this point, this is the new TLC: T-Boz and Chilli and [Lopes'] memory and spirit."
It'll be interesting to see how this "new TLC" project turns out when it drops on June 30. It seems that fans are here for it though, reportedly kicking in a whopping $430,255 to fund the project. Guess it's safe to say that TLC still ain't too proud to beg.