Nike Is Bringing These '90s Sneakers Back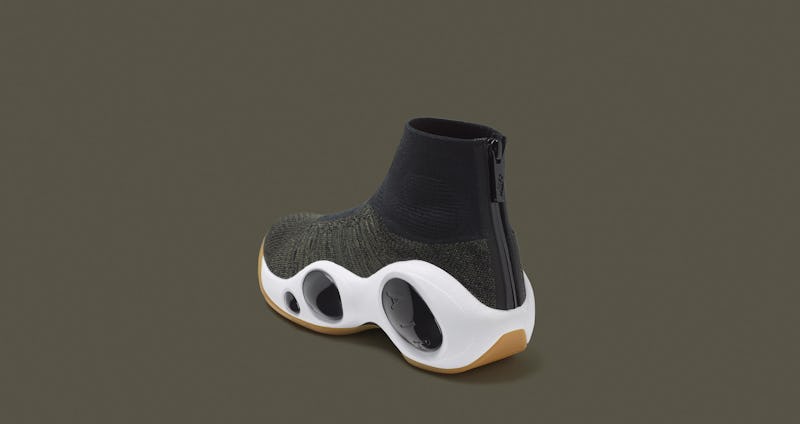 Nike
If you took a time machine back to the '90s, you'd hardly be able to tell you jumped back 20 years — style-wise at least. Everywhere you turn, trends from the beloved decade appear, whether it's a throwback style or a re-release, like the Nike Zoom Flight 95, which are set to launch in September.
The black and white sneaker, which looks like it jumped right out of Space Jam, were first made famous by NBA player Jason Kidd. Featuring "bug eyes," this shoe also looks like it made an appearance in Men In Black.
Earlier this year, NikeLab actually released the same silhouette with three different colorways — but people weren't thrilled. Rather that the classic and clean black and white look, they were sold in pastel colors (including pink) that people felt were too far off from their original aesthetic.
Sneaker fans — prepare yourselves. Not only is the Nike Zoom Flight 95 coming back, but they're re-released in the original black and white — bug eye sole included.
Available on Sept. 9 at 10 a.m., these babies will set you back $145. Worth it for a hyped-up sneaker with throwback vibes? Yes or no?
Boy, these look comfy.
The not-so-conventionally-pretty shoe trend is in right now.
Bug eyes? Check. Grips? Check.
Pretty sleek looking from above.
A back zipper instead of a front tie makes it even easier to slip them on and off, making them the perfect shoe to kick back in.
The sneaker, or rather, athleisure as a whole, has been taking the fashion world by storm. Rather than just seeing trainers at the gym or on a hike, sneakers have become a whole fashion game of their own. Whether you're at the office, at brunch, or even out at cocktail bars, you'll no doubt see a pair of kicks somewhere in the crowd.
Just this past May, Gucci even joined in on the sneaker trend, releasing a chunky, worn-in looking sneaker that ran free on the runway. Untied and stained throughout, they gave off the ultimate carefree aesthetic.
Whether you're looking to pair these with your favorite denim or go bold and wear it with your favorite dress or mini skirt, there's no doubt you'll be turning heads wherever you go. And – beyond style, they look pretty comfy, too, thanks to a thick sole and Nike's famously sought-after Flyknit material. Swag and comfort definitely come together in this shoe.
So if you're nostalgia-obsessed and a total sneakerhead — mark your calendars. This type of opportunity only comes every couple of decades, and you definitely won't want to miss this one.