The Pentagon Says It Tracks Santa By Treating Rudolph's Nose Like A Ballistic Missile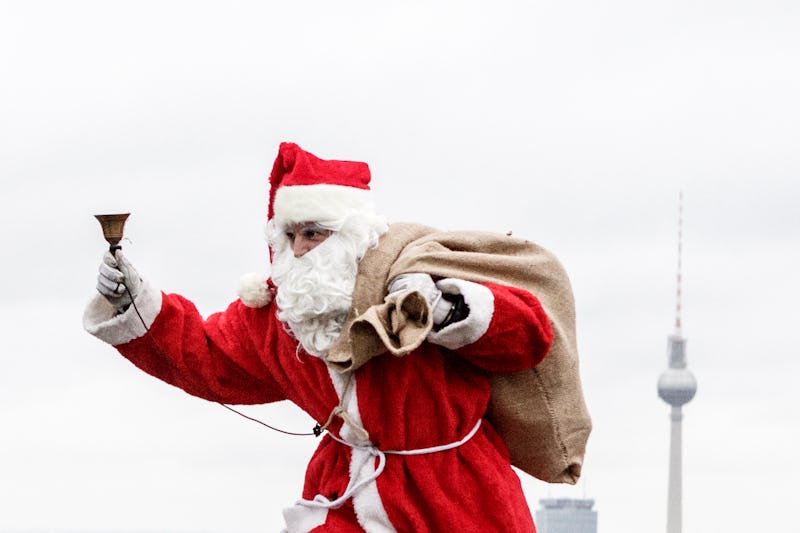 Carsten Koall/Getty Images News/Getty Images
Christmas is almost here, and given just how exhausting — and at times frightening — American politics have been this year, many are looking forward to the holiday as a welcome escape from scandals, controversial policies, and the constant threat of nuclear warfare from North Korea. But apparently not even Christmas traditions are safe from political rhetoric. According to a Politico report, the Pentagon's "NORAD Tracks Santa" program actually compared Rudolph's red nose to a nuclear missile in training documents for the operation.
"When a rocket or missile is launched, a tremendous amount of heat is produced—enough for the satellites to see them," Pentagon officials wrote in a 14-page handbook. "Rudolph's nose gives off an infrared signature similar to a missile launch. The satellites detect Rudolph's bright red nose with no problem."
The Pentagon has been using its annual Santa Claus tracking system to update kids around the world on the whereabouts of Old Kris Kringle during the holiday season for the past few decades. The annual Christmas tradition involves high-ranking officials monitoring American airspace for missiles and foreign aircraft while also reporting the location of "Santa's sleigh" using Lockheed-Martin satellites that can detect the heat signatures of rockets and missiles.
The annual program, which Politico describes as "the Pentagon's most elaborate propaganda operation," began in 1955 when a Sears department store ad made a typo when providing the phone number for a hotline kids could use to chat with Santa Clause. The number accidentally directed kids to a secret military nerve center in Colorado where the Pentagon was on the lookout to prevent nuclear war.
Ever since then, the North American Aerospace Defense Command has been running its Santa tracking operation, even gathering hundreds of volunteers and high-profile officials at Peterson Air Force Base on Christmas Eve each year to take calls — as many as 150,000 a night — from kids wanting more information about Santa Clause's journey. According to NORAD's Track Santa Program Manager, Preston Schlachter, it's an experience that really is filled with Christmas magic.
"It is the best two hours you'll ever experience," Schlachter told Politico. "You are getting these calls from all over the world."
But the Pentagon has received a fair share of criticism for the program over the past few years. In 2013, the NORAD Tracks Santa posted a video on Youtube that depicted Santa and his reindeer flying through the skies, a sack of Christmas gifts in hand, being guarded by military fighter jets. Some child advocacy groups, like the Boston-based Campaign for a Commercial-Free Childhood, argued that the video took things a little too far by injecting militarism into what should be a very peaceful holiday.
"It's a backdoor way of marketing to kids when they are not supposed to be recruiting until they are much older," a spokesman for the organization told Reuters.
A NORAD spokesperson defended the video, and said that the controversial clip in question was harmless. ""We really do feel strongly that it's something that is safe and non-threatening, and not something that would negatively impact children," the spokesperson said. "In fact, we think that it's a lot of fun."
Criticism aside, the program has become an annual Christmas tradition that millions of children, and adults, looks forward to each year. The program has millions of social media followers and receives thousands of calls each year. In fact, former First Lady of the United States Michelle Obama even volunteered to take Christmas Eve phone calls for NORAD in 2014. But this year, given how hostile tensions have been between the United States and North Korea, the Pentagon's ballistic missile imagery is making people a little uneasy.