Democrats Have Enough Votes To Filibuster Gorsuch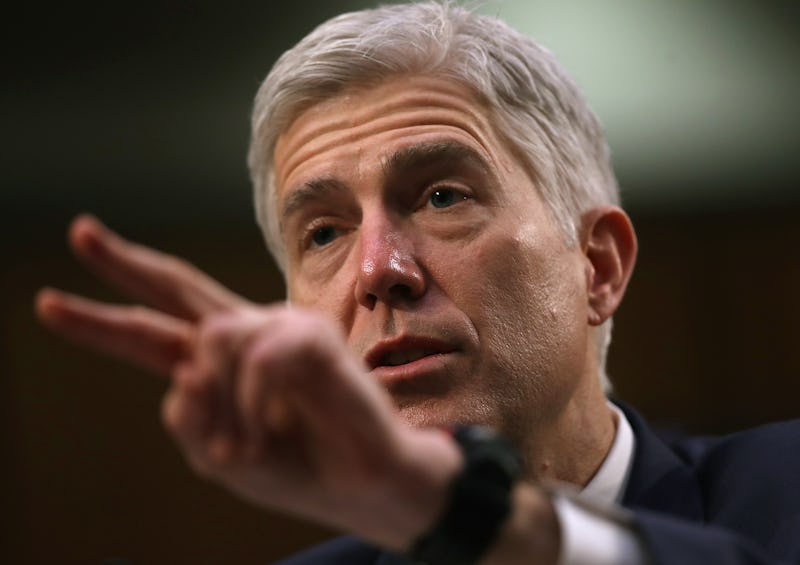 Justin Sullivan/Getty Images News/Getty Images
In a situation that promises to get ugly, Democrats have recruited enough votes to filibuster Neil Gorsuch's confirmation to the Supreme Court. Democratic Sen. Chris Coons of Delaware joined the effort to block Trump's Supreme Court nominee on Monday, bringing the total number to 41 Democrats, precisely the amount needed to permit a filibuster.
"I will ultimately vote against Judge Gorsuch's nomination today," said Coons at the judge's confirmation hearing on Monday. "Still, I share the view of many of my colleagues that Judge Gorsuch is a talented, experienced jurist. I understand why all of my Republican colleagues will support him and why some of my Democratic colleagues will support him today as well."
He continued:
"I cast my vote well aware that he will receive the required votes on this committee to advance to the full Senate. We are at an historic moment in the history of the United States Senate. Thanks to actions, decisions, even mistakes made by both Democrats and Republicans over recent years — over many years — we have eroded the process for reaching agreement and dishonored our long traditions of acting above partisanship, especially when it comes to confirmations for judges and now justices. I said last week it would be tragic if Judge Gorsuch's confirmation process leads to Senate Republicans to join the majority leader in abolishing the 60-vote threshold for cloture on the nomination of a Supreme Court Justice. Let's be frank — the majority leader has assured us he will abolish the 60-vote threshold for Judge Gorsuch if eight Democrats don't support him on the Senate floor. I don't like that approach, but as a number of you have asserted today, that is the reality."
Several Republicans did indeed hint on Monday that using the "nuclear option" — which would reduce the number of necessary votes to 51 instead of a supermajority of 60 — would be their only choice.
Gorsuch has faced fierce opposition from Democrats since his nomination was announced. In March, Senate Minority Leader Charles Schumer vowed to carry out filibuster to block the confirmation of President Trump's nominee.
Some Democrats, such as Sen. Joe Manchin of West Virginia, worried about prompting Republican members of the Senate to rewrite rules and publicly opposed the filibuster effort being pushed by others in his party. "People who have been here for a long time know that we're going down the wrong path here," he said. "The most unique political body in the world, the United States Senate, will be no more than a six-year term in the House. I'm doing whatever I can to preserve he 60-vote rule."
After news of Democrats reaching the necessary 41 votes broke, Hawaii Sen. Brian Schatz urged GOP legislators to deeply consider their actions before changing Senate rules.
Responding to the Democrats' success in getting the necessary votes for a filibuster, Republicans insisted Gorsuch would ultimately be fill the vacant Supreme Court seat. Sen. Orrin Hatch of Utah simply tweeted, "Judge Gorsuch is going to be confirmed."
Either way, the road ahead promises to be a rocky one for the Senate.