This Is How Many Women Are Left On Trump's Cabinet After Kirstjen Nielsen Leaves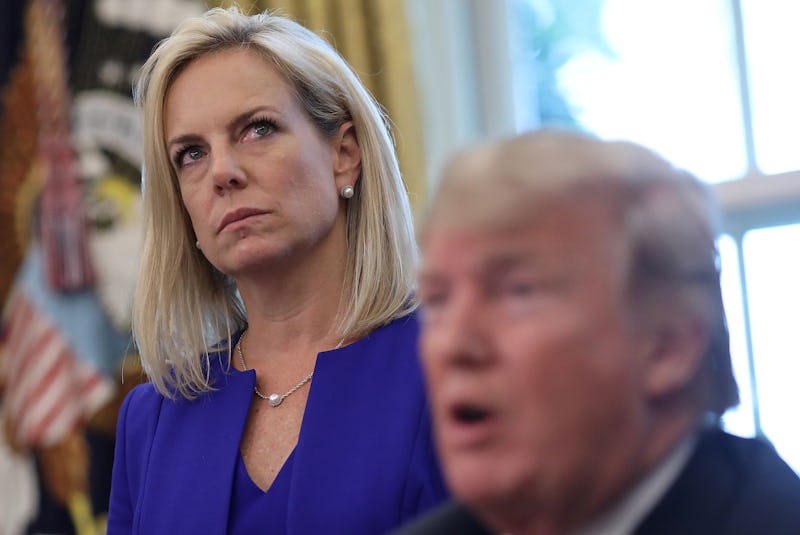 Win McNamee/Getty Images News/Getty Images
With another prominent official leaving the Trump administration, there's set to be even fewer women serving on the Trump administration's cabinet. Kirstjen Nielsen announced her resignation as Homeland Security secretary on Sunday in a development that PBS' Yamiche Alcindor reported will leave behind only three women in Trump's cabinet: CIA director Gina Haspel, Education Secretary Betsy DeVos, and Transportation Secretary Elaine Chao.
The makeup of Trump's cabinet has long been a source of discussion and concern, as critics have said that it does not reflect the gender and racial demographic reality of the country. The Census Bureau notes that women make up more than half of the country, a breakdown that isn't mirrored in the current administration, where the majority is white and male, according to The New York Times.
On Twitter, The Washington Post's national correspondent James Hohmann also made note of the cabinet's dwindling female representation. "Only three women will remain in Trump's Cabinet after this week," Hohmann wrote in his tweet. "There are 15 men, including two Alexanders and two Roberts. There will be as many acting secretaries as women. The female survivors are Haspel, DeVos and Chao. And DeVos may be a short timer."
On Sunday, Trump confirmed Nielsen's resignation on Twitter. "Secretary of Homeland Security Kirstjen Nielsen will be leaving her position, and I would like to thank her for her service," the president said. "I am pleased to announce that Kevin McAleenan, the current U.S. Customs and Border Protection Commissioner, will become Acting Secretary for @DHSgov. I have confidence that Kevin will do a great job!"
Nielsen is no stranger to politics. She worked under former president George W. Bush as a Special Assistant to the President for Prevention, Preparedness, and Response, a role within the Homeland Security Council. During her time in the Trump administration, Nielsen got nationwide attention for her leading role in the president's "zero tolerance" immigration policy, which caused the forced separation of thousands of families at the southern border.
The repercussions of the "zero tolerance" policy that Nielsen saw through may be felt for years to come, according to WQAD. Government officials told the outlet that it may take "at least 12 months, and possibly up to 24 months" to put together information about the identities of family members who were separated.
In early April, a Department of Homeland Security release reported that Nielsen accompanied Trump on a tour to different states as part of addressing immigration at the southern border. During that tour, Nielsen lobbed blame on the country's legislative and judicial systems for the immigration "crisis."
"No matter what we do, it's clear that the only way to truly fix this crisis is with legislation. Outdated laws and misguided court decisions have created an illegal fast-pass into America," Nielsen said during the tour, per the department's release.
Given her role in the administration's immigration policy, some Democratic lawmakers supported Nielsen's resignation. Over the weekend, Massachusetts Sen. Elizabeth Warren tweeted: "About time, @SecNielsen's legacy of tearing innocent families apart will follow her for the rest of her life — and she should be ashamed of the role she played. She was completely unqualified to lead @DHS," Warren added, "and that's why I voted against confirming her."
With Nielsen heading out and reports about DeVos potentially leaving her role as education secretary (which she has denied), whatever little diversity that's left in Trump's cabinet may take another hit.